Real Estate Professionals
Toll Free 800 Numbers for Your Real Estate Business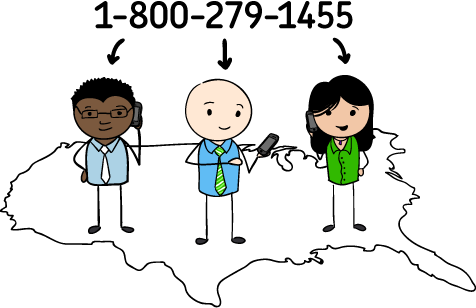 Informational extensions enable you to showcase current property listings including housing details, address and contact information.
Fax on Demand allows your clients access to property information 24/7.
Call routing extensions allow you to distribute calls evenly among agents.
Get an 800, 888, 877, 866 toll free number.
30 Day Money Back Guarantee!
Get a Toll Free Number »
or See How it Works »
A Virtual Phone System for Real Estate Professionals
Virtual Phone Features for Real Estate
Toll Free Numbers
Toll free numbers are a great way to give your real estate business a professional image and your customers an easy way to reach you. Find true 800 numbers along with 888, 877 and 866 numbers.
Unlimited Extensions
Create extensions for everyone in your office or company for no extra charge. Every plan from Grasshopper includes unlimited extensions, each with their own voicemail and call forwarding feature.
Informational Extensions
Informational Extensions allow you to save time and give your interested buyers information they are looking for. Informational extensions are a great way to provide property listings, directions or company information.
Local Numbers
Grasshopper also has local numbers available for those looking to create a presence in towns and and cities across the United States.
Call Routing Extensions
If you own a real estate company with several agents it can be tough to make sure everyone is getting an equal number of the incoming calls. With call routing extensions you can ensure calls are distributed to agents and your callers never get a busy signal.
Voicemail
The real estate business consists of off-site meetings, phone calls, property showings and many other activities that prohibit you from being in the office or taking a call. Having voicemail that is not only customized but also includes features like voicemail to email delivery, read your voicemail and play it on mobile ensure you never miss an important voicemail, despite what you are doing at the time of the call.
Voicemail to Email Delivery
With open houses, property viewings, financial meetings, etc it can be hard to check voicemails from the office. Every time a voicemail is left on your extension, an email will be sent to the specified address letting you know what you have received a new voicemail. An MP3 will also be included so you can listen to your voicemail right there on your computer or phone.
Virtual Fax
The virtual fax feature is a great way to give clients access to documents. Simply fax documents to your Grasshopper number and access them 24/7.
Business SMS
Business SMS helps you keep in touch from anywhere in the quickest and most convenient way — texting. You can send and receive SMS messages from your business number to maintain a professional image no matter where you're working from.
Have Questions on the Grasshopper Virtual Phone?
My agency is growing. How many extensions can I set up in one account?
All Grasshopper plans include unlimited extensions so your phone system can grow with your business. Each extension includes voicemail, call forwarding and all of the other great features our virtual pbx system offers.
How can my real estate agents use informational extensions?
Informational extensions can be set up to describe property listings. Place the number with extension on the sign and when a potential buyer calls they will hear information on property.
Will we ever miss calls due to a large volume of incoming calls?
The Grasshopper virtual phone system offers unlimited call handling, ensuring your callers never hear a busy signal.
Listen to a live
Real Estate Demo
Dial: (888) 738-4019
Press 1: Listings
Press 2: Agents
Over 300,000 Happy Customers Served
Here's what a few of them have to say about Grasshopper
I am now a huge fan of Grasshopper… truly saved the day (and my sanity). Carolyn Appleton Carolyn M. Appleton, Inc.
Having a phone number on our site increased conversion of site visitors to sign ups and paid users! Allan Branch LessAccounting