The #1 Choice of Top Entrepreneurs
Sound more professional & stay connected with Grasshopper
Pick a number for your business

Record your custom main greeting

Add departments and employees

Get calls, voicemails, and faxes anywhere
Features include: Toll free

&

local numbers, custom main greeting, extensions, voicemail to email, and more…
See How It Works

"Press 1 for Sales, 2 for Support, 8 for the Name Directory"
Create & customize extensions to forward calls anywhere: home, office or cell. Instantly create 1 digit department extensions and 3 digit employee extensions.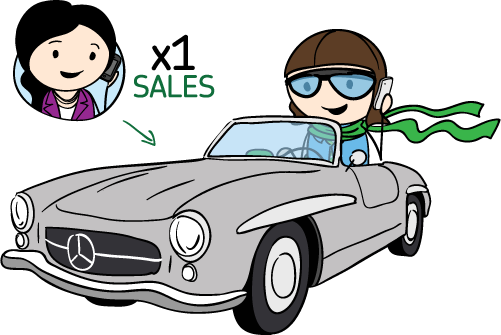 Get a Toll Free or Local Number with Multiple Extensions
For both a local and national presence, you can have both toll free and local numbers for your business. Add department & employee extensions easily for every member of your team.
Find a perfect number for your business »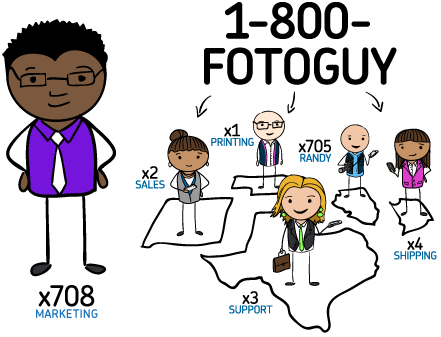 Make Calls Showing Your Grasshopper Caller ID
We love this feature! When you want to call a client, use the Grasshopper mobile app to make calls showing your Grasshopper caller ID (instead of your iPhone's). Callers will never know you're calling from your mobile phone.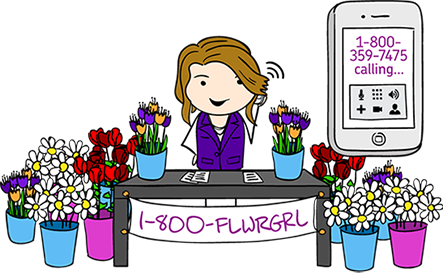 No Expensive Hardware to Purchase or Install
Grasshopper works with your existing mobile and home/office phones so you never have to purchase, install, or maintain expensive phone hardware. It's all virtual.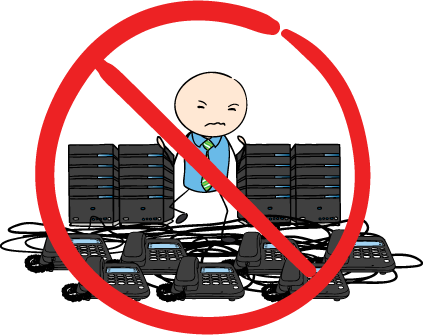 But Wait There's More!
Know Who's Calling Before Accepting the Call
When you get a call, press 1 to accept the call, 2 to put them into voicemail, or 3 to hear the caller's phone number. The choice is yours!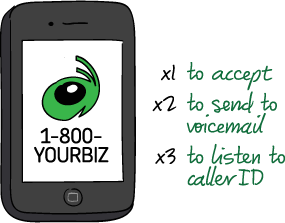 Get Voicemails and Faxes Delivered via Email
No more calling in to check messages: just open the MP3 or PDF attachment while checking emails. It's as easy as that!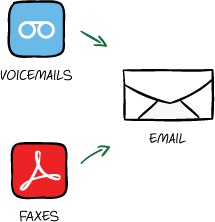 Read Your Voicemails
With the Read Your Voicemail feature, a transcription of each voicemail is included with email notifications so you can quickly know the purpose of the voicemail. You can even choose to have voicemails transcribed by a human on-demand.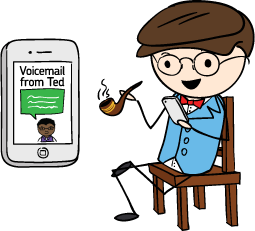 Record Greetings Yourself or Use our Voice Studio
The most professional businesses use our voice studio to record their greetings. You can even upload or record your own greetings as easily as you do your mobile phone voicemail greeting.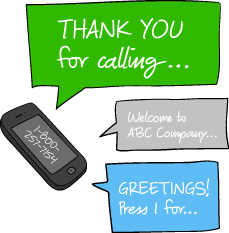 Send Professional Text Messages
With our Business SMS feature, send professional text messages to partners & colleagues. Collaborate on-the-go without clogging up your email inbox. Even offer text support to your customers!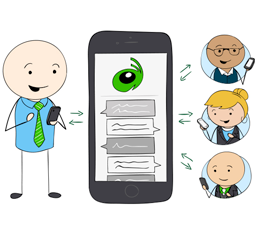 Tons of Amazing Features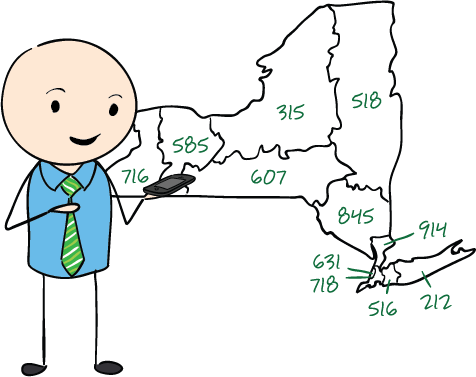 Local Numbers
With Grasshopper, your small business can get a Local Number from anywhere in the U.S. Local numbers are a great way to give your company a community feel or with multiple numbers, a multi-city look. If you already have an existing local number with another provider, you can easily port it to Grasshopper.
Number Portability
Easily port your existing toll free or local number to Grasshopper. By porting your existing number you get all features and benefits of Grasshopper, without having to change any of your advertising or the number your customers use to call you. Grasshopper enables your calls to be forwarded anywhere on any phone - home, office or on the road.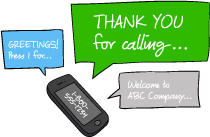 Custom Main Greeting
"Thank you for calling ABC Company… for sales, press 1…" The main greeting is the first thing a caller hears when calling your Grasshopper number. Welcome callers and direct them to departments, employees and information. Completely customizable, your main greeting will make your small business sound like a big company.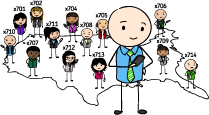 Extensions
Each extension has its own call forwarding, voicemail and message delivery settings, allowing every employee to customize their extension. Whether you have one employee or five, extensions help your small business sound professional.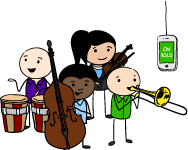 Music On Hold
On Hold Music from Grasshopper is a great way to keep your callers happy and engaged while on hold. You can choose from several available music selections or upload your own custom music and on hold commercials right online.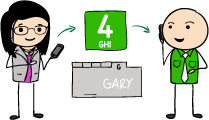 Name Directory
A Name Directory is a feature commonly found in large company phone systems. Available from Grasshopper, this feature can lend your small business a Fortune 500 image and provide added convenience for you and your callers. Simply enter your employee names online, and callers can search for them by first or last name.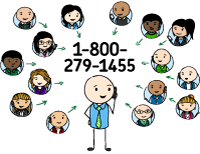 Unlimited Call Handling
Grasshopper provides unlimited call handling with your virtual phone system. Take calls from multiple callers all at once even during instances of high call volume. Grasshopper keeps your lines open so callers never hear a busy signal.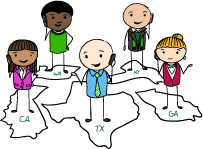 Conference Calling
Connect with up to 10 participants on conference calls! Once you (the host) starts a conference call, you can simply add participants to the call by dialing their numbers. No conference number needed! Each participant contributes to your minute count separately.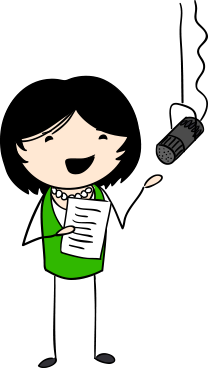 Voice Studio
Sounding professional is easy when you have your greetings and prompts recorded using voice studio from Grasshopper. With several professional voice talents available you can find the right sound to suit any small business. We can even record in different languages and produce top quality on hold commercials on request.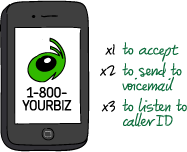 Call Screening & Announce
Stay connected with Call Screening and Announce. When you answer a Grasshopper call, you'll have 3 options to choose from. 1. answer the call, 2. send the caller to voicemail or 3. hear the caller's phone number. You can even choose to hear the caller's name before deciding. Callers remain on hold, with music, while you decide what to do with the call.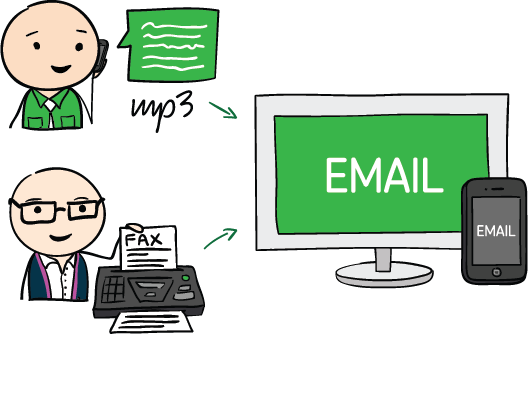 Voicemail & Fax Delivery
Stay connected even when you can't take a call. Grasshopper can deliver messages to multiple email addresses and mobile devices. Voicemails are converted to WAV or MP3 audio files and sent via email or multimedia messages. You can even have faxes delivered as PDF attachments so you can listen to your voicemails and view faxes no matter where you are.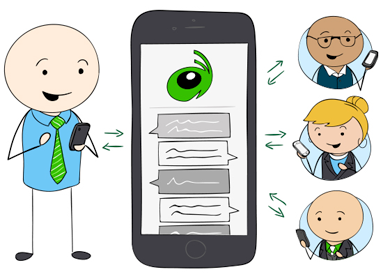 Business SMS
Stay connected and communicate efficiently with Grasshopper's Business SMS feature. You'll get unlimited texts included at no extra charge. Business SMS lets you send professional business text messages right from the Grasshopper app, so you're always connected.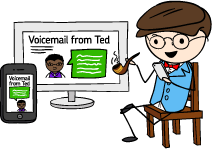 Read Your Voicemail
Grasshopper lets you stay connected even when you can't check your voicemail with our Read Your Voicemail feature. With the voicemail transcription emailed to you as readable text, you'll be able to stay connected when you can't listen to the .MP3 file of your voicemail.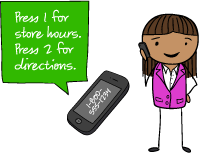 Informational Extensions
Allow callers to access important information 24/7 using Informational Extensions loaded with everything they need to know. It's a great place for customers to hear store directions, product descriptions, or your hours of operation. Informational Extensions from Grasshopper allow callers to get the critical information they need, instantly.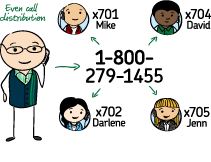 Call Routing Extensions
Call Routing Extensions from Grasshopper provide customizable extensions to fit your unique calling needs. With Holding Extensions (also know as ACD, or automatic call distribution queues) multiple callers can be on hold simultaneously before automatically being connected to the next available employee. Calls can also be routed using rotational extensions so that each employee receives an even share of calls each day. This is a great way to run a sales office to ensure everyone has an equal chance of taking calls.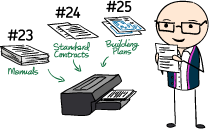 Fax on Demand
Your callers can help themselves to forms and printed information using our Fax on Demand feature. You simply fax documents into your account, creating a library of documents that callers can request via fax instantly, any time of day. Ideal for order forms, product sheets, maps or anything else you want your callers to access on-demand 24 hours a day.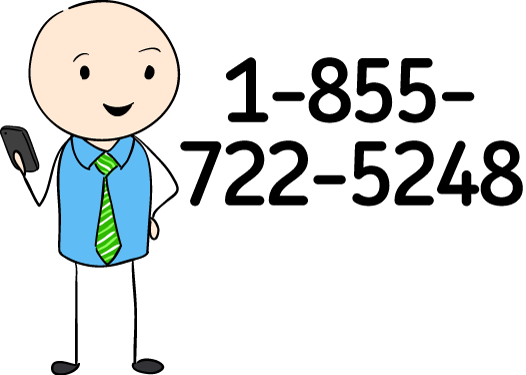 Toll Free Numbers
Get toll free numbers instantly
Get customized vanity numbers
Search 800, 888, 877, 866

&

855 numbers
A toll free number can be an indispensable asset to your business. They're most often used for customer service or help lines as one of the biggest benefits is they allow customers to call your business without being charged for the call. However, there are a lot of other great benefits to having a one for your business.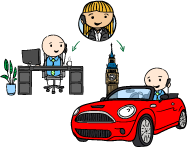 Call Forwarding
A Virtual Phone System from Grasshopper is designed to help you and your employees stay connected from the road, at home or anywhere you go. With Call Forwarding, you and your employees can be reached on virtually any telephone in the world whether on your cell, in the office, or at home. Worldwide call forwarding from Grasshopper keeps you connected so you have the freedom to work from anywhere.
Having a phone number on our site increased conversion of site visitors to sign ups and paid users! Allan BranchLessAccounting
I am now a huge fan of Grasshopper… truly saved the day (and my sanity). Carolyn AppletonCarolyn M. Appleton, Inc.