Call Forwarding Service for Business
Get 800, Local, and Toll Free Forwarding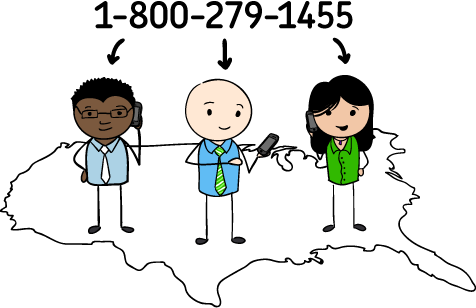 Never miss a business call
You and your employees stay connected anywhere in the world
Forward calls to any number on any phone
800 number forwarding is simple!
30 Day Money Back Guarantee!
Get a Number

&

Sign Up »
or See How it Works »
What is Call Forwarding?
It's pretty simple. Call forwarding is a feature that lets calls made to one number be forwarded to another number. For example, you might have a business number (1-844-KITES) that forwards to your cell phone number. That way, when anyone calls your business line, you can answer it from your cell phone instead of buying a fancy phone system that you don't need.
Benefits of Call Forwarding for Business
Here are 5 important benefits to consider:
Availability – You and your staff can always be available to customers, at any time of the day.
Global Connectivity – You can easily be reached whether you step away from your desk or fly across the world.
Never Miss a Call – Calls can be diverted to another employee when you are unavailable
Share Information – Customized on-hold commercial allows you to share vital information and pitch to potential customers while they wait.
Fully Customizable – Options allow you to screen the call before deciding if you want to take it or send to voicemail.
This feature helps businesses small and large. Whether you have employees spread across the country or you just want to field calls after hours, Grasshopper call forwarding ensures that everyone can stay in touch.
How to Use Call Forwarding in Business
Entrepreneurs, startup founders, and small business owners all enjoy the benefits of call forwarding. Here are some of the ways they commonly use it:
Replace one cell phone or multiple cell phones with a professional sounding business line, complete with a main greeting.
Use one business line that forwards to multiple cell phones or landlines.
Use one business line that forwards to a voicemail or informational extension so that employees don't have to answer every call.
Create numbers in area codes different from their own. For example, if they do business in Rhode Island but live in Texas.
Get a business line that uses a memorable vanity number, like 1-800-SOCKS.
Use call forwarding to track specific marketing campaigns.
Tips for Using Call Forwarding
Call forwarding is an amazing tool for keeping in touch and staying abreast of things when you're not in the office. You want to use it, but if you're not careful, work calls can take over your life. Here are a few simple tips for preventing call forwarding from hurting your work-life balance:
Turn off you cell phone when you know you don't want to be bothered
Utilize the scheduling feature of Grasshopper call forwarding to turn forwards to your cell off during certain hours or on certain days
Take advantage of the caller ID screening feature – if it's not important, send it to voicemail
Add an employee or co-worker's number to your call forwarding – they can handle it if you're busy
Post the hours you're available on your website and include them in your voicemail message and on-hold commercial to limit the calls that come through after hours
If you take just a few extra steps, you can get all the benefits of virtual call forwarding without losing the delicate balance between work and home life.
What Does Call Forwarding with Grasshopper Offer?
Choose a toll free, local number, or both
Forward calls from your Grasshopper number to any cell phone, landline, or combination of the two.
Add extensions to have calls automatically forwarded to employees
Additionally features such as Dial-by-Name Directory, Custom Main Greetings, and Voicemail Transcription that make standard call forwarding even better.
Have Questions?
Stop by our FAQ page to learn more about call forwarding and the other features of the Grasshopper phone system.
Join the Conversation with Grasshopper
Over 300,000 Happy Customers Served
Here's what a few of them have to say about Grasshopper
I am now a huge fan of Grasshopper… truly saved the day (and my sanity). Carolyn Appleton Carolyn M. Appleton, Inc.
Having a phone number on our site increased conversion of site visitors to sign ups and paid users! Allan Branch LessAccounting