Marketing
&

Advertising
Toll Free Numbers for Your Marketing Business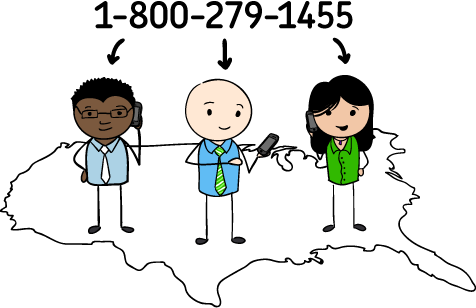 Toll free numbers include 800, 888, 877 and 866
Unlimited phone extensions allow your phone system to grow with your business.
Call forwarding ensures you never miss a sales opportunity.
Informational extensions enable you to showcase current promotions to potential clients.
30 Day Money Back Guarantee!
Get a Toll Free Number »
or See How it Works »
The Virtual Phone System for Marketing Companies
Features Your Marketing Business Needs
Toll Free Numbers
Toll free numbers are a great way to give your business a professional image and your customers an easy way to reach you. Find true 800 numbers along with 888, 877 and 866 numbers.
Informational Extensions
Informational Extensions allow you to save time and give your callers information they are looking for. Informational extensions are a great way to provide information such as directions or company information but can also be used to showcase promotions, current clients or deals.
Call Forwarding
Call forwarding an essential part of any virtual phone system. Forward calls to any number on any phone. Perfect for when you or your employees are located in different areas or work from home.
Extensions
Set up extensions for everyone in your office or company for no extra charge. Every plan from Grasshopper includes extensions, each with their own voicemail and call forwarding feature.
Voicemail to Email Delivery
Traveling? Out of the office? At home? Every time a voicemail is left on your extension, an email will be sent to the specified address letting you know that you have received a new voicemail. An MP3 will also be included so you can listen to your voicemail right there on your computer or phone.
Local Numbers
Grasshopper also has local numbers available for those looking to create a presence in towns and and cities across the United States.
Read Your Voicemail
Read Your Voicemail is the latest feature on the Grasshopper virtual phone system. Have your voicemails transcribed and emailed to you.
Away Greetings
Create custom greetings for the times you can't be in the office. Specify office hours, holidays or vacations. Grasshopper lets you sound professional to your clients and customers even when you aren't there.
Business SMS
Business SMS helps you keep in touch from anywhere in the quickest and most convenient way — texting. You can send and receive SMS messages from your business number to maintain a professional image no matter where you're working from.
Have Questions on the Grasshopper Virtual Phone?
When promotions change, how many informational extensions can I set up within my account?
Grasshopper offers unlimited extensions with all plans so you will never have a problem setting up new extensions.
I am often at off-site meetings and can't answer the phone. How does Grasshopper help?
With voicemail to email you will never miss an important voicemail. Have the voicemail delivered to your Smartphone. Add the read your voicemail feature and view your voicemails via email.
Can I set up after hours greetings for the office?
Grasshopper away greetings let you set what days and times you want your greetings to play. Going on vacation? Create a custom greeting and set the desired times you want it to play. A virtual phone system can help you sound professional even when you aren't there.
What if I need both a toll free number and a local number?
You can add additional numbers to your account if needed. The Partner and Small Business plan both include multiple numbers. Additional phone numbers can be added for $10 each.
Listen to a live
Marketing Demo
Dial: (866) 538-6527
Press 1: Creative
Press 2: Promotions
Over 300,000 Happy Customers Served
Here's what a few of them have to say about Grasshopper
I am now a huge fan of Grasshopper… truly saved the day (and my sanity). Carolyn Appleton Carolyn M. Appleton, Inc.
Having a phone number on our site increased conversion of site visitors to sign ups and paid users! Allan Branch LessAccounting