E-Commerce Companies
Toll Free Numbers for Your Online Business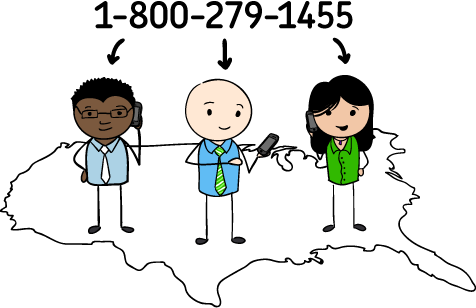 An 800 number allows small E-commerce sites to sound larger and project a professional image.
Call Screening & Announce tells you who is calling ahead of time. Know if it's a sales call before you even speak to the caller.
Informational extensions let E-commerce sites feature products, sales or promotions.
Track phone sales by creating a specific extension.
30 Day Money Back Guarantee!
Get a Toll Free Number »
or See How it Works »
The Virtual PBX System for E-Commerce Companies
Features Your Online Business Can Use
Informational Extensions
Informational Extensions allow you to save time and give your callers information they are looking for. Informational extensions are a great way to provide information such as support hours or company information but can also be used to showcase promotions and deals.
800 Numbers
800 numbers are a great way to give your business a professional image and your customers an easy way to reach you. Find true 800 numbers along with 888, 877 and 866 numbers.
Custom Main Greeting
As a small E-commerce business , it is important to sound professional to your customers in order to establish trust. A professional greeting and introduction to your company can go a long way toward establishing a larger appearance and is easy to set up with the Grasshopper virtual phone system.
Professional Voice Studio
Not everyone feels comfortable being the voice of the company. That is why we offer professional voice talents. Have a professional create your company's main greeting. You write they script and they record.
Call Forwarding
Call forwarding an essential part of any virtual pbx system. Forward phone calls to any number on any phone. Perfect for when you or your employees are located in different cities or work from home.
Unlimited Extensions
Set up extensions for everyone in your office or company for no extra charge. Every plan from Grasshopper includes unlimited extensions, each with their own voicemail and call forwarding feature.
Away Greetings
Create custom greetings for the times you can't be in the office. Specify office hours, holidays or vacations. Grasshopper lets you sound professional to your clients and customers even when you aren't there.
Voicemail to Email
Traveling? Out of the office? At home? Every time a voicemail is left on your extension, an email will be sent to the specified address letting you know what you have received a new voicemail. An MP3 will also be included so you can listen to your voicemail right there on your computer or phone.
Business SMS
Business SMS helps you keep in touch from anywhere in the quickest and most convenient way — texting. You can send and receive SMS messages from your business number to maintain a professional image no matter where you're working from.
Have Questions on the Grasshopper Virtual Phone?
How could I use extensions for my online marketing?
By creating and using different phone extensions for each campaign, you can accurately track your online marketing efforts.
How could I use informational extensions?
Informational extensions (formerly VMEs) are a great way to give callers more information about your company, your products, and services, using info-only extensions. Have a specific sale going on? Want to give visitors information on a featured product? Informational extensions are a great way to do this.
How will I know whether a call is coming in for sales or support?
By creating extensions for different departments you can see where the call is coming from and be prepared ahead of time. You can also choose whether you want your caller's number to show up on the caller ID or your Grasshopper phone number.
Will I have to use a separate phone for my Grasshopper number?
Your Grasshopper toll free or local number can be forwarded to any number on any phone. No extra equipment is required.
Listen to a live
E-Commerce Demo
Dial: (888) 238-6610
Press 1: Projects
Press 2: Sales
Over 300,000 Happy Customers Served
Here's what a few of them have to say about Grasshopper
I am now a huge fan of Grasshopper… truly saved the day (and my sanity). Carolyn Appleton Carolyn M. Appleton, Inc.
Having a phone number on our site increased conversion of site visitors to sign ups and paid users! Allan Branch LessAccounting