Local Numbers for Your Business
Find Area Codes Across the US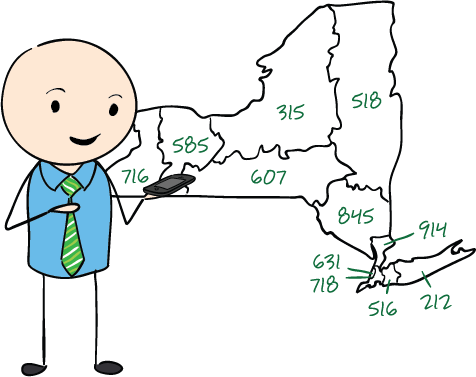 Local area codes help create a local or national presence
Add multiple cities throughout the U.S.
Transfer a number from anywhere in the U.S.
Send text messages to U.S. and Canadian numbers
Find available local numbers from Grasshopper
30 Day Money Back Guarantee!
Get a Local Number »
or See How it Works »
Get a local as well as a multi-city company image
When choosing a phone number for your business, you must decide whether you want to go with a toll free or local number. Depending on where you're located and what you do, a local number may be the best option.
So, what is a local number? The areas where you live and work have their own unique area codes. That's why the local pizza joint's number starts with the same digits as your home line. When people see a 617 number, they can identify that the caller is from Boston.
Why use a local number?
If you're running a business that depends upon users who live in the area, then you may want to choose a local number. Here's why:
Local numbers identify your location. Certain area codes make it obvious where your business is based, which can be important depending on what you sell.
They cater to regional customers. If people that live in Philadelphia see that you're based in Philadelphia, they'll be more likely to buy from you. If you have a brick and mortar location and only sell to people in your region, then you probably want a local number.
Sometimes customers prefer if a business seems local. Sometimes a local business number appears more down to earth, especially compared to a toll free number that implies a national, less personal focus. People have a lot of pride in where they live and work, and often love other sentimental locations.
Easier to receive international calls. It is more difficult to receive international calls with a toll free number because calls are paid for by the recipient. This isn't a problem with local numbers.
Send business text messages. With a local Grasshopper number, you can send unlimited SMS messages to any 10-digit U.S. or Canadian number.
What are the most well-known area codes?
People from different cities might argue that their area code is the most identifiable, but here are some area codes attributed to certain U.S. cities.
Can local numbers be toll free?
No. Usually, businesses with a local number get calls from those in the same area code, who pay local rates.
Does Grasshopper offer local numbers in Canada?
Yes, we do. You can see all of the Canadian area codes available on our Canadian Numbers page.
Join the Conversation with Grasshopper
Over 300,000 Happy Customers Served
Here's what a few of them have to say about Grasshopper
I am now a huge fan of Grasshopper… truly saved the day (and my sanity). Carolyn Appleton Carolyn M. Appleton, Inc.
Having a phone number on our site increased conversion of site visitors to sign ups and paid users! Allan Branch LessAccounting