Call Routing Extensions
Never Miss an Important Call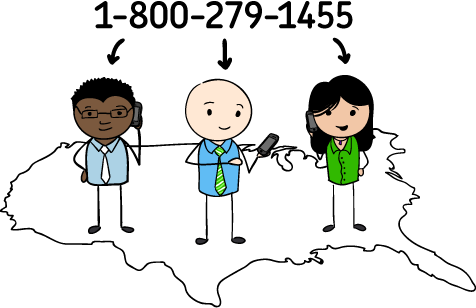 Ensure calls are routed equally to everyone
Frequently asked questions about call routing extensions:
If I have 5 sales reps on my team, can incoming calls be distributed randomly among them?
Yes, you can create rotational extensions that automatically distribute incoming calls evenly to a group.
Can callers be put on hold indefinitely in a queue?
Automatic Call Distribution (ACD) Queues can keep callers on hold indefinitely until one of the call is answered.
Do callers have the option of leaving a message if they don't want to hold any longer?
Yes. Callers can press * at any time to go directly to voicemail.
Can I have custom on hold music?
Yes, Grasshopper offers custom on hold music. Upload your favorite song for callers to listen to, or pick a track that you think best fits your business. You may also have different music on different extensions. Want to give your callers more information while they're on hold? Create a custom on-hold commercial mixing music with marketing messages. Uploading greetings or on hold music is easy.
Over 300,000 Happy Customers Served
Here's what a few of them have to say about Grasshopper
I am now a huge fan of Grasshopper… truly saved the day (and my sanity). Carolyn Appleton Carolyn M. Appleton, Inc.
Having a phone number on our site increased conversion of site visitors to sign ups and paid users! Allan Branch LessAccounting