Voicemail to Text
Read Your Voicemail On the Go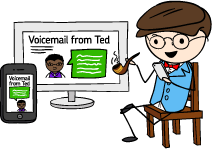 Read Your Voicemail
Grasshopper lets you stay connected even when you can't check your voicemail with our Read Your Voicemail feature. You can have your voicemail transcribed to text with the option of human transcription included at no extra cost. With the transcription emailed to you as readable text, you'll be able to stay connected when you can't listen to your voicemail.
Benefits of Voicemail to Text
Increased connectivity: read your voicemail messages when you can't listen to them. Between meetings, travel, and everyday life, it's hard to listen to all of your business voicemail messages as they come in. With Read Your Voicemail from Grasshopper, you can keep up with your messages wherever you are and no matter what you're doing..
Keep your colleagues in the loop: in addition to transcribing your voicemail to text, Read Your Voicemail lets you forward your transcriptions to as many email addresses as you'd like..
Completely accurate transcriptions: Grasshopper gives you the option to have your voicemail transcriptions verified by a human transcriber at no extra cost.
How Can I use Read Your Voicemail?
There are lots of creative ways to use voicemail to text transcriptions. Many customers take advantage, leveraging it for event RSVPS, customer service ticketing systems, lead generation systems for real estate agents, among other uses. Some customers even call their own voicemails to leave notes when they don't have a pen and paper or computer handy.
What other Features are Available with a Virtual Phone System?
The number alone is great, but other features can make it better. Many providers will have additional features such as:
Over 300,000 Happy Customers Served
Here's what a few of them have to say about Grasshopper
I am now a huge fan of Grasshopper… truly saved the day (and my sanity). Carolyn Appleton Carolyn M. Appleton, Inc.
Having a phone number on our site increased conversion of site visitors to sign ups and paid users! Allan Branch LessAccounting