Visual Voicemail for Your Business
View and Manage Your Messages with Ease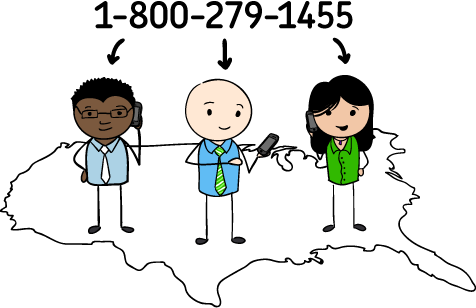 Voicemails emailed as MP3 or WAV files
Send messages to multiple emails
Play voicemails on your mobile device or Smartphone
Voicemail transcription available with Read Your Voicemail feature
30 Day Money Back Guarantee!
Get a Number

&

Sign Up »
or See How it Works »
Visual voicemail on the Grasshopper virtual phone system
View and manage your voicemail messages easily and in any order with visual voicemail. Visual voicemail is among the features of many modern phone systems that take the hassle out of call management.
Frequently asked questions about visual voicemail for business:
What is visual voicemail?
Visual voicemail refers to the way voicemail messages are displayed on almost every cell phone. Visual voicemail allows you to view your messages and listen to them in any order you choose, making it easy to scroll through and manage voicemail right from your device. This added level of convenience has made visual voicemail a standard feature for smartphones and many phone systems.
What's the difference between visual voicemail and voicemail transcription?
Here at Grasshopper we offer a feature to our customers called 'Read Your Voicemail'. When a customer subscribes to this feature, they are emailed a transcription (and an MP3) of their voicemail immediately after receiving it (we offer human transcription at no extra charge for better accuracy). They can then read the voicemail on their computer or Smartphone.
Visual voicemail is the manner in which your voicemail is displayed in the online portal and the Grasshopper app.
How much does visual voicemail cost?
Visual voicemail is a standard feature in both the Grasshopper app and online portal.
Can Grasshopper be used as a standalone voicemail system whenever I don't answer the phone?
Yes, you can have your local phone company forward calls to your Grasshopper number after a certain number of rings or when busy. For example, a call to your existing local phone number would get transferred to your Grasshopper toll free or local number and the caller would be able to leave messages for any of your extensions.
How can I use Grasshopper's voicemail?
There are lots of creative ways to use our voicemail system. Many customers take advantage of Voicemail Transcription, leveraging it for event RSVPS, customer service ticketing systems, lead generation systems for real estate agents, among other uses. Some customers even call their own voicemails to leave notes when they don't have a pen and paper or computer handy.
How many voicemail extensions can I have?
Grasshopper customers may have an unlimited number of phone extensions with any plan.
Can I upload my own voicemail greetings?
Customers can record their own voicemail greetings via phone, or use the Grasshopper voice studio to create professional messages. You can also upload your voicemail greetings.
Over 300,000 Happy Customers Served
Here's what a few of them have to say about Grasshopper
I am now a huge fan of Grasshopper… truly saved the day (and my sanity). Carolyn Appleton Carolyn M. Appleton, Inc.
Having a phone number on our site increased conversion of site visitors to sign ups and paid users! Allan Branch LessAccounting