Get informed and feel prepared with a timeline view.
Pick up where you left off with every call, text, or email.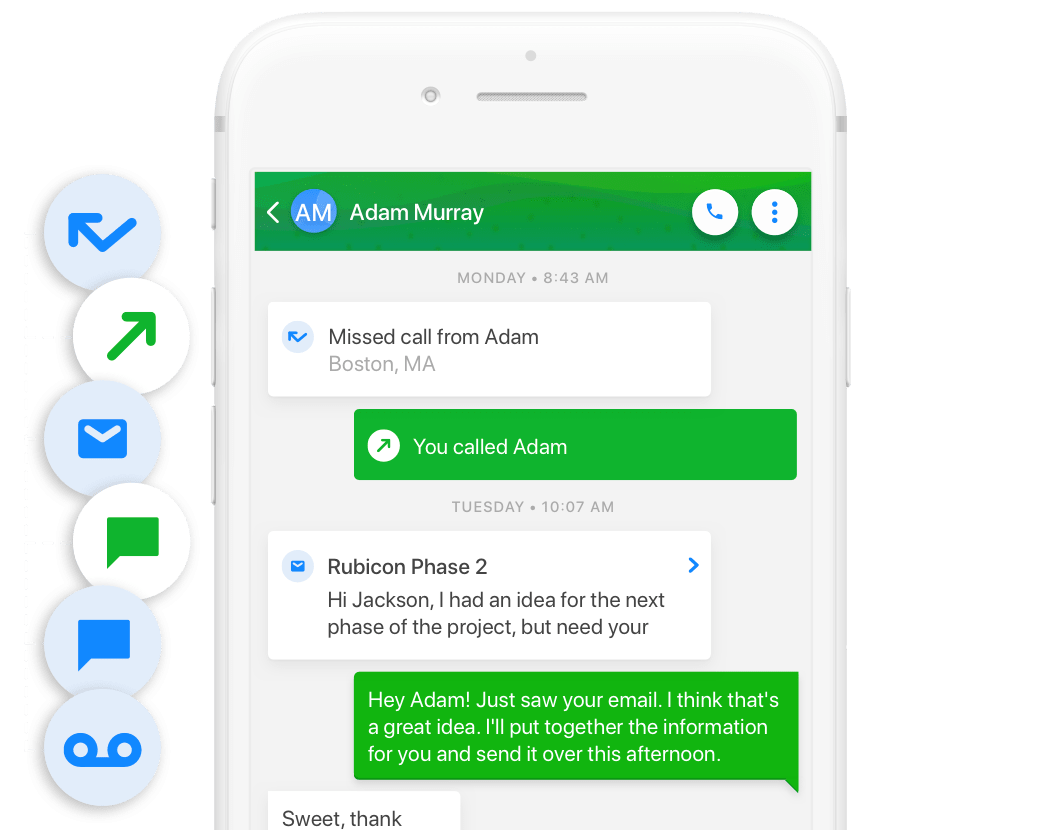 What is the timeline view?
The timeline view helps you see the big picture! This is a single view of past conversations with one client across all communications channels. That way, you're armed with more information for the next conversation because you're not just seeing the most recent thread. Within the timeline view, you can also respond quickly via call, text, or email.
How to see the timeline view:
Pick up where you left off with any given contact.
Get Grasshopper Connect
Download the app and choose a local, toll-free, or vanity number for your business. (Or port your own!)
Create Business Contacts
Try it Out
See a timeline view when you tap any of the individual conversations.
What are the benefits of a timeline view?
Get all the information you need to feel prepared for the next conversation with a client.
See all past conversations with a client, not just the most recent thread.
No more searching through different apps! One place to quickly search for different projects and communications.
Quickly respond to a client in their preferred way of communicating.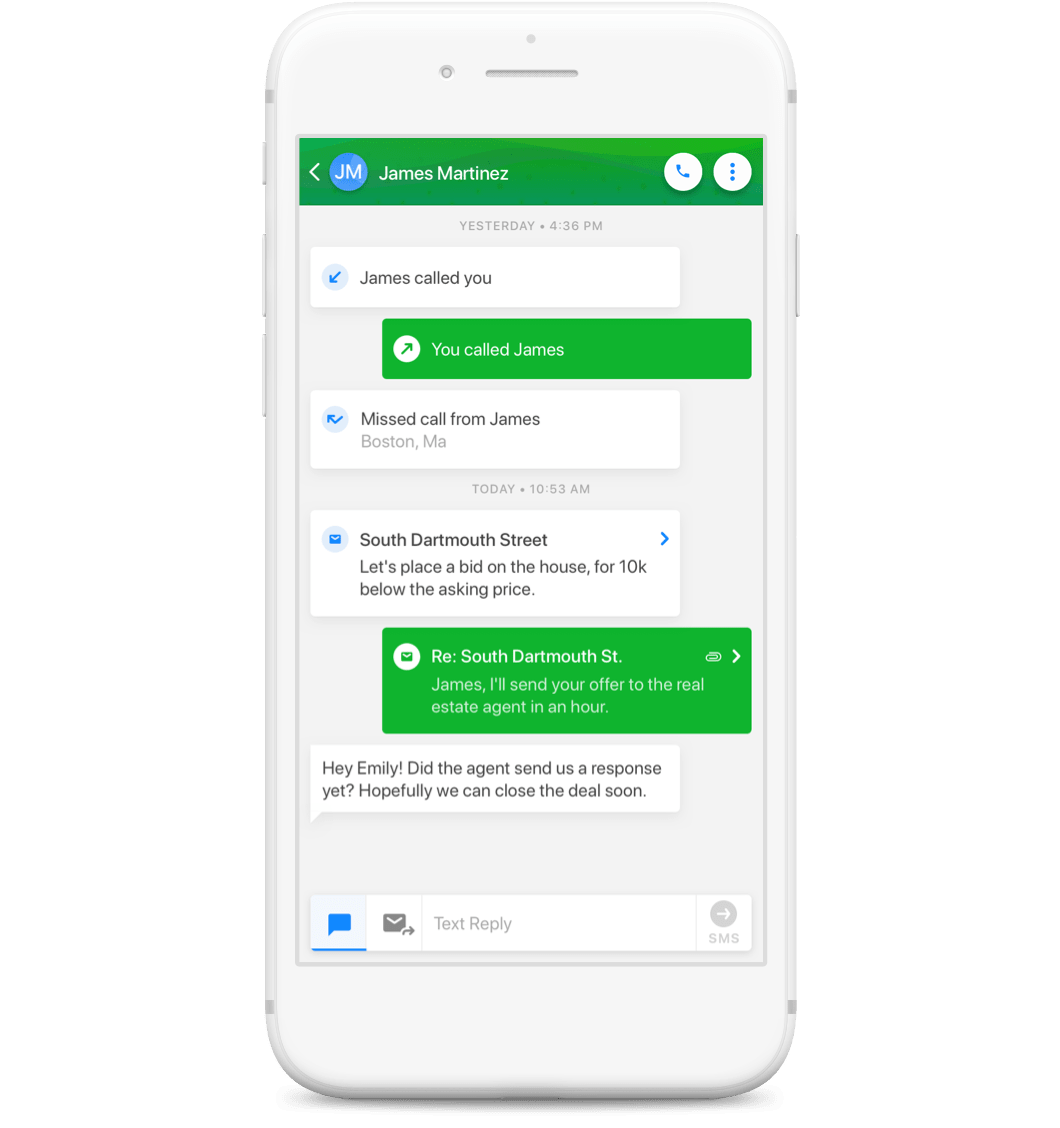 Treat each customer like your only customer.
Pick up where you left off with every call, text, or email in one view.
Grasshopper Connect's timeline view is just one of the great features to help you keep track of your client communications. When you sign up, you get many great features to go with it: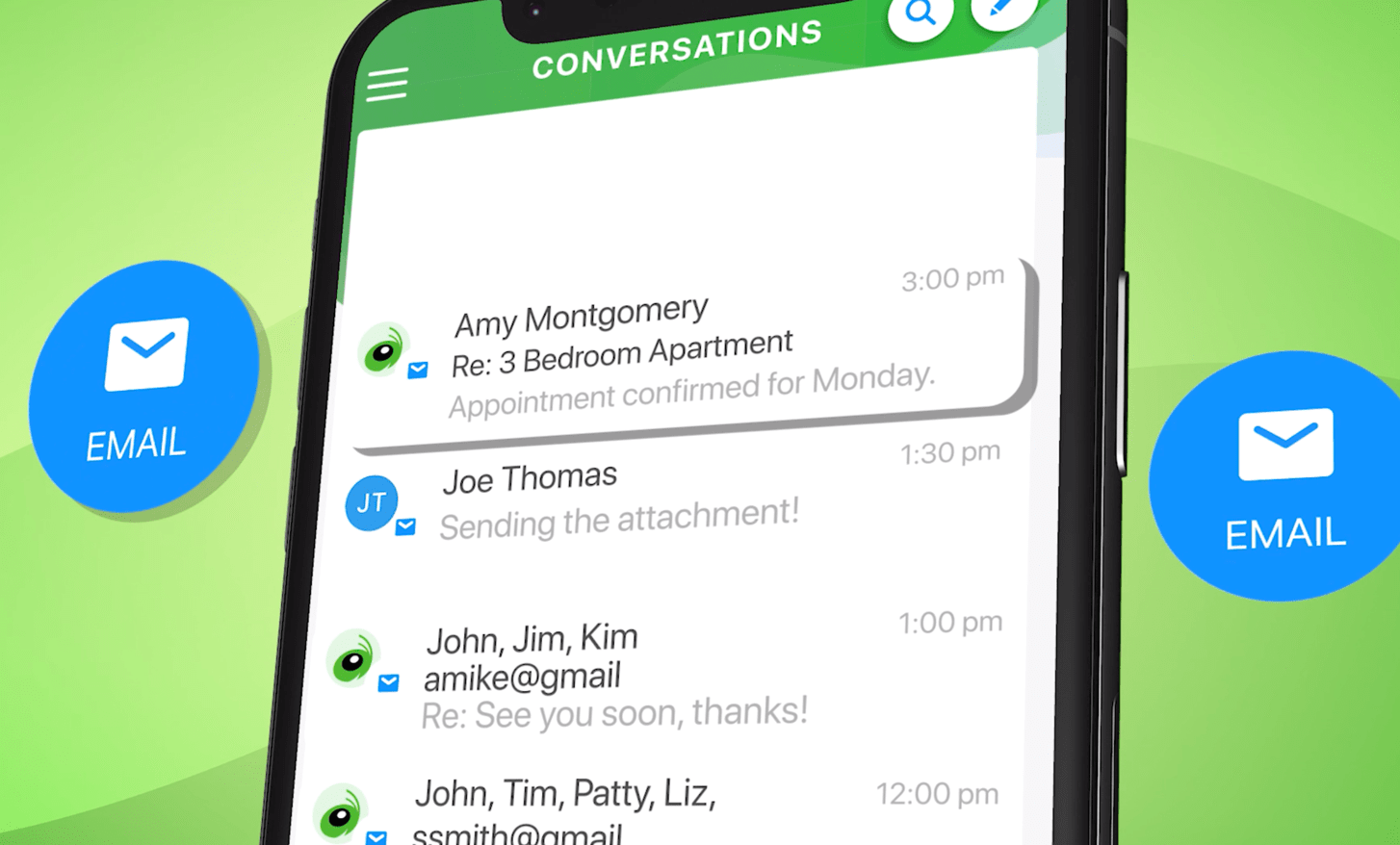 Explore Grasshopper Connect's top features:
Email Integration
Integrate an existing email account. No need to create a new business email.
Mobile App
Work from anywhere with Grasshopper Connect on your mobile phone.
Business Calling
Make calls to clients on your business number from your personal phone.
Business Texting
Provide updates and quick replies via text messaging on your business number.
Hold Incoming Calls
Send incoming calls to voicemail instead with the flip of a switch.
Call Blocking
Stop numbers you choose from ever reaching you.
Voicemail
See business voicemails next to texts and emails.
Ruby Receptionist
Live US-based receptionists can help answer your Grasshopper calls!
Frequently Asked Questions
How do I get access to my timeline view?
You can get to a client's timeline view by tapping on their name in the main conversations screen, otherwise known as the unified messaging. From there you will see your past exchanges with that contact.
Why doesn't my timeline view include my emails?
Make sure you sync your Gmail or Gsuite account to get emails included in your timeline view. You can confirm if your Gmail or Gsuite account has been connected by going to the settings menu to view your connected email account.
Can I make edits to a timeline view?
Yes you can delete conversations in the timeline view for the mobile app.

Just tap on the circle with the 3 blue dots on the upper right-hand corner and choose edit conversation. From there, you can pick which messages you would like to delete.
Win more business with Grasshopper Connect.
Never lose track with every communication organized.