A Cloud Phone System for Your Business
Sound Professional & Stay Connected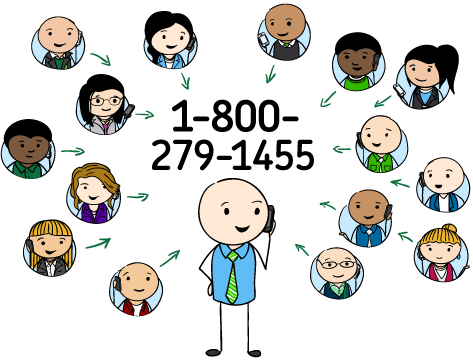 800 numbers and local numbers
Call forwarding to office or cell phones
Extensions, voicemail

&

custom greetings
Professional SMS from your business number
Try Grasshopper for Free!
Get a Number

&

Sign Up »
or See How it Works »
Put Your Phone System in the Cloud
Cloud phone systems- they're all the rage! But what are they? A cloud phone system is hosted in the cloud, which means that data is stored in a secure server which you can reach over the internet. A cloud phone system replaces traditional land lines, and is usually hosted by a third party provider like Grasshopper.
Instead of an answering machine tape, phone bills, and tons of wires, a cloud phone system is stored digitally. This makes it less expensive and easy to use. Because of this, it improves the way businesses operate.
What's so great about it?
Cost Savings. A cloud pbx system is much less expensive than traditional land lines. It allows you to sound like a Fortune 500 company for a fraction of the price.
Easy set-up. Because the system doesn't require wire rerouting, cloud-based phone systems are easy and fast to set-up.
Time saving. Traditional business phone systems are high maintenance and require intense set up. Skip all of that and save time.
Remote capabilities. Remote capabilities is a fancy way of saying that you can easily hook a cloud phone system up to mobile phones, so you don't have to be tied to a desk.
Advanced features. Today's cloud phone systems have all the advanced features you need, including the ability to add multiple extensions, message management, call forwarding, voicemail, business SMS, and different physical phone options.
What about features?
Message management. A cloud phone system differs from a traditional system in part because users can manage their messages, voicemails, and more.
Call forwarding. A cloud phone system can help you forward calls to your support team, customer service desk, development team, or anywhere else.
Voicemail. Most cloud-based systems allow you to record your own voicemail, set up multiple voicemails, read voicemails online, and more.
Business SMS. Send and receive unlimited professional text messages from your toll free or local number, right from the Grasshopper app.
Phone options. You can use traditional-looking phones in your office, or set up cell phones to receive calls with a cloud-based phone system.
Why It's Great for Small Business
Cloud phone systems are ideal for small businesses for a lot of reasons:
Grasshopper's extensions, voicemail, and call forwarding work with your toll-free number to create a professional appearance and make your business sound bigger.
Whether you're crunched for time, money, or all of the above, a cloud-based phone system is the perfect solution with quick set-up and no additional hardware costs.
Grasshopper's cloud PBX solution combines a robust blend of features that allow you to be flexible, mobile, and productive – the trifecta for small business.
A cloud phone system is a great fit for any entrepreneur, and Grasshopper's system will grow with your business, allowing you to focus on running it.
Numbers for your Cloud Phone System
Get an 800 number with a prefix of 888, 877, 866, 855, or now 844 for your business.
FAQ
What is a cloud phone system?
Also known as cloud PBX and virtual PBX, cloud based phone systems utilize secure data centers to eliminate the need for expensive hardware and cables. Cloud phone providers own, configure, and manage these systems to ensure quality and security.
Is a cloud phone system the same as VoIP?
Grasshopper's cloud hosted system is not a VoIP system. VoIP (Voice over Internet Provider) uses the public internet to transmit phone calls, which can result in an unreliable connection and poor call quality. Grasshopper works on top of your existing landline or cell service, so voice quality never suffers.
Can I use a cloud-based phone system with my cell phone?
You sure can! Grasshopper's system works with landlines, cell phones, or both, so you can use it from anywhere and at any time.
Is a virtual PBX system right for my business?
Probably. If you like saving time and money, sounding professional, and being mobile, there's a good chance that a cloud business phone system is a great fit for you and your company.
What are people saying about cloud phone systems?
"For example, you can have calls forwarded sequentially or concurrently to a computer, land line, or mobile device. We use this feature so that when a client calls into Urban Insight, the system finds an available support staff member to provide support." –Chris Steins, Urban Insight
"With cloud-based hosting, the phone system turns into a unified communications system. With cloud-hosted VoIP, users access a web-based dashboard, which lets them manage features and check the status of other people on the system. For example, they can check to see if a person is on another call before transferring someone to that extension." –ResourceNation
"With the right virtual phone system in place, your small or medium-sized business will get the same features you would have if you had invested more money in a high-tech and high-maintenance phone system." –Randy Kremlacek
Join the Conversation with Grasshopper
Over 300,000 Happy Customers Served
Here's what a few of them have to say about Grasshopper
I am now a huge fan of Grasshopper… truly saved the day (and my sanity). Carolyn Appleton Carolyn M. Appleton, Inc.
Having a phone number on our site increased conversion of site visitors to sign ups and paid users! Allan Branch LessAccounting