For entrepreneurs, many skills are learned through simple trial and error. They become experts in their industries by learning everything they can and then expanding upon that knowledge base by putting theory into practice.
But when it comes to writing, many small business owners can't seem to gain any headway.
No matter how many times they've sat down in front of a blank screen, the words never seem to look and sound the way they want them to.
That's why today, we've gathered a list of writing apps and tools that can help break through that barrier and turn anyone into a better writer.
Constantly checking your word usage and phrasing while your writing can really slow down the process. But with the Writefull app, it's almost like you have in-house editor right in your word processor. Regardless of what writing tool you use, this app provides a popover window that allows you to check five different aspects of your writing against other examples from the entire Google Books and Wikipedia database, including:
Number of times a certain phrase has been used (to see if your wording makes sense)

Comparison of two or more ways to phrase something

Examples in context

How to bridge the gap (to fill in the blank for a word you can't think of)

Frequently substituted synonyms
Cost: $5 for the Google Books version, $2-12 for the full web version depending on number of search queries
Best for: Beginner writers who are concerned about basic syntax as well as writers with English as a second language.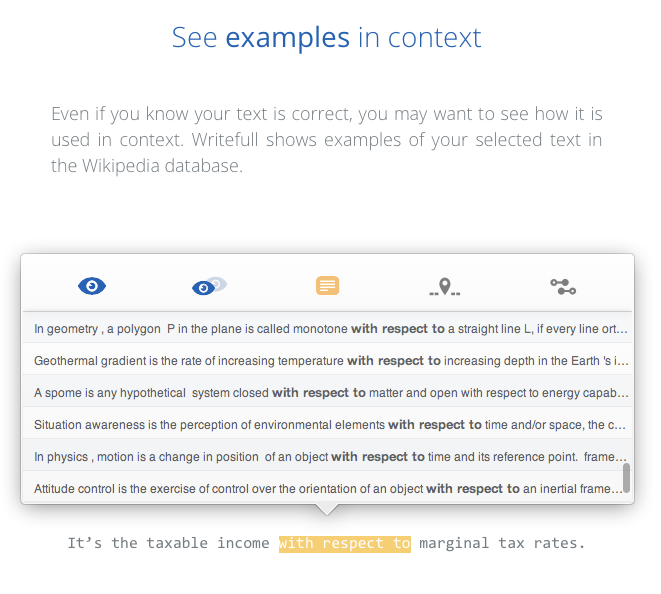 Ever wanted to be able to write in a strong, powerful voice like that of Ernest Hemingway? You can. Hemingway app helps make your writing more clear, concise, and pack more punch by highlighting sections of text that could be revised to sound more Hemingway-esque. You'll write sentences that are strong and true in no time. Highlighted sections would include:
Sentences that are too long

Sentences that are too complicated

Adverbs (which should be substituted for action verbs)

Words that are too long or complex

Instances of passive voice
Cost: FREE!
Best for: Writers who have a tendency to be long-winded and overly wordy but want a more simplified writing voice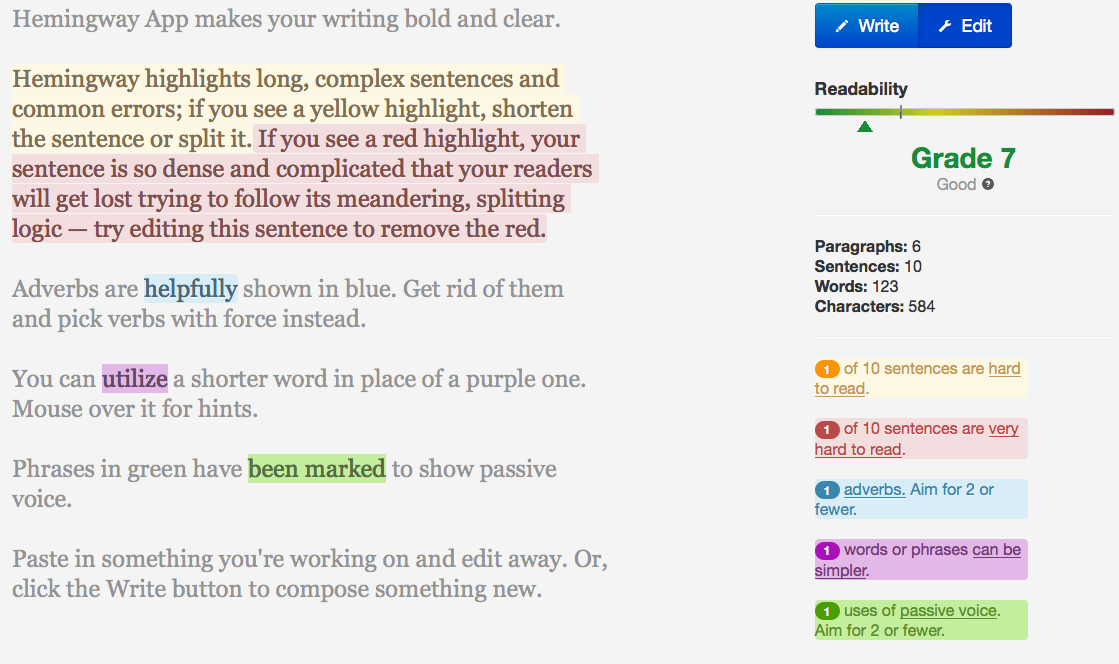 Did you realize that MIT (yes, that MIT) offers free online courses on any type of writing you could ever imagine? It's true! Each course comes with a complete syllabus, reading materials, and assignments. All you have to do is put in the time and effort. A few courses entrepreneurs might be interested in include:
Cost: Free (except any course materials you may need)
Best for: Writers looking for a challenge with a traditional education format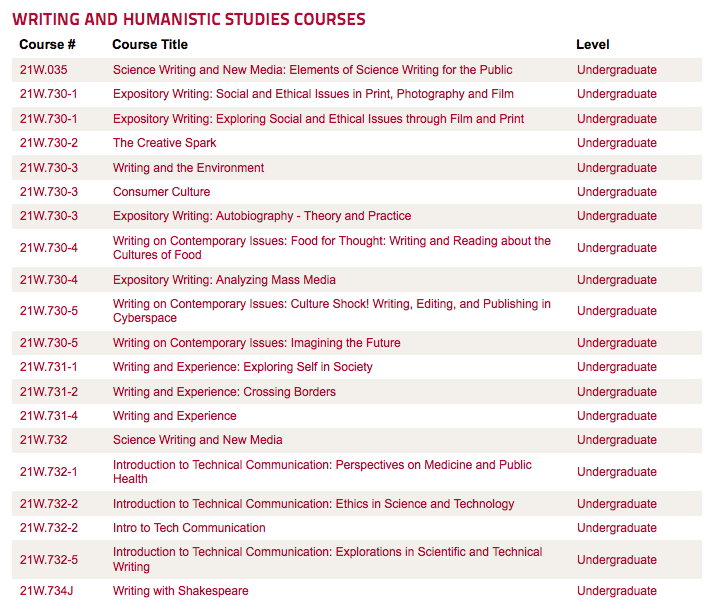 When you're facing writers block and can't figure out how to describe or phrase something, Spice Mobile steps in to give you inspiration from famous literature. Whether it's a better way to describe a new product, or inspiration for a different turn of phrase, this app helps get your creative juices flowing with words from the likes of Shakespeare and F. Scott Fitzgerald. But please, no plagiarism, of course. Features include:
A thesaurus with over 22,000 creative phrases

Frequency of use estimations

Popularity of a term over time
Cost: $0.99-6.99 based on limited or full version
Best for: Writers who are tired of referencing a plain old thesaurus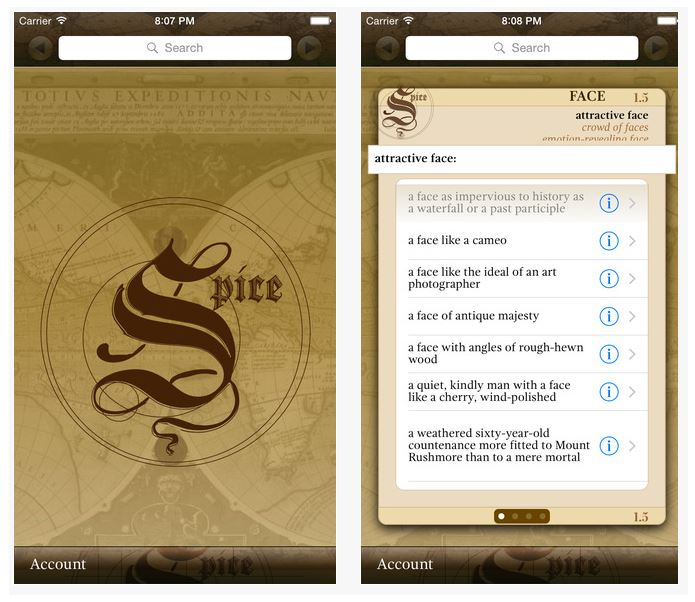 When it comes to writing, practice makes perfect. Write or Die helps you set goals for word counts and forces you to stop thinking and start writing in a game-like setting. You can set up visual rewards or cues for reaching certain goals, as well as consequences (like buzzer sounds, spiders, etc.) to keep you motivated along the way. Other interesting facets include:
Customizable backgrounds to set the writing environment mood

Add your own playlist with work-mode tunes

Visual and audible stimulation to keep you on track
Cost: $20 (free trial available)
Best for: Writers who struggle with getting started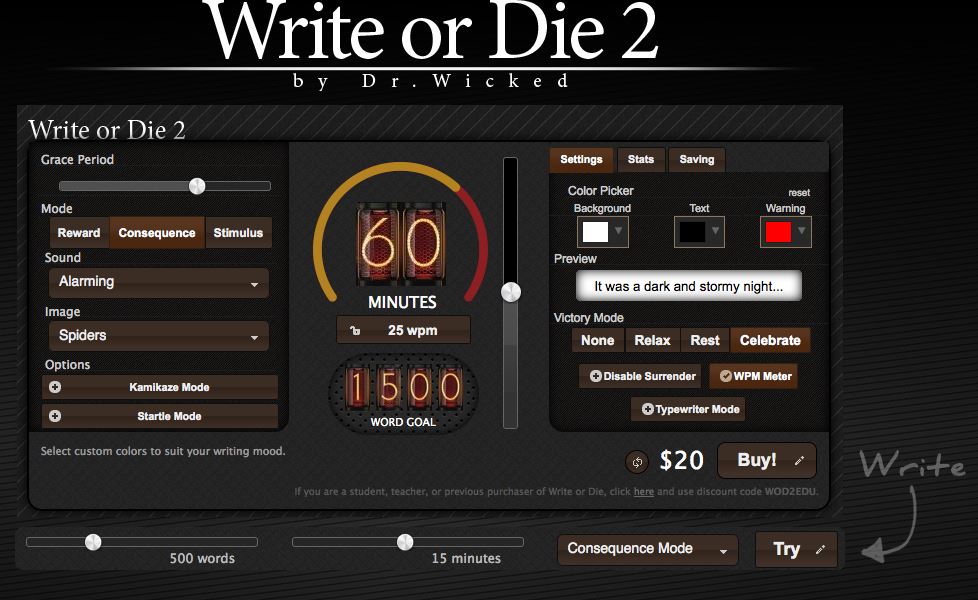 Bottom Line: Don't Give Up!
It can be frustrating when writing gets you down, but remember--if you keep working at it, you'll get better! Use these writing apps to get you out of your writing slump. You'll be a natural wordsmith before you know it.
Do you find yourself writing a lot as an entrepreneur? What tools or apps would you add to this list?