It's that time again.
When women young and old celebrate Women's History Month by taking a look back at how far we've come and all the work we have left to do.
We couldn't think of a better way to contribute than by assessing the state of women in business. Since entering the workforce, women have surged ahead — making big gains and contributions to entrepreneurship and job growth throughout the world, and here in the U.S.
So without further ado, let's see what's happening with entrepreneurial women.
Women's Entrepreneurship By the Numbers
The latest numbers from 2016 show an estimated 11.3 million businesses in the U.S. are now owned by women. Those businesses employ nearly 9 million people and pull in more than $1.6 trillion (with a 'T') in revenue.
Since 2007, women-owned companies have grown by 45% — meanwhile, business growth in general has increased by only 9%. That means businesses owned by women are growing a full five times faster than the average.
And women aren't just starting businesses. With 7% more female entrepreneurs noting intent to grow their business by 50% and employ at least 10 people within 5 years, they're planning real growth and employment expansion.
They're growing revenues, too. According to a study commissioned by American Express OPEN, "Business revenues among women-owned firms have increased by 35% since 2007, compared to 27% among all U.S. firms — thus at a rate that is 30% higher than the national average."
It's obvious that women's entrepreneurship is coming to the fore. Not only are women starting more businesses than ever, we're setting our collective sights on more growth and higher revenues than last year, last quarter, and last month.
Current Trends
Growing Diversity
In addition to the growth of women in entrepreneurship generally, we've also seen a huge increase in the diversity of women starting those businesses. The number of companies owned by women of color has more than doubled in the past nine years, growing 126%. What does that look like? Today, there are almost 2.8 million more women of color-owned businesses than in 2007.
In fact, women of color are driving growth in women's entrepreneurship overall representing 79% of new businesses owned by women. African American women, alone, currently own more businesses than all minority women combined in 1997.
They're growing jobs, too — minority women-owned businesses have added 340,000 jobs since '07 (job growth at companies owned by men has actually declined.)
Geographic Trends
According to the Global Entrepreneurship and Development Institute's Female Entrepreneurship Index, the U.S. scores highest for development of "high potential female entrepreneurship," followed by Australia and the U.K.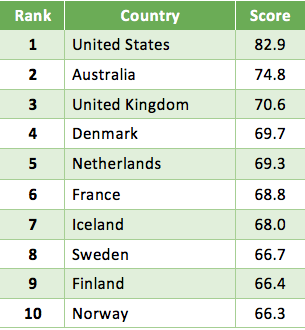 Within the U.S., American Express OPEN's study looked at the growth of women-owned businesses's economic clout, and the results might surprise you. North Dakota, South Dakota, and Texas were all tied for first, followed by:
Iowa,

Indiana and Wyoming (tied for 5th),

Georgia and Tennessee (tied for 7th),

Utah, and

Maine.
The study also examined economic clout growth among metropolitan areas for the first time this year.
Charlotte, NC

San Antonio, TX

Dallas, TX and Memphis, TN (tied for 3rd)

Austin, TX and Indianapolis, IN (tied for 5th)
Challenges Still Facing Women Entrepreneurs
Despite all the progress women have made in entrepreneurship in recent years, there are still a handful of challenges stunting our true entrepreneurial potential.
Access to funding. Women start 38% of new businesses, but only 2-6% of them receive any venture capital funding. According to a Kauffman Foundation survey, 80% of female tech startups used personal savings as their primary source of funding. While bootstrapping is always a good option, there's no denying the power of a little capital to really jumpstart business growth.

Lack of mentorship & role models. More women than ever are starting their own businesses, but who can they turn to for advice and counsel? While male entrepreneurs have an abundance of potential mentors, there are fewer women at the top with experience to pass down.

Disproportionate share of family work. No matter how much progress we've made recently, there's no denying that women still bear the brunt of household and family responsibility. That means women entrepreneurs have to juggle even more than their male counterparts.

Impostor syndrome. Anyone can suffer from impostor syndrome from time to time, but some women are prone to feelings of inadequacy and undeservingness of their accomplishments. Feelings like that make it hard to find the confidence to launch a new business or take the risks necessary to really grow.
Will you throw your hat into the ring?
If you're a woman who's considering starting a business, share your thoughts with us in the comments below. What are your dreams for a business? Your fears?
---
For more info on the history of women's entrepreneurship, check out Women in Business: How Women Entrepreneurs Have Grown Through the Years over in Resources.