UPDATE 5/24: With the Kauffman Foundation's support, National Entrepreneurs' Day has been moved to Global Entrepreneurship Week - starting November 19th of this year and every Friday of Global Entrepreneurship Week thereafter.
Global Entrepreneurship Week/USA is an initiative to shape the next generation of entrepreneurs and inspire them to embrace innovation, imagination and creativity. Founded by the Kauffman Foundation, it connects people everywhere as hundreds of thousands participate through local, national and global activities designed to help them explore their entrepreneurial potential.
--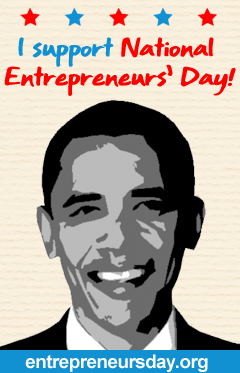 A few months ago, while on my morning commute to the office, I was listening to the so-called "experts" debate the state of the economy, and whether or not the current administration is hurting entrepreneurship with their small business policy and broad taxes, which treat massive corporations and small companies exactly the same. I instantly recalled an infographic David had showed me about the minuscule amount of funding being allocated to entrepreneurship compared to healthcare, education, tax relief, and so on. How surprised I remember being by the lack of funding for entrepreneurship given that entrepreneurs are our central source of jobs and innovation.
Entrepreneurs are America's real "bailout" in the sense that by investing in them and their ventures, we would stimulate a real economic turnaround. Whether or not you agree with the politics, entrepreneurship is a vital part of any economic stimulus - so why did it seem like no one was talking about the lack of investment in the future of entrepreneurs?
I then asked myself why I had never heard of a National Entrepreneurs' Day - did we have one of those? A day to recognize entrepreneurs and all the hard work they do, just like Mother's Day, Father's Day, and so forth? So when I got to the office, I started doing some research. As it turned out, there were lots of week-long events such as Global Entrepreneurship Week, where a self-selected group of people celebrated entrepreneurship, and global events such as World Entrepreneurship Day, but there was no single day in the U.S. - like Martin Luther King Day - during which we recognize the individual entrepreneur and the ways they've made our country (and world) more innovative, and our economy stronger. Even China has a National Entrepreneurs' Day! The more research I did, the more it confirmed my suspicion: America, the most entrepreneurial country in the world, didn't have a National Entrepreneurs' Day.
So, I did what any other entrepreneur would do, and I decided to take action. I asked distinguished entrepreneur and former New Hampshire Governor, Craig Benson, what it would take to get the president to recognize the day - not an official holiday, but a day recognized on the calendar. "A million signatures ought to do it," he said. No problem. David and I knew we had to leverage the power of social media so we came up with what we were calling, "A Twitter Petition to the First Ever President on Twitter." We started getting featured supporters on board: First, Leonard Schlesinger, President of Babson College, then entrepreneurs like Matt Mullenweg, Jason Fried, Dharmesh Shaw, Jeff Bussgang, and others. Ashoka and Entrepreneurs' Organization loved the idea. More and more people were supportive of the movement, and we started to build real momentum.
So, today, a few months after that morning drive, we launched the petition to President @BarackObama. I need your support - sign it. Get your followers to sign it. Tell others about it. Tell your governor, your mayor, your senators. Call your local newspaper, TV stations, and radio shows. Tweet about it, post to your Facebook wall, Digg it, StumbleUpon it, blog about it, email your friends, and do everything you can to help us get a million signatures. Once you sign it, you'll be given a unique link to Tweet and send to your friends.
The more signatures you get with your unique link, the higher your name appears on the letter.
WHY do this? Do it as a favor to yourself, to your country and to the future. Entrepreneurs made this country what it is, and if given the proper recognition and support, they can build an even brighter future through innovation and hard work. Let's make National Entrepreneurs' Day happen now.
If you have questions or more ideas to raise awareness, leave a comment.
Note: This was originally posted here