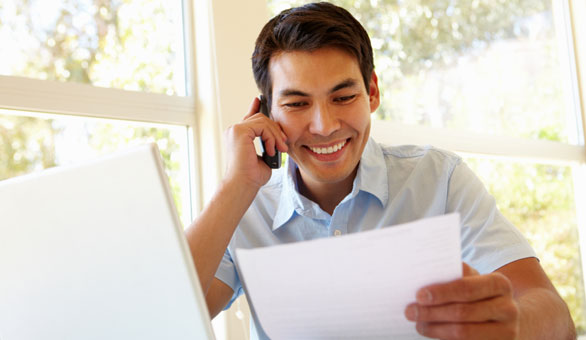 When was the last time you called your own business and listened to your voicemail greeting? If you're like most, it's probably not that often. Voicemail greetings are one of those things we all tend to set and forget. The thing is, your voicemail is often the first impression a new customer gets of your business.
'Leaving the generic greeting either says that you don't care or that you don't know how to change the greeting,' says Ivana Taylor for DIY Marketers. And if you can't handle voicemail settings, what does that say to customers about your business?
Robotic voicemail messages can give customers the wrong impression about how you run your business. Don't make the same mistakes you've heard on other businesses' voicemail. Create a voicemail greeting that makes customers feel as welcomed and delighted as they would be by walking in your door.
Here are a few tips on how to do that:
Differentiate Your Voicemail Greeting
Duct Tape Marketing's John Jantsch relates his experience making business calls one day and being sent to voicemail on three phone calls in a row. 'That's not unusual these days,' he writes, 'but what I found annoyingly silly was the fact that each of the would-be called had a voicemail message that said 'Hi, this is so and so, I'm either on the phone or away from my desk.' – word for word identical and painfully boring.'
Instead, Jantsch suggests personalizing voicemail greetings as an opportunity to make your business stand out in a crowd. Whatever the personality or brand of your business is, try to convey that in your message. 'What if you used your voicemail message to send a subtle marketing hint or at least something attention getting,' he says. 'In all things, you've got to start considering how to differentiate a bit.'
Let Callers Know What to Expect
Humans expect two-way relationships and your voicemail greeting can begin that conversation before your first words are exchanged with your callers. Letting customers know when you'll return their call starts that two-way chat off on the right foot and can relieve any concerns customers may have regarding how responsive you'll be to their needs.
'If you're sunning yourself on the beaches of Tahiti and have no intention of even checking your voicemail until you return to your desk in two weeks, it would be nice to let someone know,' writes the Telecommuting Journal. 'If they're calling you they must need something. Let them know when you'll be available.'
Give Callers Options
The best kind of voicemail greetings can answer some of the callers' questions right then and there. That saves you time as a business owner and genuinely pleases customers who don't have to wait for a return call.
Karen E. Spaeder explains on Entrepreneur.com how dial-by-number directories can be a handy follow-up to a polite, professional message. 'From there, you can allow callers to choose from a variety of options: In addition to leaving a message, they can listen to a list of your services, obtain your address, find out how to place an order and so on,' she writes. 'Basically, you want to provide them with the kind of information you think they're looking for that can be easily and clearly conveyed in a voice-mail message.'
Nothing beats a real human on the other end of the phone but as a busy small business owner who can't afford to field every single call, a customized, helpful and human-like voicemail greeting can be the next best thing.
Have you listened to your voicemail greeting lately? How could you improve yours?
Related Posts Worth Reading: