For brick-and-mortar businesses and online companies alike, the biggest challenge can be getting people in the door or on your website. If your business is in an area without a lot of foot traffic or hasn't upped its SEO game, how can you entice customers to go out of their way to find your company?
One solution is customer reviews. We've become a society that blocks out advertising and fast forwards through commercials. But recommendations from friends or people in our neighborhoods? That's a different story.
How many times have you checked out a review site before visiting a restaurant, hair salon, real estate agency, or other business? We do it all the time!
In fact, 90% claim that positive online reviews influence their buying decisions, according to Dimensional Research.
As a small business owner, you need to make sure you're on top of your reviews. When people are searching you online, these reviews are some of the first things that come up: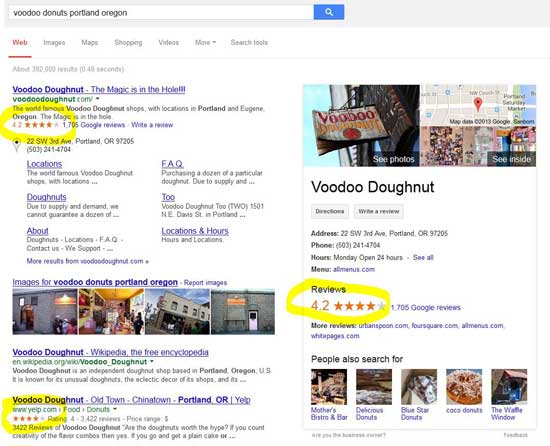 In this post, we'll discuss where people are writing reviews, what to do about negative ones, and how to get more customers to share their experiences.
What Are the Most Popular Review Sites?
There are plenty of places where customers can post reviews. Keep in mind: these sites vary by industry. When encouraging customers to write reviews, pick one or two so that you can streamline where the reviews go, rather than use them all.
Figure out where your customers are spending time online, and select your review sites accordingly.
How to Get More Customer Reviews
Sure, customer reviews can put your business on the map, but how do you get reviews in the first place?
Make it easy.
It should be dead simple for your customers to finish up business and share their experiences. Put a Yelp sign in your store window, put a flyer in their shopping bag, or send an email after purchase with links to your review pages.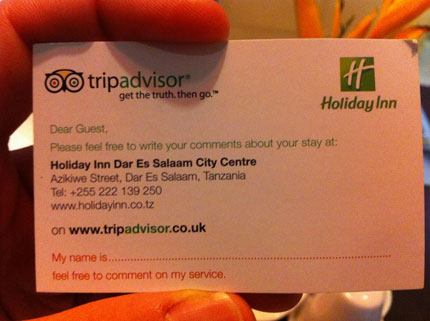 TripAdvisor on a Business Card (Image by Wayan Vota via Flickr)
Ensure your products or services meet high standards.
It's obvious, but having high quality products and services make it easier to garner customer reviews. If the service you offer is stellar, customers will want to tell others about it.
Reach out to customers who are brand evangelists.
If you've got "regulars" coming in or clients that you've helped multiple times, then consider asking them to write a review. These 'fans' will be the ones to write fantastic, quality reviews that will help bring in new customers.
Here's an example of someone asking a repeat client for a review:

Kaleigh asks us for a recommendation for her site
DON'T be pushy.
While it's reasonable to ask customers to review your products or services, only ask once.Companies that push their customers irritate them, make them feel uncomfortable, and ultimately encourage them to write negative reviews.
Make the reviews count.
Instead of just collecting reviews use them for something, and explain to customers how their reviews can improve their experience and give them a reward. Foodler encourages customers to write reviews so it can better suggest future orders and gives extra rewards points for doing so.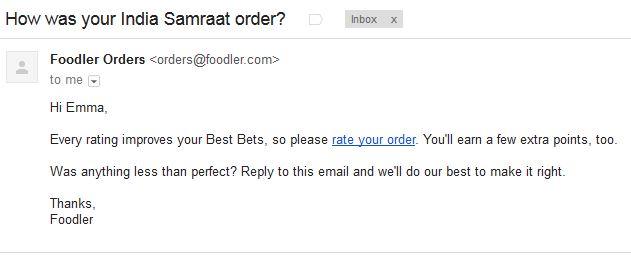 Say "Thank You."
After someone writes a positive review, reach out. Send reviewers a handwritten thank you note, a free sample, or another token of your appreciation.
What to Do About Negative Reviews
Some business owners fear review sites because they're afraid that one bad review -- much like that proverbial bad apple -- will spoil the whole bunch. But, if you handle a negative review correctly, you can make it work for you.
Here's what to do:
Apologize on the review site.
Use the "customer is always right" mantra, even if you think this reviewer just wants attention. Other customers will see your response to the negative comments and be impressed that you're intent on keeping customers happy.
Figure out how to make it right.
If the customer had a bad meal, invite him in for a free one. If he didn't enjoy your services, refund his purchase. Offer him coupons, discounts, anything you can. This example from Craigie on Main, a restaurant in Cambridge, is a pretty exemplary response to a negative review:
Use it for your benefit.
Sure, a negative comment on a public review site is annoying, but it gives you an opportunity to improve. If someone complains about a bad support experience, take a closer look at how your employees answer the phone and cope with issues. Make changes to ensure these negative experiences won't happen again.
Be careful with your language.
Don't you hate when someone says "I'm sorry you feel that way," negating the fact that they did something that made you feel bad? Be careful when you're talking to customers. No matter what, take responsibility and apologize, even if the customer is being unreasonable.
Be present.
If reviewers see that you respond to each and every review with comments and suggestions, they'll be more careful with how they review you. Make sure you are present on your own review site.
Offer suggestions.
Never tell the customer they're wrong, but if their review is because of a misunderstanding, feel free to correct them. Christian Hahn, who runs Made By My Dad, makes a suggestion on how to use his swim goggles that brims with kindness and understanding:
Remember to focus on positive reviews. If someone shares how you helped them out of a rut or offered exemplary services, write a thank you note, send a personal gift, or find another way to say thank you.
Why Aren't My Reviews Showing Up?
This is a concern for businesses on Yelp. They have 10 reviews, but at the bottom of the list, it shows that three are filtered. Yelp has its own secret sauce for how it determines which reviews are genuine, and which might be spam. If a reviewer is brand new, his review may get filtered until he posts about more businesses.
This is frustrating to businesses who rely on each review to drive traffic to their businesses. Our advice? Be patient. As more people come and use your services, more reviews will be showcased.  Don't focus on the reviews that aren't showing up. Instead, encourage others to review you and wait for more to trickle in.
Review Sites = The First Place People Go
Customer review sites are often the first place people go to determine whether they want to use a business' services or buy its products. They check Yelp before dining at a new restaurant or getting their hair cut at a new salon.
By being active about getting reviews and monitoring what's being said about your brand, you can harness the power to grow your business. You want those customers to come streaming in, right!?
Your Turn: Which review sites do your customers turn to? Do you have any strategies for coping with negative reviews and getting positive ones?