Kindness and compassion – two things a lot of businesses take for granted.
Sure, providing great customer service is one thing, but what about doing random acts of kindness without expecting anything in return?
You may be surprised at how many people you can reach that are outside of your customer network, just by being nice.
In this post, we'll take a look at ways some small businesses are paying it forward – and spreading the word about themselves in the process.
When in Doubt, Donate!
If you're crunched for time (you are running a business, after all), donating your products or services is always a great way to give back to your community.
Matt Elder, who runs a youth sports league in Massachusetts and owns Ultimate Mobile Gaming, which is a mobile video game trailer, goes down the donation route with both of his businesses:
"[In the] youth sports league, we have the last day of each season be a day to donate canned food to the local food pantry, and we've collected over 1,000 pounds of food. In the other business, a mobile gaming trailer, we are going to bring the trailer once a month to the Jimmy Fund Hospital, which treats children's cancer patients."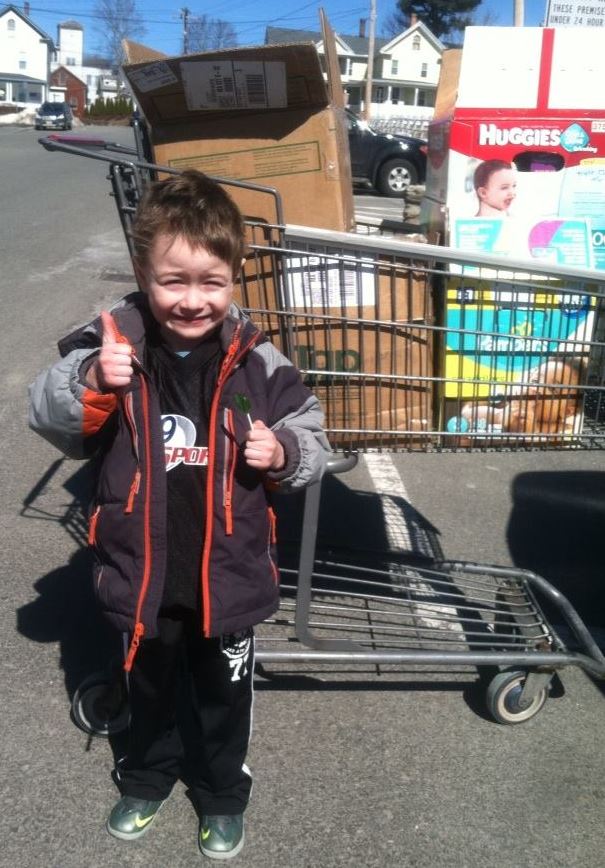 Matt's son outside the local food bank
If your business sells a product, rather than a service, it's even easier to find willing recipients for your donations.
Elyse Horvath, the owner of Natural Paws, likes to help out Arizona Search Dogs by sending them some of her products-- for free.
"Natural Paws has donated Sweet Pea's ActivePaws (our natural paw strengthening treatment) to Arizona Search Dogs as a heartfelt pay-it-forward to the dogs who do so much to help the people in their communities as well as nationally."
Send a Surprise
Everyone likes receiving a little surprise now and then. It's fun and exciting, and makes you feel special. (Unless the surprise is a parking ticket, then you don't feel so special– take it from Emma).
Even if you don't have a ton of spare time, you can work in quick ways to surprise and delight your customers, or plan something bigger around a specific holiday.
Jillian Lama, the owner of Oh Sweet Heavens bakery, demonstrates this perfectly:
"Here at Oh Sweet Heavens, we send out new flavors and product ideas to a handful of customers each week. We send out one dozen free mini's for birthdays, anniversaries and for competitors at various sporting events we attend."
You can bet that the customers who are receiving the samples aren't only enjoying the treats themselves, but sharing with friends and family. That's some sweet word of mouth advertising!
Sometimes it makes sense to organize a small campaign around a particular holiday. We're not just talking about your normal "Happy Holidays" greeting cards, here – think outside the box!
Vickie Austin, a business and career coach, does just that:
"Instead of holiday cards, I send my clients Valentine's cards. This differentiates me from other business people and often surprises people. One person called this year to say thank you and that mine was the only Valentine she received! I also go back a few years to clients I may not have seen for a while, and it sparks a reconnection."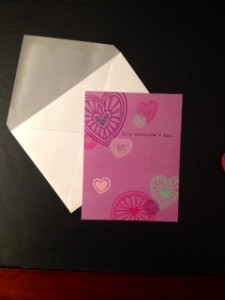 One of the cards Vickie sent to her clients.
By sending a card on a holiday that a lot of businesses don't focus on, she's able to create a talking point with her clients. She's also creating a unique connection with her clients, reinforcing the community she's already worked hard to build.
Get Out and About
One of the best ways to spread kindness?
Get out of your office and give the world a taste of who you are.
Cold Fusion Gelato is doing this by offering free gelato office parties to the businesses in their community. Lucky for us, Grasshopper helped them kick this off! We got to enjoy some delicious gelato, and tweeted, Facebooked and Instagrammed pictures of our tasty experience. Can you say free PR?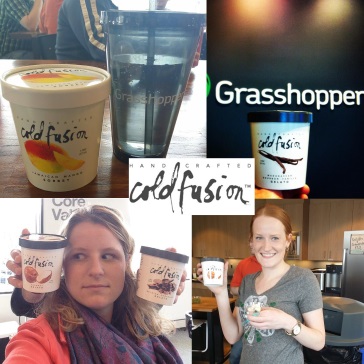 You don't have to have tasty product for this to work. Poppin sent Grasshopper $100 worth of office supplies just to spread the word that they're around. Now, Grasshopper HQ is using their colorful office supplies for all our projects.
Buy 'Em Drinks
Sometimes you want to get a little more creative with your kindness. Maybe sponsoring a little league team or donating cupcakes just isn't in your business' personality. That's okay! I have two more ideas up my sleeve for you.
We recently celebrated National Pay It Forward Day on Twitter. I selected a group of people who had shared some of our blog posts in social, and used the Starbucks' Tweet-A-Coffee app to send them a $5 e-gift card. I also included an offer to send another gift card to a person of their choice, to help them "pay it forward."
The results we got were pretty awesome: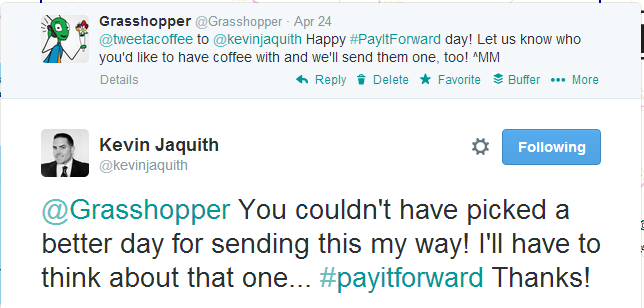 Not only did I get the warm and fuzzies from sending these people a surprise, you can almost 100% guarantee that the friends they sent coffees to had never heard of Grasshopper. +1 for community building.
If you're more of a face-to-face type of person, you can take the lead from Luke Marchie, co-founder of Majux Marketing:
"Two to three times a month we like to go out and buy everyone a drink at whatever establishment we happen to be at. It's a real fun way to meet everyone quickly, and we've even opened conversations up with a couple potential leads."
Making new friends AND finding new customers? That sounds like a win-win to me.
Kindness is For Them, Not You
Random acts of kindness are not for finding random people who will buy your stuff.
You're looking for people who will become your advocates, who will spread the word about your business to everyone they know – all because YOU made them feel special.
So don't focus on how many sales any one of these activities can bring, but look at it from a human perspective. How would you feel if a company bought you a coffee, or sent you a cupcake, or donated to your cause? Make sure you're passing that feeling on to everyone in your community, and you'll have customers for life!
Your Turn: What random acts of kindness have you and your business been a part of? Tell us all about it.