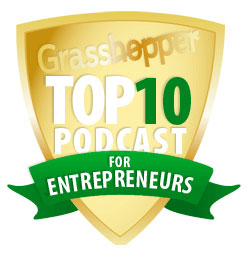 Let's start with two quick matters of house-keeping: One, I am part of the 10-12% of Americans who call themselves an "Entrepreneur". Two, I am part of the 63.5 % of internet users who will Google any question, event, person, problem, word, or topic that might potentially interest or be useful to them.
Having said that, a trend I've recognized lately is that podcasts are slowly becoming the most popular and convenient source of information. Unlike blogs, you can take them anywhere and listen to them anytime.  So, being the insanely curious person I am (and going back to my opening statement), can you guess what I did? I Googled "Top Entrepreneur Podcasts".
To my shock and disappointment I found ONLY ONE site that legitimately reviews podcasts for entrepreneurs, a brilliant "Top 100 Article" written by Staci Wood and Anita Campbell over at Small Business Trends.  Kudos to them, and I would highly recommend taking a look.
In an effort to offer entrepreneurs the resources they need and deserve, I've spent the better part of the last month listening to and researching different podcasts for entrepreneurs. Enjoy the list, I hope it helps, and please tell me what you think in the comments section below, as feedback is critical to success.
Top 10 Podcasts for Entrepreneurs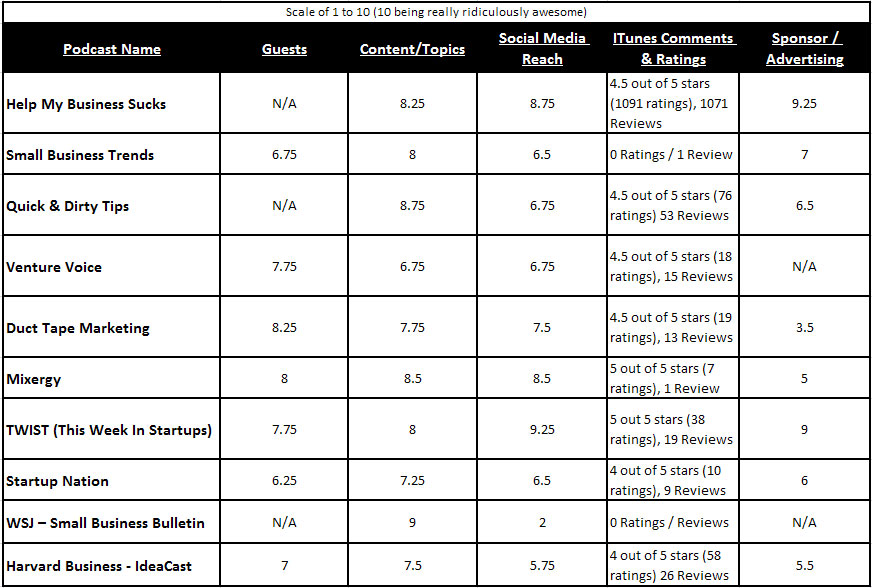 (click for full size)
---
Help My Business Sucks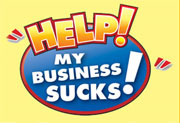 I am a real fan of Andrew Lock's work on HMBS. He has managed to find a way to make marketing fun with his witty comments, real life examples, and sheer passion. Also, when it comes to sponsors, Andrew only recommends products/service that he truly believes in and would use himself. He takes the time to learn about your company and speak to his audience about you.
Frequency:  Weekly (every Wednesday)  Avg. Length: 14 minutes
---
Mixergy

If you spend any amount of time on Andrew Warner's website it becomes immediately apparent that this guy lives and breathes entrepreneurship.  His passion and excitement bleed through each and every video podcast he does.  My favorite thing about Andrew's work is that his interviews are REAL conversations; you not only learn a lot about his guest's business but you also get a sense for who they are as people.
Frequency:  6-8 per month Avg. Length:   1 hour & 5 minutes
---
Duct Tape Marketing
This podcast, organized and hosted by John Jantsch, is full of well known and interesting guests (I was actually quite impressed when I looked back through past episodes).  Although John's show might not be as fun, and entertaining as some of our other recommendations, the content is certainly valuable.
Frequency:  2-4 per month   Avg. Length:   15-20 minutes
---
Quick and Dirty Tips

Quick and Dirty Tips has about 15 different podcasts they produce but the two I am going to highly recommend here are "Get-It-Done Guy" and "The Digital Marketer".  Aliza Sherman, the Digital Marketer provides quick and useful tips to navigating the internet. However, I will note I was disappointed by the lack of conversation & audience interaction (Aliza provides all her contact info, yet when I reached out to her I could not even get a response!  Too bad).
Frequency:  Weekly   Avg. Length:  6 minutes
---
WSJ Small Business Bulletin

This extremely short podcast by Joe Connolly completely blew me away.  I was and still am notably impressed. In merely two minutes Joe manages to discuss a useful business topic and then enforce his point by bringing on a live everyday small business owners to share a real life example.  Now if only the Wall St Journal would get more involved in social media, more people would have heard about this! (See @WSJPodcasts)
Frequency:  3-5 per month   Avg. Length:   1.5-2 minutes
---
Startup Nation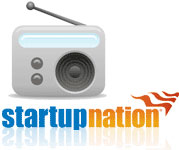 This show by the Sloan Brothers is the official StartupNation.com podcast.  While I think they could do a better job with guests the content is certainly there.  My favorite part of this podcast is the Sloan Brothers themselves, great hosts.  I was surprised how small of a social media presence their podcast has.  You would think such a "start up savvy" company would do a better job promoting themselves!
Frequency:  2 per month   Avg. Length:   15 minutes
---
TWIST (ThisWeekInStartups)

This podcast is featured by the infamous Jason Calacanis (Yes, Jason you not only made our Case Study, but our Top 10 list as well!).  Jason does a good job of making this podcast very conversational and compiling a guest list filled with intriguing Small Biz CEOs.  My only question is, how does anyone find 2 HOURS out of their day to listen to this??? (If you are a TWIST listener please help me understand this in the comments section!)
Frequency:  4-5 per month   Avg. Length:   1 hr 45 mins - 2 hours
---
VentureVoice

Now this is an interesting podcast by Greg Gallant.  Greg has some really good guests and asks quite insightful questions.  I have enjoyed every show I have listened to from him.  However, why ONLY 7 shows the entire year?  This affected my "content rating" and I think it hurts the number of people who follow the show as well.  Greg, we love your work please give us more!
Frequency:  7 total in 2009   Avg. Length:   1 hour & 5 minutes
---
Small Business Trends Radio
This podcast run by Staci Wood (Operations Manager) and hosted by Anita Campbell was one of my first exposures to SMB podcasts.  I have to give it up for Staci; she runs and organizes quite a professional show.  Everything is extremely organized and the content/questions are amazing.  My only complaint is that it sounds too much like an everyday radio show and there is not enough audience/listener interaction (either during or after the show).  In my opinion, this is a recipe for eventual decline in viewership.
Frequency:  Weekly   Avg. Length:   30 minutes
---
Harvard Business IdeaCast

This podcast caught me a bit off-guard, I thought it was a long shot to make my list but having spent some time listening I was quite impressed.  It is a bit different than some of the others I recommend, as the guest list consists mostly of authors and professors.  However, the show is well hosted and covers very relevant topics for small business owners.
Frequency:  Weekly   Avg. Length:   13.5 minutes
---
Honorable mention

37 Signals Podcast
Jason Fried and 37 signals just launched their first ever podcast.  I would keep my eye on this as they could make a case to crack the leader board and be in the next edition of "Grasshoppers Top 10 Podcasts for Entrepreneurs"