"So, uh… can you remind me what I charged you last time?"
I admit it: in my younger and more vulnerable years, I once wrote that. No, I'm not proud of it. In fact, I cringed writing it just now.
Why is it such a cringe-inducing question? There may be no question in the world of the entrepreneur that speaks so poorly of your habits as a businessperson. Not only are you talking to an old client you already know, but you can't remember a thing about them or your relationship with them.
Want to never send out an email like that? Do as I did: learn from my mistakes and find out all about CRM.
Customer Relationship Management is how you keep tabs on everything that relates to those kind enough to buy from you: from customer data and previous interactions to logging customer support tickets and their stage in the sales funnel. CRM is how effective entrepreneurs prevent themselves from ever having to ask the embarrassing questions again. Which is why we've taken the time to put together some of the best CRM software options on the market.
Before You Search: Think About What You Need
Are all CRMs made alike? Of course not. CRM solutions come in all shapes and sizes — and prices. The same is true of small businesses. If you sell a lot of products, a customer support system with detailed ticketing and logging is important. If you're a consultant working for high hourly fees, networking and relationship management are more important.
To get a better idea of which features you need, have a look at the most common offerings in CRM:
Contact management: customer data, logs of previous interactions, etc.

Sales automation: Sales funnels, sales analytics, lead tracking

Contracts: Handling and dispensing invoices and contracts

Customer support: Ticketing, customer support management, etc.
There's more to the world of CRM, but chances are that your individual needs fall into one or two of those categories. Keep them in mind as we explore the strengths of the following solutions:
If you need to go from zero to sixty in the world of customer relationship management in a hurry, Insightly is a fine choice. Not only is it designed for a variety of small business industries — think everything from consulting and accounting to manufacturing and health/wellness — but it's comprehensive enough to include sales funnels, relationship building tools, and project tracking.
There's also a free version of Insightly that's ideal for small companies, or even freelancing entrepreneurs who never want to ask the Dreaded Question listed above.
As you might deduce from the name alone, Salesforce is slanted toward those who need a clearly-defined sales funnel and want to increase their ability to convert leads into customers. By breaking its services down into four central zones — Sell, Service, Market, and Connect — the aim here is automating the sales processes you don't need to handle yourself every day.
There are plenty of reports and dashboards to help you keep tabs on all your sales, which is great for small businesses with plenty of growth.
Since FreshSales puts so much emphasis on its position as a Salesforce alternative, it's worth mentioning here for startups and budding entrepreneurs who want to spend less for many of the same features.
Contact management, sales reporting, email scheduling, Google Calendar integration — it's all here. There's even a free version for getting used to the idea of CRM before you get started in earnest.
The free option here makes it irresistible to small businesses and freelancers who need CRM but don't need to pay for CRM software like they were your very own corporate division. What's really great here is the simplicity — it's easy to keep tabs on contacts and leads from the same dashboard, making your morning check-ins a breeze.
For those who need CRM to organize their sales pipeline, PipeDrive includes the dashboard you see here, making it really easy to keep tabs on where your particular leads are at any given moment. It's also great for measuring just how efficient your marketing tactics are — or aren't, as may be the case.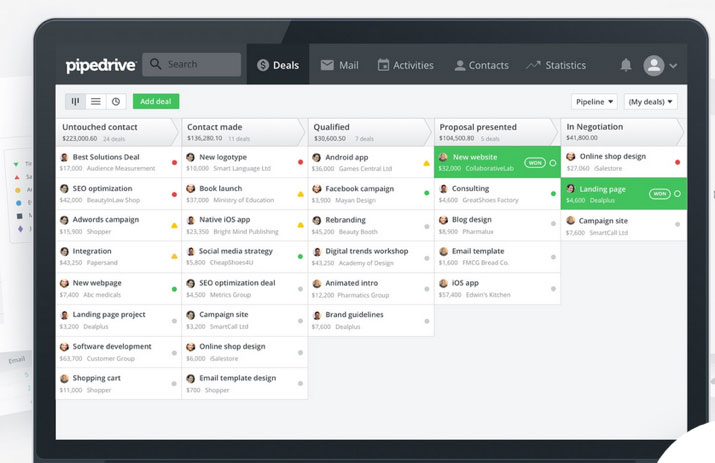 If you want something a little less sales-oriented and more about managing your contacts with repeat customers, PipeDrive likely isn't for you. But if you plan on building your sales in the next few years, this is the kind of system you'll want in place.
How to Get the Most Out of CRM
Just knowing that CRM exists isn't enough. It's important to make this kind of software part of your daily life, integrating it with your email and calendars so that the software fits into place like a jigsaw puzzle. Here are a few tips:
Start with a free version. There's no reason to dive into the deep end of the pool just yet. Start out with a free account just to test the waters of CRM. If it's not for you, fine — at least you discovered that fact before you committed any money to it.

Make each client/customer a priority. A client or customer is only in your life because they have some need that you can fill. But if you do the bare minimum to maintain your relationship with them, they'll notice it. Even before you use CRM, try to organize all you know about each customer so the transition to CRM software is more comprehensive.

Remember that honesty is always the best policy. Even if you do have to ask a cringe-worthy question every now and again — a question to which you should know the answer — there's nothing wrong with following up on customers and clients to get the information you need. Chances are, they might even appreciate how thorough and upfront you are about where you stand.
Fit into your sales funnel and contact management system, CRM can be an effortless part of your daily life as a business. Even better, the next time you wonder something about a customer or client, you can dig it up yourself — no embarrassment required.