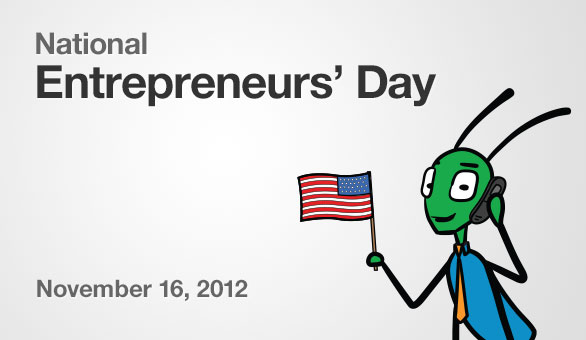 Earlier this month President Barack Obama issued a proclamation recognizing November 2012 as National Entrepreneurship Month.  As many of you may remember, 2 years ago our co-founders David and Siamak successfully petitioned the President for a National Entrepreneurs' Day.
Today, we're excited to announce that David, Siamak, and Amir Tehrani, co-founder of The Legacy Foundation, along with the help of the Kauffman Foundation and The White House, were once again able to get the President to recognize National Entrepreneurs' Day and proclaim this Friday, November 16, 2012 as this year's National Entrepreneurs' Day.
How can you celebrate National Entrepreneurs' Day?
Why not go out and hug an entrepreneur? Seriously, go hug one! Give your favorite entrepreneurs a hug to show them your appreciation for all they're doing for our economy and future generations. Say thanks to those who've made an impact on this economy or who've helped you get where you are today. Mentor someone.  Give back. Just do something! For more ideas on how you can celebrate and the history behind National Entrepreneurs' Day, check out EntrepreneursDay.org.
Tweet how you'll be celebrating using the hashtag #HugAnEntrepreneur on Twitter!
How we're celebrating:
In honor of Global Entrepreneurship Week and National Entrepreneurs' Day, we wanted to do something to not only celebrate but also encourage entrepreneurship.
See how we're teaming up with our friends over at Batchbook, TribeHR, Buzzstream and Uservoice to celebrate here.
Don't forget to tell us how you're celebrating National Entrepreneurs' Day using the hashtag #HugAnEntrepreneur!