If you're a solo business owner, you've probably got a lot on your plate.
You are the wearer of many different hats— accountant, financial planner, visionary, designer, marketer… it goes on and on.
Basically, when it's just you, having some tools to make the marketing aspect a little easier could make a huge difference. After all, there are only so many hours in a day.
So what should a solopreneur like yourself look into? [pullquote]You might be asking yourself, "Where do I even begin?"[/pullquote]
Think practical, time-saving, well-vetted resources that make life easier. You shouldn't have to move mountains every time you need to send an invoice or edit your website.
I've gathered a list of some fantastic tools (which I use on a daily basis) that will keep you well organized, seamlessly branded, and at the top of your marketing game.
Squarespace offers simple, beautiful (and customizable) templates that make building and editing a website so, so easy. You can have a completed website up and running in a few short hours.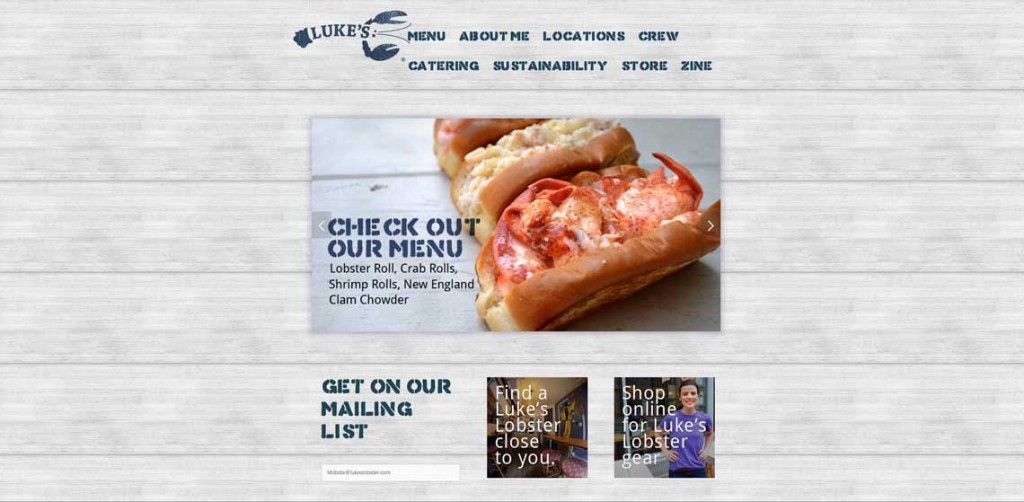 Cost: Packages range from $8-24/mo based on the level of services needed.
Features include:
Free custom domain

Simple drag and drop features

E-commerce ready templates (that accept online payments)

24/7 customer service

Social integrations

Website hosting

Mobile responsive templates
Why you need it: You'll save a ton of money if it's just a simple website you need—and it will eliminate the headache of having to go through a middleman every time you need changes made. It's affordable, powerful, and there are lots of resources to help walk you through any questions you may have.
2. WaveApps for Invoicing, Expenses, and Payments
If you're the acting Accountant, you might want to keep track of your invoicing, payments, expenses, etc. with WaveApps. Geared toward small businesses with teams of nine or less, their simple layout and dashboard overview gives you a look at the big picture while making it easy to dive into the details.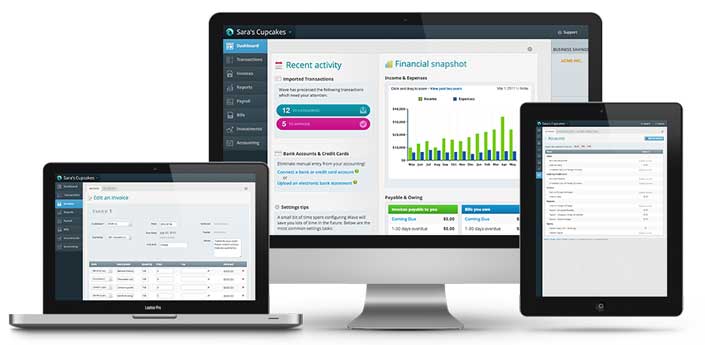 Cost: Free, with upgrade features and services available
Features include:
Custom branded invoicing

Bank account integration for expense tracking

Dashboard view of income & expenses, payable & owing, net income and business expenses

Track receipts and bills

Analyze reports

Accept credit card payments
Why you need it: If you're like me and never took a single Accounting class, the financial side of owning your own business can be intimidating. With WaveApps, you can keep things organized and have a complete financial snapshot right before your eyes.
3. Hootsuite or SproutSocial for Social Media Scheduling and Analytics
Either of these social media marketing tools can make your life a lot easier when it comes to scheduling content, managing engagement, and studying your target audience. Each offers a different setup and set of analytics, but both strive to offer a broad handle over your collective social media work.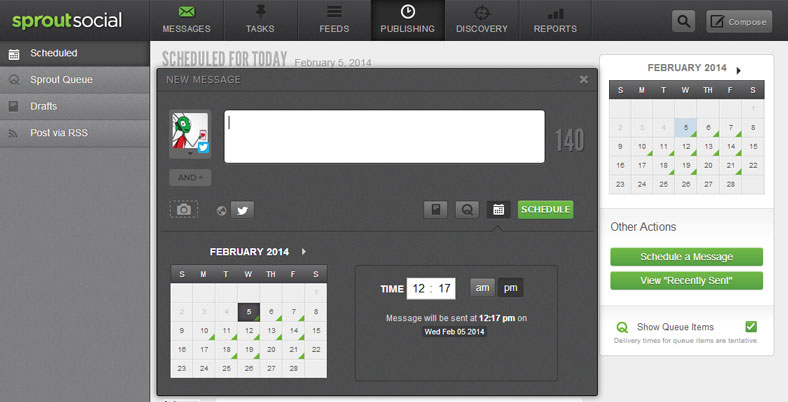 Cost: Free, with upgrade features available
Features include:
Scheduling content

Keyword tracking for engagement opportunities

Analytics on follower count, link click-throughs, and more

Mobile features for easy access

Mention monitoring (to help make sure you never miss a conversation about your brand)

Training resources
Why you need it: You don't have time to be stationed in front of your social media all the time if you're a one-man (or woman) show. These tools allow for scheduling content and tie all of your social media efforts into one seamless location.
When you need a free tool to help you better understand your website traffic, Google Analytics is the place to turn. After dropping in a simple link they provide to your website, you'll be able to cater to your website visitors in a whole new way.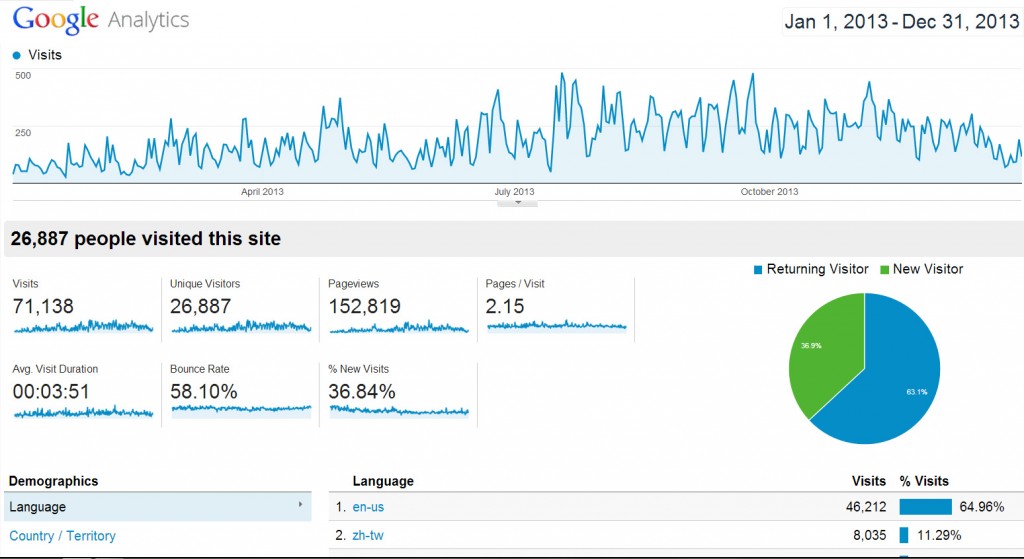 Cost: Free!
Features include:
Tracking of website visitor activity and demographic

Page-by-page activity break down

Analytics on bounce rate, time spent on site, referral sources, and repeat visitors

Goal measurement

Site speed overview
5. MailChimp for Email Marketing
There are many email clients to choose from, but Mailchimp offers free templates that are very easy to use. They also offer free integrations for collecting subscribers from your website, make it simple to build and organize subscriber lists, and have great analytics to review once your campaign has been sent.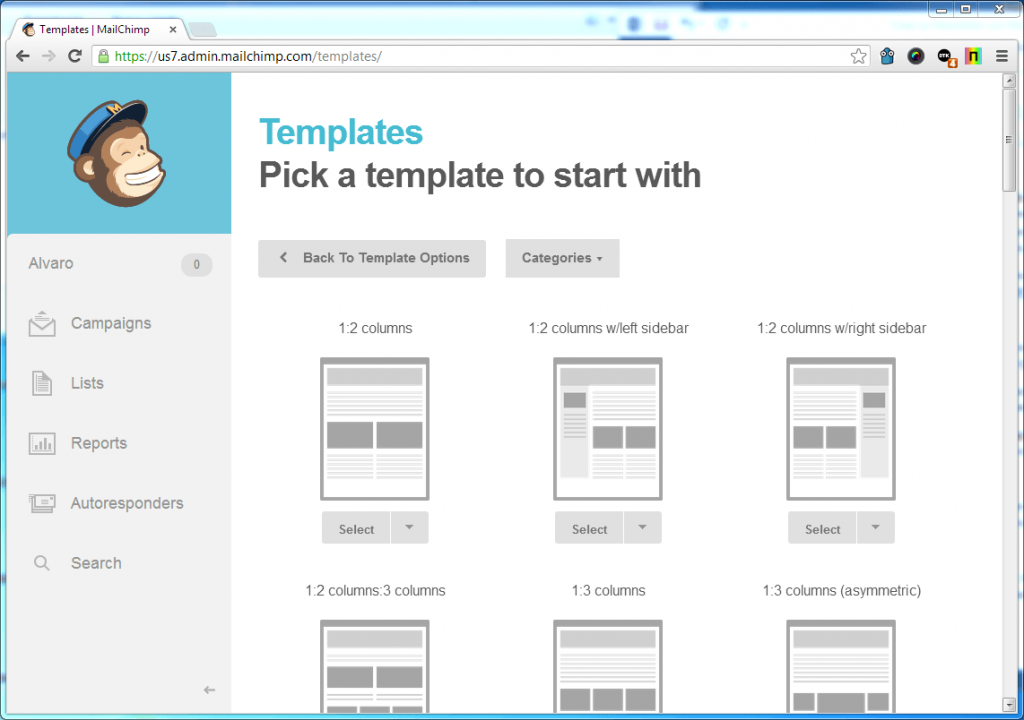 Cost: Free!
Features include:
Customizable templates

Analytics on open rate, industry averages, CTR, and more

A/B testing

Website integrations

Social integrations
Why you need it: Email correspondence is still one of the most successful forms of online marketing (with a 4300% ROI, according to the Direct Mareting Assocation)—so the better your emails look, and the more you can learn from the analytics, the more likely you are to make sales conversions.
Adwords are a great paid marketing tool, but I want to focus on the free keyword planner you'll find located inside this section of the Google world. When you're search engine optimizing your website copy, blog posts, etc., the keyword planner tool offers free information (typically used for planning Google ad campaigns) that can be very helpful.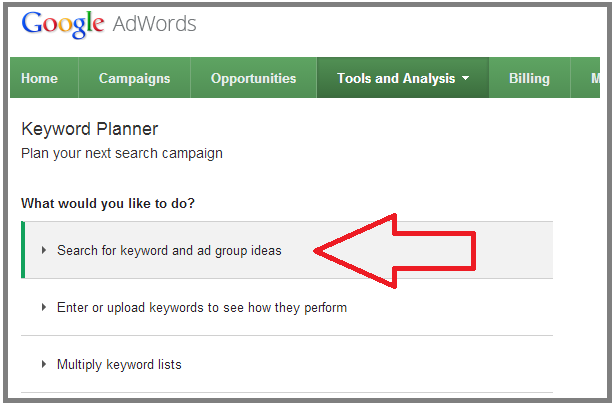 Cost: Free!
Features include:
Monthly search volume for a keyword or keyword phrase

Information on competition for specific word/phrase

Ideas on popular keywords or phrases similar to your search

Cost for target word/phrase if you do decide to pursue an ad
Why you need it: The keyword planner tool makes life so much easier when it comes to SEO. And while you will need to create a free AdWords account to access the tool, it's worth the few minutes.
Tools to Make Life Easier
So, you have the tools to make life simpler for you as a solopreneur—now you just need to get them set up. With this marketing toolkit, most of the resources are free or low cost and can free up quite a bit of time and money if you've been considering more traditional solutions. Give it a whirl!
Your Turn: You're the expert—what other marketing resources would you recommend for solo entrepreneurs who need to clone themselves or grow about eight more hands?