When it comes to small business SEO, there's no shortage of advice out there. Google "SEO for small businesses" and you'll find a crazy number of results – nearly 2 million, to be precise.

Is it all good advice? Of course not.
Like any topic that finds itself in vogue, there's a lot of misguided advice. Some recommendations ask way more of the small business owner than you have time or money or know-how to follow through on. Some tips are just plain bad in that they don't actually help your website boost its SEO. Some were good once, but quickly became outdated as search engines evolved – such is the world of search engine optimization.
To help you wade through all of the conflicting information, we put together this compact checklist for small business SEO. Each item is relatively quick and easy to accomplish and will have a real, measurable effect on your rankings within Google and other searches.
Create a Google Analytics Account
In order to get started setting up an account with Google Analytics, you'll need three things:
Ownership of a domain,

A website, and

A Google account.
Once you're signed in, your next step it to set up a property. Enter your website information and then select a method for Google to confirm that you're the legitimate webmaster of your domain.
With all of the relevant information entered, click Get Tracking ID. Your website will use this to capture all of the information you're after. If it all seems a little wonky, follow these specific steps for setting up your website tracking.
You might want to wait a little while at this point to make sure that data is being fed to your Google Analytics account. If anything's going wrong, Google Analytics will tell you from your account that you're not receiving any data, and what to do from there.
For more info on tailoring Google Analytics to your needs, read this post.
Research Keywords
Before you can do anything else to boost your small business's SEO, you have to know which keywords to target. What are people searching for when you want them to find you?
You should be able to think up a few keywords related to your business – put together a brief list to get you started. Your next step is to plug each of those terms into Google and peruse the related searches section. Write down these key terms, too.
Next, expand on this initial list by noting down long tail versions of your primary keywords. For example, your small business might have a tough time ranking for 'doctor,' but you'll have a much less competition for 'eye doctor in Lincoln Park Chicago.'
Now that you have a nice, long list, use Google's Keyword Planner tool to determine which keywords you have a chance of ranking for and which ones are worthwhile to pursue. Whittle down your list to a manageable size, and you're ready to move on to the next step.
Write Title Tags and Descriptions
Every page of your website has both a title tag and a meta description. The title tag serves as a sort of headline for the page and signals to search engines what that page is about. The meta description is like teaser text providing a little more context about the page and its content.
Since they tell Google and other search engines about the page, you want them to include the relevant keywords that page is targeting. For that reason, the best general format for a title tag is Primary Keyword – Secondary Keyword | Brand Name.
The title tag and meta description are seen by search engines on the back-end, but they're also displayed in search results and social media sharing copy. That means they should serve the dual purpose of telling search engines what the page is about and enticing people to click on the social or search link.

When writing titles and descriptions, keep in mind this advice from Grasshopper Academy's lesson on Optimizing Your Website for the Best Search Results:
Optimize Logos and Other Images
While Google and other search engines have become pretty adept at crawling websites and getting a good grasp on what they're all about, there's one thing an algorithm still can't do: see an image. On the user side, images help to add clarity and keep website visitors engaged – so you don't want to omit them entirely.
In order to make images work for your site's SEO, you'll need to add alt text. Alt text is simply a few words that explain to search engines what an image is about.
Use the alt text of your images (as well as the actual filename) as an additional place to include relevant keywords that tell Google what you're talking about.
In addition to alt text and filenames, follow these image best practices outlined in Grasshopper Academy:
Use Responsive Design
Google and most search engines have stopped penalizing websites that aren't mobile friendly. But don't be fooled into thinking that means responsive design isn't even more important than before.
While you won't get a penalty for poor mobile experience, you also won't carry over any desktop Google juice. Your desktop website could be ranking #1 in desktop searches and not even land on the first page of a mobile search. And since more than half of all web page views happen on mobile, you can't afford to overlook it.
If your site is hosted on a website-building platform like Wordpress or Squarespace, responsive design is as easy as checking a box or selecting a mobile-optimized theme.
For other websites, start by using Google's mobile-friendly tool to determine how your site is currently looking on smaller screens. The tool will even offer suggestions for how to improve your mobile-friendliness score.
Register With Google Places
If you have a brick and mortar location, you'll want to take SEO one step further and optimize your website for local search, too. That means targeting keywords that include your town, city, or neighborhood and getting involved where most people are searching for local businesses – like Yelp, Groupon, and Google Places.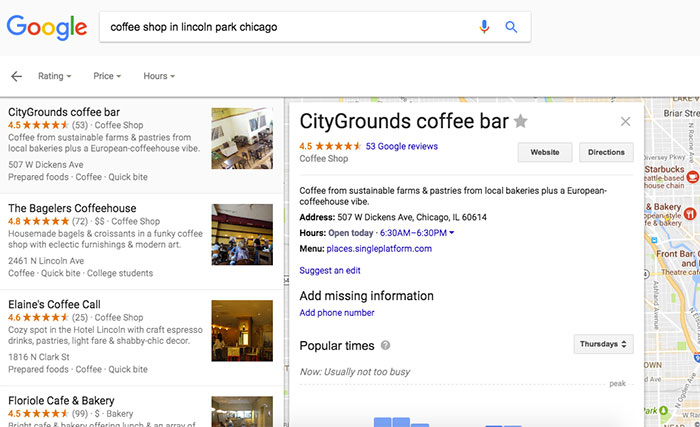 Registering with Google Places ensures that your business will come up when locals search for what you have to offer. It allows you to find a home in Google Maps and ensure all of the pertinent information about your business is included – from your name and location to hours and contact info.
Small Business SEO That Actually Makes a Difference
Don't waste time on bad or ill-advised small business SEO tips. Every item on this list is accomplishable for small business owners and each will have a definite impact on your website's success with search engines. That means more eyeballs on your site – each of which is a new opportunity to convert a new customer and grow your business.