This is a guest post from Lyn Graft (LG), entrepreneur, storyteller, and producer.
Editor's Note: We connected with LG because of a tweet he sent us about his perfect startup kit. We got in touch, and LG was kind enough to expand on his idea, resulting in this awesome blog post!
Redbull, Grasshopper & a tablet - instant startup kit RT @je0xff: @grasshopper loving the service.Should be standard issue for #startups.

— Lyn Graft (LG) (@LynGraft) March 28, 2013
During the launch phase of my first startup, I reached out to successful entrepreneurs and business icons to learn as much as I could from them. I discovered that I was passionately drawn to their inspiring stories. In the process of sharing that enthusiasm with my startup tribe, I learned that I was a good storyteller. Through a side project I was working on, I discovered I was exceptional at telling their stories on film.
This discovery morphed into a personal mission to share entrepreneurial stories with the masses, and ultimately led to the creation of LG Pictures, the best entrepreneurial storytelling production studio on the planet.
Filming business mavericks from companies like WholeFoods, LinkedIn, and Zappos, gave me an insider's perspective on tricks of the trade for successful entrepreneurs. Over the years, I've used this unique insight to create a kind of startup infrastructure that keeps me motivated, focused and productive while still being able to enjoy the entrepreneurial ride.
I rolled up some of that insight in a mini Startup Kit so that others could build their own system. Here it is:
BUDDY SYSTEM – Keeping it Real
As an entrepreneur, you are often 'on an Island' in that you are working alone or in a very small group. As you develop your idea and business, it's important to have people around to give you feedback. To get a proper perspective, use a 'Buddy System' that is composed of at least 3 perspectives:
OPTIMIST - The 1st is the optimist – the cheering body that believes in you and what you are doing. The optimist will give you fresh energy, valuable insight, and most importantly, make you feel better after your encounter.

REALIST - The 2nd is the realist – they tell you that the glass consists of 50% water and 50% air – just the facts – no fluff. You need this reality check on a constant basis to make sure you are not blinded by your own enthusiasm.

PESSIMIST - The 3rd entity is the pessimist – someone that will tell you all the problems with your idea, the reasons it won't work, or that someone else is already doing it. Make sure and embrace their comments to help you improve and better prepare yourself for what the real world will bring you.
STIMULANT STASH – Exercise, Music & Elixirs
On your island, you are going to constantly need ways to get the body and brain juices going, to inspire you emotionally, and to stimulate the mental senses. The ebbs and flows of the entrepreneurial life are extreme, and you need a broad and deep war chest of assets and activities to support the journey.
EXERCISE - Exercise every day – walk, run, bike, or do 10-minute Kettleball exercise (ode to Tim Ferris) – no matter what. You will be amazed at how sane this keeps you and good it makes you feel. Richard Branson, one of the most successful entrepreneurs of all time, believes that in order to get more energy, get more confidence, keep from getting sick, find more time, and stay focused – you need to do one thing – work out.

MUSIC – Few things can change your mood and get your blood flowing faster than music. Build 2-4 music playlists that have the songs that get you motivated (Swedish House Mafia), make you want to take on the world (M83), or simply just calm the mind in terms of chaos (The XX). The right sound can be like a shot of oxygen in a carbon monoxide-filled startup world, so always be on the lookout for music that speaks to you and gets the heart pumping.

ELIXIRS - I keep a drawer (& fridge) full of what I like to call 'natural elixirs'. It consists of Swedish Fish (not healthy, but my one true vice), KIND Healthy Bars (Nut Delight), a high protein energy bar (Oh Yeah! – 15g's per bar) and super healthy drink in the fridge – Suja (Cold-Press Fruit & Vege Juice). My favorite addition is the Limitless Smart Shot. Energy drinks and shots are typically loaded with too much sugar and caffeine as well as less-than-ideal ingredients so I stay away from them. Limitless has select natural ingredients like Green Tea Extract, Ginseng and Guarana to provide a balanced approach to fuel your body and boost the brain's performance – without the shakes and unhealthy additives.
CREATIVE CANVAS – Creating & Curating Ideas
As a producer and director, I'm a sponge when it comes to absorbing any form of content that activates the creative synapses in my brain. There are many ways to get this creative infusion and it varies depending on who you are, but here are my favorite ways to get creative:
Take naps with a clipboard (ideas pop in my head right before & after naps)

Go to 'great' movies (& making sure I'm there for the trailers)

Bring a Moleskine journal to coffee shops with couches that serve alcohol

Take long showers with no agenda so you can let the mind wander.
I learned from scouting locations and creating storyboards to treat my phone's camera like a creative handgun, taking photos of anything that inspires me or saving photos and quotes from social media feeds. You never know where a good idea is going to come from so always be ready to capture its essence.
COMMAND CENTRAL – Productivity Corner
In order to GSD (Get Stuff Done) en masse, create a place where you can be as productive as an army of entrepreneurs. My set-up includes a 24" iMac and a 15" Macbook Pro with a 24 inch external monitor and external keyboard, all complimented by a nice Klipsch set of speakers ($150) on an extra large desk (with wireless printer below). This gives me 3 screens for tasks that require a large visual work area (e.g. managing social media activities, editing video footage) or just one big screen by turning the others off so I can focus yet still have a large digital 20"+ canvas to rip through emails and proposals or do heavy mental lifting for writing (& rewriting) scripts and storyboards.
Make sure to keep a drawer or container filled with your productivity weapons so you don't have to leave your Command when you are in the zone. For me, that means a small stash of Swedish Fish, Sharpies, a calculator, dental floss, headphones, a favorite pen and post-it notes.
THE TREP'S SECRET WEAPON – A Smile Inducing 4-Legged Best Friend
One of the best gifts I have ever received  was from my best friend, Ingrid Vanderveldt, Dell's Entrepreneur-in-Residence & TV Host. She showed up on my doorstep with an 8-week-old little, black ball of cocker spaniel fur. This little 4-legger, Fitty G (named after '50 Cent' while taking him on a road trip across Texas listening to 'In Da Club'), has forever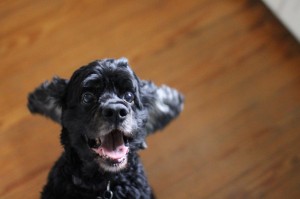 changed my life. He makes me smile every day. Nothing compares to the unconditional love of a four-legged best friend and the pure joy they have every time you take them for a walk give them a treat.
If you take a moment and appreciate them, it will bring happiness and calm into your life no matter how your day went. If you don't have the ability to have a pet, dog sit/walk for your friends, volunteer at an animal shelter, or visit a park and find a friendly K9 whose owner is smiling at your appreciation for their pup.
Create your own startup kit and make sure and enjoy the process along the way as you prepare to be a great entrepreneurial story I need to come film one day. See you on the other side of the camera...LG
'For tomorrow belongs to the people who prepare for it today' ~ African Proverb
Lyn Graft (LG) is the founder of LG pictures. He has filmed over 350 entrepreneurs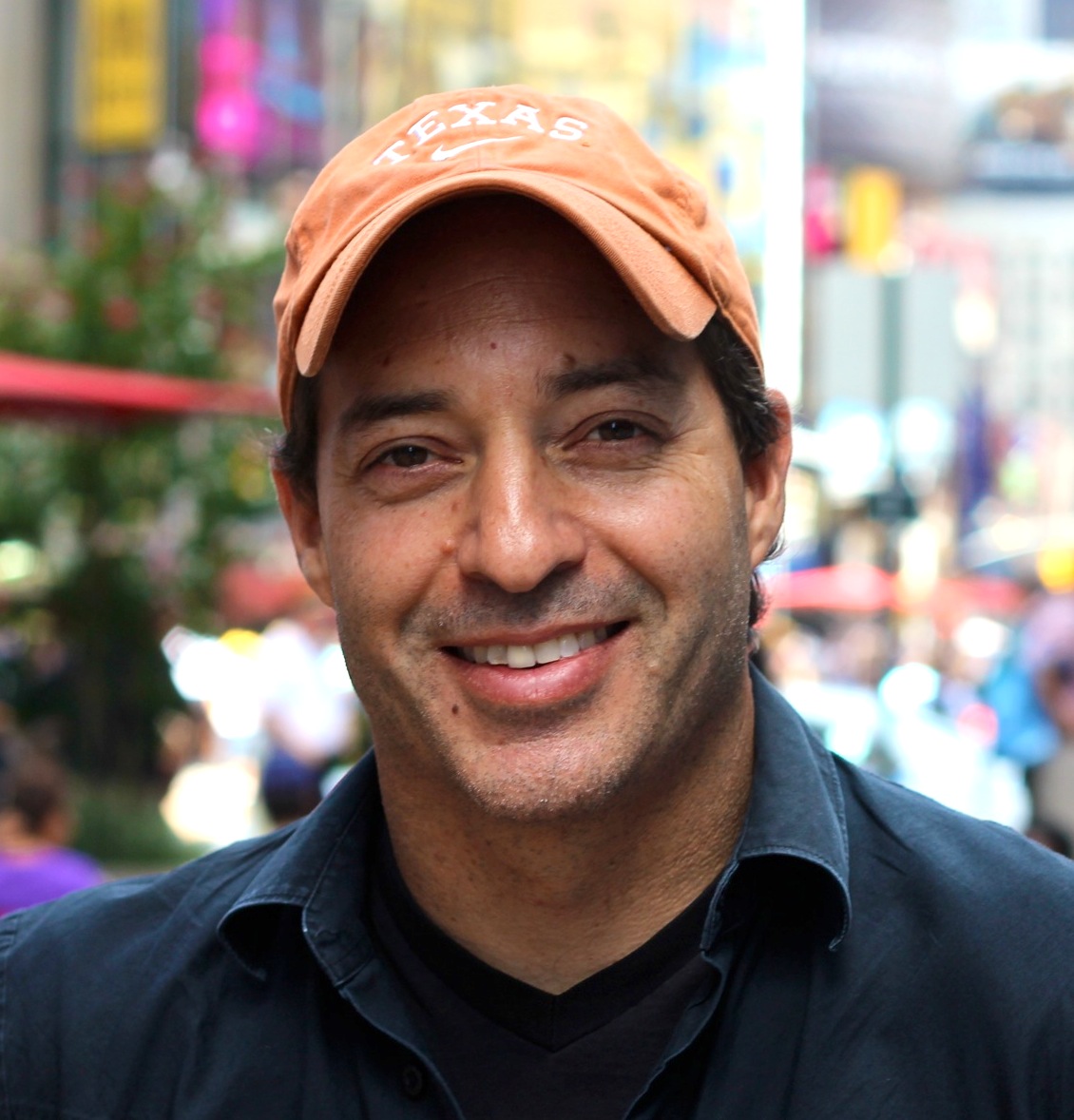 and has produced and/or directed 700 videos, TV Shows & web series for clients such as CNBC, Dell, SXSW and Microsoft. LG has founded over 8 companies raising over $8M in venture funding and has almost decade of experience in entertainment and 15 years in startups, hi-tech marketing and business development. You can get to know his furry friend Fitty G, too!