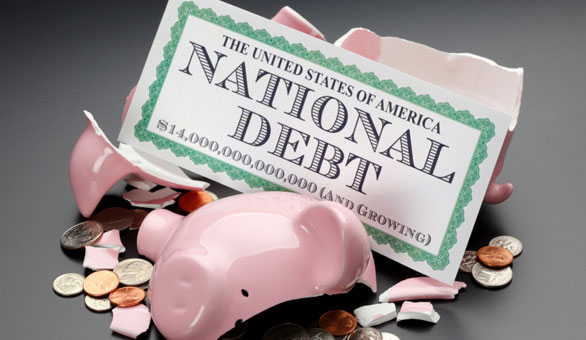 On Tuesday, August 2, the United States finally had a done deal when President Obama signed the Budget Control Act of 2011, averting a potential first ever default on American debt.
Almost no one was particularly pleased with the finished product, but nearly everyone enjoyed a quiet sigh of relief, even if for just a moment.
That moment lasted about three days. On Friday, August 5th, Standard & Poor's downgraded American sovereign debt from AAA to AA+.
While most students would still be fairly pleased with getting an AA+, politicians in Washington felt like they were force fed a shot of Whiskey and then slapped in the face.
But since economic debates are notoriously hard to settle, there are many wide ranging opinions (which hardly try to cover up their political leanings) regarding the potential consequences of the debt deal and credit downgrade.
How does small business regard these shenanigans?
First off, when you go back and look through the last few week's news, many people were at least thankful that there was no default and thus no danger of having our government's credit score downgraded.
Whoops, wrong again. Even after, or because of, the debt ceiling deal, America's credit rating was downgraded anyway.
But before jumping to the latter half, let's look at the debt deal. Inc.com posted a brief recap of the deal just as it was finishing its tour through Congress on the way to being signed by the President. While the deal passed and averted a bigger crisis, it seems it didn't really do much else.
According to John Arensmeyer, CEO of Small Business Majority, this wasn't the kind of deal he wanted to see. He said it missed a big chance to really "make some reforms that could benefit small businesses and everyone else."
Arensmeyer is most likely alluding to all the talk during the negotiations about reforming the tax code. As different bills were being proposed in Congress, small businesses demanded that any deal close offshore tax loopholes that big corporations use to swindle the U.S. government out of as much as $100 billion a year. The final deal did not include any such provision.
Ray Keating, chief economist at the Small Business & Entrepreneurship Council, felt that the real winners in the deal were House Republicans because they made sure no tax increases were passed at all.
The three major components of the deal included raising the debt ceiling by as much as $2.4 trillion, cutting government spending by $2.1 trillion over the next 10 years, and creating a special super committee to find more areas where spending can be cut.
The deal of massive spending cuts without any tax reform made a lot of people feel less than optimistic, especially given the already droopy state of the economy.
Steve Strauss, a USA TODAY small business columnist, points out that cutting spending most likely won't stimulate the economy. In fact, it may actually hurt it. Rohit Arora, CEO of Biz2Credit , agrees that the spending cuts are important for cutting debt, but concedes that the cuts probably won't help small businesses.
But, there's always a silver lining! The downgrade of American debt has certainly seemed to throw the market even further off its game.  Luckily you have two more feet than the market does.
Paul Krugman, a Nobel Prize winner in Economics and New York Times op-ed columnist, has come out slamming S&P's decision not because he thought it was unwarranted, but because he thinks they're just playing dirty.
According to Krugman, Standard & Poor's is the "last place anyone should turn for judgments about our nation's prospects." The U.S.'s huge deficits were caused by the financial crisis, but the financial crisis was largely caused by Standard & Poor's and its sister rating agency. They gave AAA ratings to mortgage-backed assets that turned out to be absolute garbage.
Insult to injury indeed!
So what's an entrepreneur to do?
As the purported backbone of the economy, entrepreneurs and small business owners are in fact much more attuned to the real state of the economy than the boards on Wall Street.
The best advice then might just be to ignore the financial world and stick to business as usual.