Small Business Saturday is coming up. You've probably heard of the holiday, but are you going to celebrate it?
No matter what you sell, Small Business Saturday is for you. It's a day to cherish your agility, brag about your flexibility, and show your solidarity. You're a small business-- and that's great!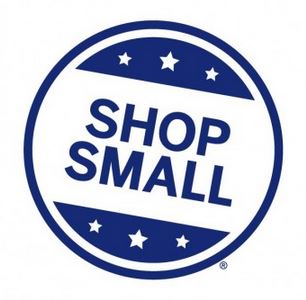 Whether you sell jewelry, mortgages, or software, you can participate. And, you don't have to empty your bank account to make a splash. If you want to reap benefits from the holiday, make sure you sign up at ShopSmall.com so your customers can get a deal for shopping with you.
Besides simply accepting American Express (AMEX) cards, here are some easy and inexpensive ways to celebrate Small Business Saturday:
1. Check Out AMEX's Offerings
AMEX offers a lot of perks to small business owners, even if you don't become an official merchant. Before you try to get crafty with Facebook posts and cheeky posters, check out what is already waiting for you. AMEX provides this handy table to show what you can get. Perks include logos, graphics, post cards, and social media posts: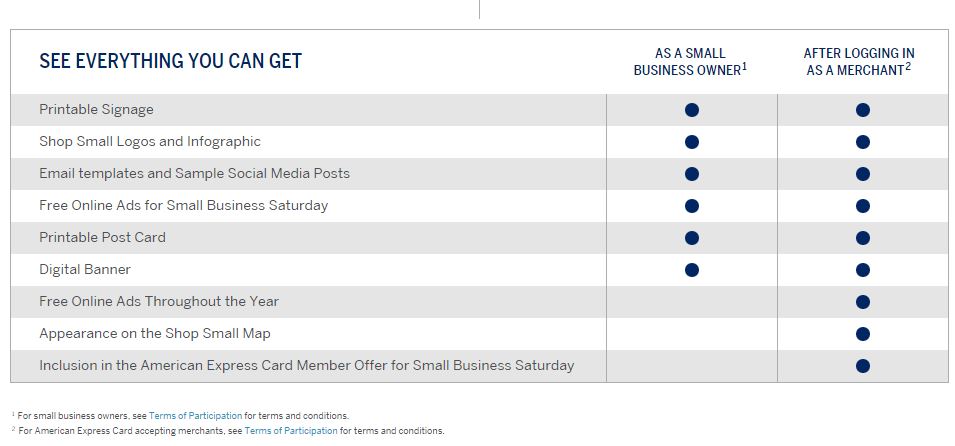 2. Get People into Your Office or Store with Events
Brick-and-mortars and online stores alike can benefit from events. What better day to have one then on Small Business Saturday? If you start now, it's not too late to cook something up. Try luring people into your office or store with a party, networking hour, special sale, or other event. It doesn't have to be a fancy party. Even a simple cocktail hour will do the trick. Offer holiday gift bags to make it a smash.
3. Join the Conversation on Social Media
Small Business Saturday is one of those holidays that gets a lot of traction on social media. The best part? It's really easy to participate. By sending out a tweet or Facebook post, you're showing that you support small business shopping.
**What to do on Facebook -- **Facebook is a great place to show your support. ShopSmall has a helpful kit with all kinds of images you can use. They've got profile pics, cover photos, and other promotional material that make it easy for you to post on Facebook. Don't be afraid to go off the beaten path-- post a personal receipt from a small business you've shopped at, or give a shout-out to a few of your favorite small businesses. Ask fans to share who their favorites are. (Try to post photos with your updates-- they perform much better).

**What to do on Twitter-- **Twitter is a small business playground. Start by following TwitterSmallBiz and Shop Small, as well as the hashtags #shopsmall and #smallbizsaturday. Once you see what others are sharing, you'll be inspired to share some thoughts of your own. If you want to tweet your support, give these a try:
4. Offer a Deal or Special
Offering a deal or special is an easy way to celebrate. Give existing customers deals on upgrades or new products. Lure in new customers with special promotions. You can let people know about your specials through special PPC ads, paid social media posts, email efforts, or getting on GroupOn, LivingSocial, Gilt, or a similar deal site.
5. Hold a Contest
Contests are great ways to get people engaged with your business, and Small Business Saturday is the perfect excuse for hosting one. A contest seems like a lot of work, but it's actually pretty manageable. You can hold a contest in your store or run one online.
Rafflecopter and WooBox make it easy to host a contest on a blog or social media site, and their basic plans are free.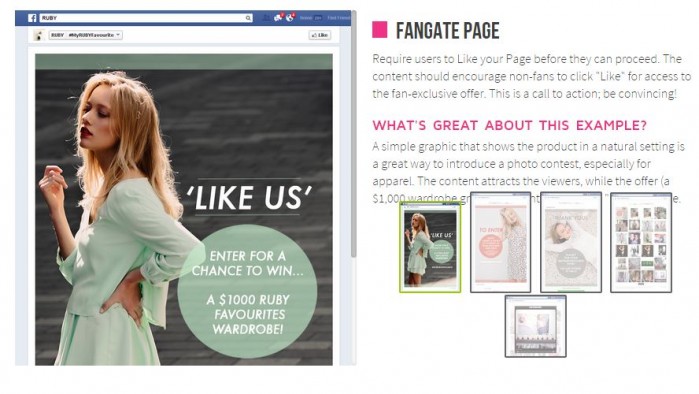 WooBox's FanGate Contest
6. Send Some Emails
Email marketing is like ballroom dancing. You either love it, or don't do it at all. Small Business Saturday is a great time to take advantage of this tactic. If you don't have the time or money to print and mail coupons, promotions, or thank you cards, use email instead. Send a message to your customers encouraging them to celebrate. Invite them to an event at your store.
Need ideas? Constant Contact put together this pretty amazing Small Business Saturday toolkit, which includes email templates.
7. Buy Something Special from Another Small Business
It's ok if you don't have the bandwidth to stage a Small Business Saturday parade in your hometown. You can celebrate the holiday by buying something special from another small business. Sure, this strategy doesn't lead to money in your pocket, but it's an opportunity to show solidarity with business owners like yourself. Head to a local consignment store to buy a special something, or find an Etsy shop that sells fun holiday greeting cards.
8. Partner with Other Small Businesses
Other business owners are struggling just like you are. They don't have time, money, or man-power to create jaw-dropping Small Business Saturday events. If you work together, you might be able to create something special. For example, if you're a tech consultant, you could partner with a fledgling local food truck. A food truck might provide some free or discounted snacks, while you agree to bring a huge group of people. It's a win-win for both parties.
Lauri Flaquer, a home-based business consultant who helped get an art gallery in tip-top shape, partnered with that very same gallery on last year's Small Business Saturday. 'The gallery allowed people to see the results of my work,' says Lauri. '[pullquote]They sold quite a bit of art, people were able to see, in real life, the benefits of working with me.[/pullquote] The best news is that it turned into a big networking event and attendees. Deals were made that night for many of my clients, art was sold, and I highlighted the work that I do. The best part is people had FUN!'
9. Do Some Timely Advertising
Have you experimented with PPC ads or social promotions? Now might be a good time to take advantage. Why not create some specific Small Business Saturday ads? Remember: Small Business Saturday isn't just about getting sales on that day-- it's also about getting the word out. Now is a great time to identify as a small biz and get on people's radar screens.
10. Put up Some Signs
Sometimes, you gotta be old school. Put up some signs on your business' front door or in the windows. This doesn't guarantee people will walk right in, but it will show that you're excited and proud to be a small business. It's kind of like getting an 'I voted!' sticker after casting your vote for president. AMEX has some free printable posters if you're short on time. Otherwise, you can make your own.
What Will You Do?
This is a short list of the things you can do on Small Business Saturday. I'm curious to hear how you plan on celebrating. Please share in the comments!