We created this Perfect Emails series to teach you everything you need to know about sending marketing emails — today, we're diving into the how-to of crafting irresistible subject lines.
When it comes to email marketing, there are few elements that have a bigger impact on the success of a campaign than the subject line. The subject determines whether or not recipients will ever see the rest of the email — that means all your hard work designing a great email with an engaging call-to-action can go to waste if your subject line falls short.
According to Convince & Convert, 33% of recipients decide to open an email based on the subject line alone. And as many as 69% have reported an email as spam just because of the subject.
With numbers like those, it's clearly worthwhile to spend a little extra time coming up with enticing subject lines that say, You won't regret opening this one!
Best Practices
When your subject line is a blank slate, it can be hard to know where to get started. Email subjects have been a hot topic lately — that means there's plenty of insightful research out there for you to work off of. These best practices are a good place to begin.
Customize Each Email
Subject lines are all about setting expectations — recipients use the information in the subject to determine whether this email is worth their time… or not. So if your weekly newsletter uses the same subject every week, how will recipients judge it?
Customizing your subject line for each individual email you send helps readers know what to expect and allows you to leverage the great content inside the email to get people to open it.
Length
To start, most email clients will only show 50 or fewer characters in a subject line. On mobile, that number is even smaller — closer to 20-30 characters. That means anything after that will be cut off, and your message can get lost in translation.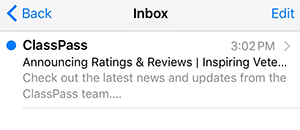 That's why shorter is better when it comes to email subjects. Subject lines that contain 30 or fewer characters tend to have above average open rates. As they get shorter, open rates continue to improve, with the most opens going to emails with subjects around 1-2 words.
Clarity vs. Cleverness
It's easy to go down the rabbit hole of trying to be clever, especially in the marketing world. But too clever can actually be a bad thing. There's nothing wrong with being a little kitschy, but when you sacrifice clarity for cleverness, open rates drop significantly.

Can you guess what this email's about?
A 2011 study by AWeber, found that open rates were 541% higher when recipients clearly understood the subject line. That's a pretty good motivator to put clarity high above cleverness.
To Emoji or Not to Emoji?
Emojis are becoming more and more common in email subject lines, even from big brands like Target and Old Navy. But is it really good practice to include them? The answer depends mostly on your brand and your target demographic.

Typically, businesses that sell B2B should probably avoid using emojis. But generally, if you have a fun, casual brand and a young demographic, emojis can help your email stand out against the black and white of a crowded inbox.
Dont's
Almost as important as what's in your subject line is what you leave out. Between automatic filters and vigilant defenders of inbox zero, it's easy to get your emails relegated to the spam folder forever. There are some things best not practiced. Here are a few:
Words to Avoid
For example, subjects that included "newsletter" saw an 18.7% decrease in opens. That's packing a pretty heavy punch for just one word. And passive words like "learn more" performed 14% better than active words like "buy now."
It's hard to imagine that a single word can have a big impact on email opens, but there are some words that just don't perform well in an email subject. Whether they get flagged in spam filters or just deleted, these words spell death to open rates.
| | | | |---------|---------|-------------| | Perfect | Good | Donate | | Buy | Report | Newsletter | | Monthly | Urgent | Dear | | Cash | Make $ | Earn $ |
For a more comprehensive list of words to avoid, check out Econsultancy's post.
ALL CAPS
Emails like this are often flagged by spam filters, and even if they make it through, they'll be caught by BS filters. Your email is important, but not enough to warrant a subject line in all caps. Why are you shouting? Please just don't.

I'm looking at you, Home Depot.
!!!!!!?!??!?
Another no-no is excessive punctuation. If you're really super excited about it, one exclamation point will do the trick. When we start talking about 3 or more, it just sounds like my mother texting.

Examples of Great Ones
VERLOCAL:
The Best of Chicago's Food
GROUPON:
Inside: A Fresh Side of Your City
These Deals Asked to Meet You
Deals That Make Us Proud (Unlike Our Nephew, Steve)
TARGET:
Need patio furniture? Want up to 30% off?
OLD NAVY:
Is this the most flattering swimsuit ever?
REFINERY29:
The broke girl's guide to a luxury vacation
EDGEVALE:
Get In Our Pants
OPENTABLE:
Licking your phone never tasted so good
EATER BOSTON:
Where to Drink Beer Right Now
Make Subject Lines a Priority
Since they're composed of fewer than thirty characters and take less than five seconds to read, it's easy to think of subject lines as a less important part of your email marketing strategy. But the effort or time you invest in composing concise, pithy email subjects will be reflected in your open rates and the overall success of your campaign.

Keep your eye out for the rest of our Perfect Emails series: