For those who haven't checked their inbox recently, here's something you may not know: email marketing is in it's heyday.
Companies from big to little and new to old are sending email after email designed to connect with customers and grow sales. And for good reason — 70% of consumers open emails from their favorite brands and 82% say they generally open emails from businesses. What's more, 44% of those receiving promotional emails go on to make a purchase.
Those are some big numbers. What they boil down to is the answer to your question: Yes, you should be investing in email marketing. That's why we've created this Perfect Emails series — to teach you everything you need to know about sending marketing emails.
Today, we'll chat about how to use smart design to build amazing emails that convert like crazy.
Design Above Everything
With email, the time and space you have available to get your message across is limited, so design is crazy important. A well-designed email looks nice visually, is easy to read and scan, and makes it super easy to convert. Here's how to make that happen:
Use Headings And Bullets
Avoid large chunks of text and make it easier for people to decide which parts of your email they want to read. People will scan your email, so showing a healthy respect for their time can go a long way.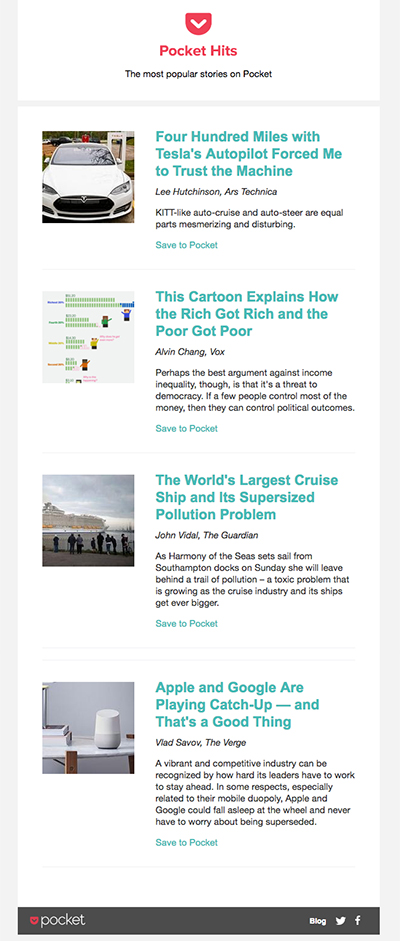 Pocket does a great job of this — notice in the example how prominent the headings are, making it super easy to skim through and decide which stories I'm interested in. Since there are multiple CTAs, I'm more likely to still convert on another if the first story doesn't pique my interest.
Visuals For Days
As humans, most of the information we relay to our brains is visual. That's why we find enticing images so irresistible. Showcasing the products you're highlighting is a lot more powerful than simply talking about them, so it makes for more effective marketing and higher conversions.

Case in point: in the email from Target above, they could talk about how chic wicker patio furniture can modernize your outdoor space, but they show it instead. Now, instead of trying to picture what chic wicker furniture looks like, I'm envisioning what it will look like on my patio.
Keep CTAs Prominent
Whatever your goal is when sending emails — increasing sales, getting recipients to download an e-book, etc — your call-to-action (CTA) should make it really easy for people to convert. Use bright, contrasting colors and large text to make your CTA easy to find. You should also surround the CTA and any other links with plenty of space, so big fingers can still find the right link on small, mobile devices.

Take a look at the example from Verlocal. Was the CTA the first thing you looked at? They do a great job of drawing your eye to the "Book Now" button with bright color. And the space around the button thwarts any accidental clicks.
Focus on Brevity
Whether your email's being read on desktop or mobile, too many elements will tank the visual appeal. It's important to have a clear idea of what you want each email to accomplish. Before sending the newsletter, remind yourself what the core goal is. If there are any images or text that don't work toward that purpose, get rid of them.

Rent The Runway does a great job of communicating a lot with relatively few elements. Text is kept to a minimum and they let the images do most of the heavy lifting.
Put Mobile Front and Center
The last thing you want is to spend hours perfecting your email's look on desktop only to have 60% of your recipients view it on mobile. Today, it's pretty much a guarantee that the majority of your list will see the email on a mobile device.
That means responsive design isn't just a bonus anymore — it's a necessity. Using a one-column template, large text, and a healthy dose of whitespace will help your newsletter look it's best.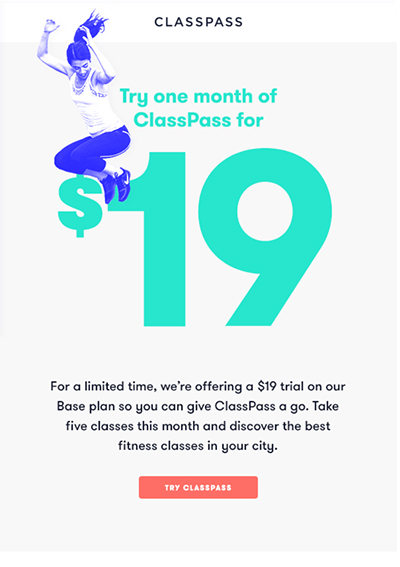 Check out the example from ClassPass — large, easy to read text and ample whitespace for your thumb to scroll make the email easy to digest on any size screen.
Most email marketing tools have an option to check out a mobile preview of your emails, and you can also use tools like Responsinator and Litmus to test out your responsive design. Viewing great mobile design as a priority instead of an afterthought will lead to better engagement throughout your list.
Design for Conversions
Design can make or break an email campaign. By having a clear, defined purpose for your campaign and following the best practices outlined above, you'll be well on your way to high-converting emails. If you're looking for some inspiration, check out Campaign Monitor's roundup of the 100 best email marketing campaigns their customers have sent.
And keep your eye out for the rest of our Perfect Emails series: