In the world of small business, not everyone plans on having angel investors or working with Venture Capitalists. That's just not realistic for everyone, right?
However, it still takes money to make money. 
So how does a small business get funding before it becomes profitable? Should it use loans, or credit cards, or maybe crowdfunding options?
Here's the truth: There are many ways to help get your financial footing when you're just starting out. But finding the best fit for your business is going to depend on your needs.
Let's take a look at a few possible options.
Small Business Administration (SBA) Loan
A basic 7(a) SBA loan is one of the most common means of funding when businesses are just starting out. They can be used to purchase equipment, renovate a building, stock inventory, and more.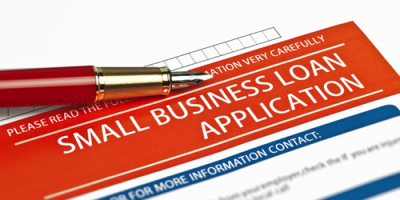 But it's not as easy as just going to the participating bank and asking for X amount of dollars. You'll need to have your ducks in a row first.
Here are a few things to have ready before heading to the bank:
Financial information (Profit & Loss Statement and Projected Financial Statements)

Business certification and/or license

Income tax returns

Resume

Business overview or business plan 
Benefit:
Low interest rate.SBA-guaranteed loans on $150,000-$700,000 (for more than one year) have an average interest rate of 3%, while loans more than $700,000 average about 3.5% interest. 
Downside:
Slow turnaround.Typically, you'll have to wait 60-90 days for the approval process to be completed. 
Credit Cards
Using credit cards to fund your new business can be helpful—but can also become  dangerous quickly. Many credit cards have a 13-15% interest rate, which can add up as your spending increases. 
However, when used wisely, credit cards are one way to fill the gap for your small business—and some cards offer significant perks for paying with plastic. Whether it's money back on a percentage of your purchases, or discounts for specific purchases—credit cards can be leveraged for their benefits.
Just remember: Use caution and make your payments on time.
Benefit:
Quick source of funds with added perks for use.
Downside:
With high interest rates, credit card balances can spiral out of control if you get behind on payments.
Crowdfunding or Pre-orders
Don't have the funding you need for your business idea? Take it to the public!
Many small businesses have gotten their start via online crowdfunding platforms like  Kickstarter or IndieGoGo.
How it works: You set up a campaign goal, campaign end date, and offer rewards for different levels of funding commitment. You'll customize the campaign with the details of your business, a video, photos and more. Then, it's up to you to spread the word! 
Example: Carolina Alvo, a petite clothing brand, recently executed a successful Kickstarter campaign for a new line of custom-made pieces.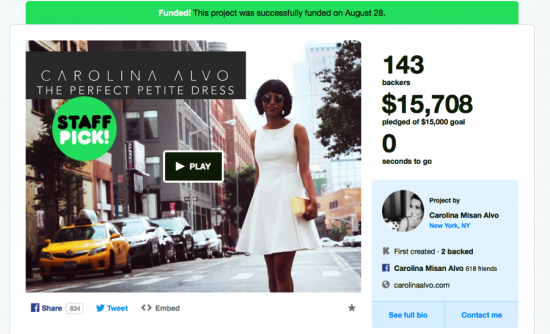 Benefit:
Many businesses offer pre-orders of their product at a specific funding level—so you're guaranteed to have orders before you make a full-fledged release.
Downside:
Many platforms make it so that if you don't reach your funding goal, you don't get any of the funding you raised unless you pay the platform a percentage of your total.
Selling an Asset
It might not be the most appealing idea to make a lifestyle change in order to start your business. One of the best parts of being your own boss is creating the life you want, right? 
That's true—but in the beginning, things are going to be lean. By selling an extra car, downsizing your home, or liquefying some of your assets, you're freeing up the necessary cash you'll need to get your business up and running.
Benefit:
Provides a large amount of cash quickly (and interest free!)
Downside:
You'll have to part with a big-ticket item.
Getting a Partner (or two) 
Going into a business venture alone can be financially daunting. But when you join forces with a partner, you share the burden of getting your business started.
When looking for a good partner, keep a few things in mind:
Your skills should complement each other

You should have strong, open communication

There should be a foundation of trust and understanding

Your contributions and duties should be evenly split 
Test out the relationship by taking a two or three day retreat together to collaborate on a small project. If the test run goes smoothly, it's time to proceed. 
Draw up a formal agreement that outlines the details of your partnership, and make it a legally binding contract.
Benefits:
Financial and day-to-day responsibilities are split up, taking the pressure off a sole proprietor. 
Downside:
If you and your partner aren't a good fit, it can ruin your business. 
Considering Grants
Unless your small business is doing research and development, federal grants can be hard to come by. However, some rural economic development offices offer micro-grants through USDA for businesses fostering job creation.
But there are other places to look for grants, too. 
Some companies like Chase and Intuit have created contests for small business owners—with the prizes being grants for their small businesses.  Typically there's a voting process involved, so the business owner would need to do some serious legwork in rounding up voters. 
Benefit:
Grants offer a source of start-up money that you don't have to pay back.
Downside:
There's often a significant amount of work required in the process, and you're not always guaranteed to see a return on your hard work.
You Don't Need Venture Capital or Investors
There are so many financial alternatives to venture capital and angel investors in the world of small business—you just have to know where to start looking!
Whether it's via a loan or a lifestyle change (or maybe even a combination of a few things), you can make your small business come to life.
Your Turn: What other financial suggestions do you have for small businesses looking to get started?