If you've ever bought a house or rented an apartment, you know how irritating it can be to communicate with your realtor. I just bought my first condo and communicating between my lawyer, realtor, and mortgage lender was insanely irritating at times.
If you're a realtor, it's even worse.
That's why Michael Kelleher created EasyMortgageApps. He wanted a solution for everyone involved that would be easy to use, improving day to day productivity.

But this summer, Michael had a problem. He needed to get downloads for his app. He'd done sales, but had never led a business development and sales campaign.
How the heck could he get people to download this app? How could he get realtors using it? With a goal of 5 million downloads (10,000 paying loan officers), Michael had a lot to do.
Knowing that Grasshopper doesn't do traditional PR, Michael got in touch with us to find out how he could get press without the high cost of a PR agency.
Here's what I told Michael -- and don't worry—this advice is fit for everyone else, too.
1. Do it Yourself
Generating buzz and doing PR is all about being authentic and knowing your audience. That means letting your product sell itself, crafting pitches, and getting it in front of the right people.
[pullquote]If you're small you don't need to hire your own Ambassador of Buzz or PR Consultant[/pullquote], and you shouldn't until you're absolutely ready.
The best stories come directly from you, the brains behind the operation.
I recently heard about a Boston startup hiring a PR agency that only sent out 5 pitches per week. 5! That's as many as I do in an hour.
If you send out 50 pitches a week, you're sure to land some. It's a numbers game, and the bigger the net you cast, the more chances you have to reel something back in for your company.
 2. Read Everything Related to Your Industry
Whatever your industry, you've got to know more than everybody else. Read everything under the sun about what you do and what your competitors are doing.
It's important because there are press angles everywhere - some you may never have even thought.
In Michael's case, he's got to know more about mobile, mortgage, and real estate than anyone else.
Why's this so important? Well, you need to know more than everyone else so when you meet the right person, you can capitalize on the opportunity. Knowing the facts may lead to that next big break in Inc., Fast Company, or Entrepreneur.
If you don't have time to read, use tools to make life easier for you. Tools like IFTTT (If This Then That) can collect articles from all over the internet and store them in your email inbox, Evernote, Google Drive, Dropbox, or wherever you like to keep things.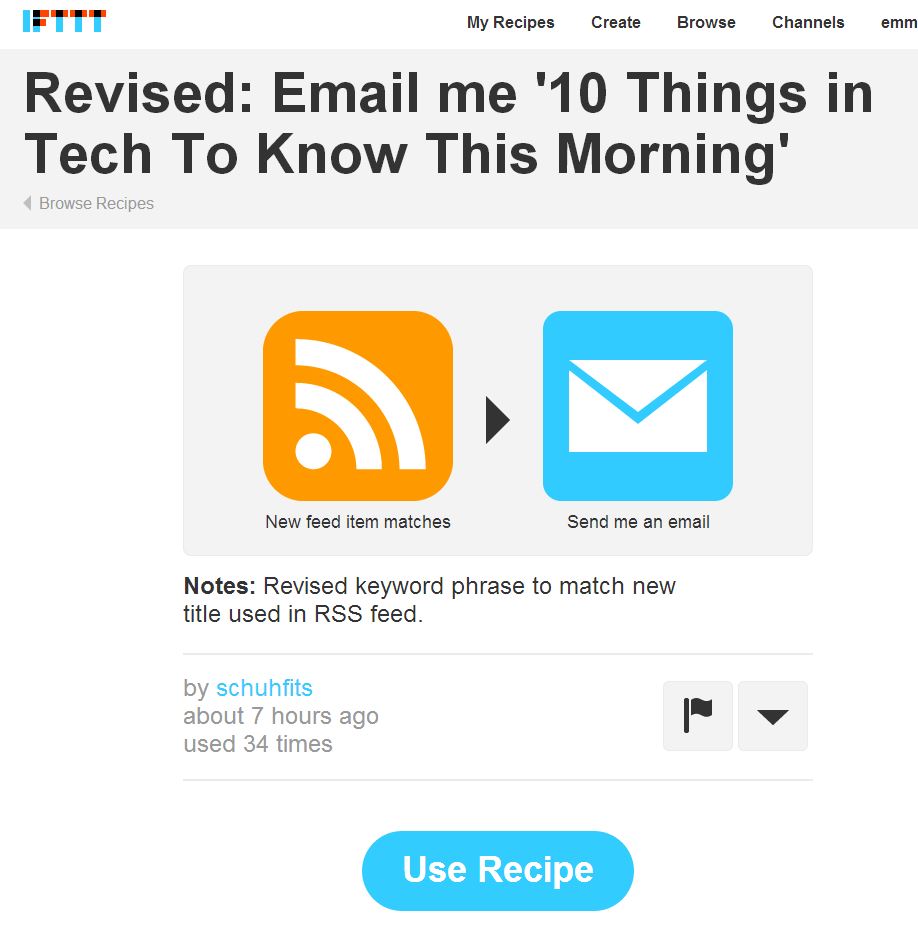 An SEO Manager from Bing used IFTTT to crawl the internet for articles related to 'digital marketing' to automatically store them in Evernote to read later.
3. Create a Press List
Seek out industry blogs and find out who writes for them. Add outlets you want to get into and reporters who work for them.
Take what you find and put it in a spreadsheet. You want a way to look at who to target and where to target your message.
Add notes about what the reporters typically focus on so you know what to email them about.
Here's what my press list looks like in a spreadsheet (trying to protect these guys' privacy, but you get the idea!):

If you've got a great idea for a story, reach out to the reporter directly.
4. Connect with Reporters, Bloggers, and Writers
Look at sources like Help a Reporter Out (HARO) to connect with reporters about stories they're working on.
HARO allows reporters to post their requests so that people like us can jump in as sources. I get an email every day from HARO with what reporters need: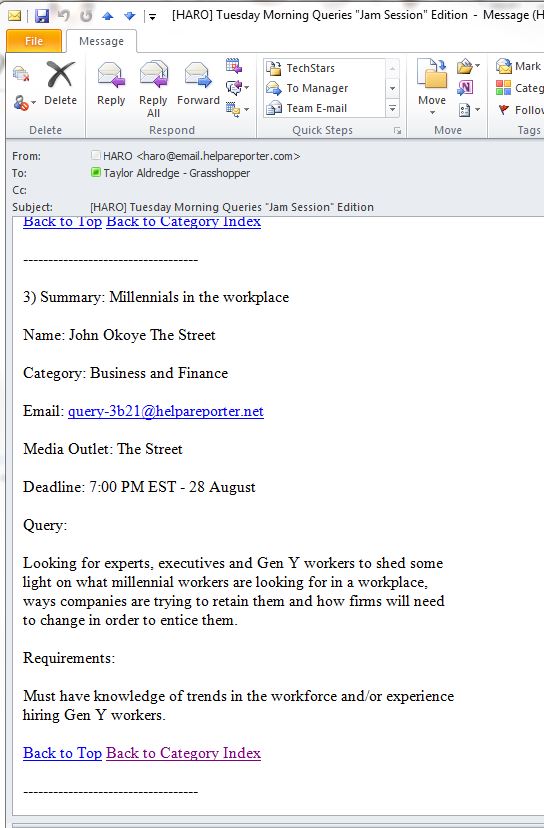 Once you know what reporters are looking for, you can reach out to them with your knowledge and expertise.
Here's an example of an email I sent to a writer after I read his article about networking. I was able to find some common ground because I knew we'd both be attending the same event:

John responded and told me he would love to meet for a drink and gave me his phone number.
This email exchange was the start of an ongoing relationship between me and John. It took a while (so be patient!), but Grasshopper ended up getting in this article about industry leaders, thanks to this connection.
5. Set up Google Alerts and Twitter Searches to Monitor Content, Articles, and Press Leads
I have a list of bloggers that I scan daily and Google alerts for terms related to Grasshopper-- super simple stuff to set up that keeps me informed of what's going on in the industry.
Google Alerts
Google Alerts allows you to set up search terms for Google to update you about on a regular basis.
Twitter Columns and Lists
I use a Twitter client called TweetDeck, which allows me to see what happens in real-time. It's a lot easier to use than Twitter's website.
Here's what a good tweet will look like from a blogger who needs some sources: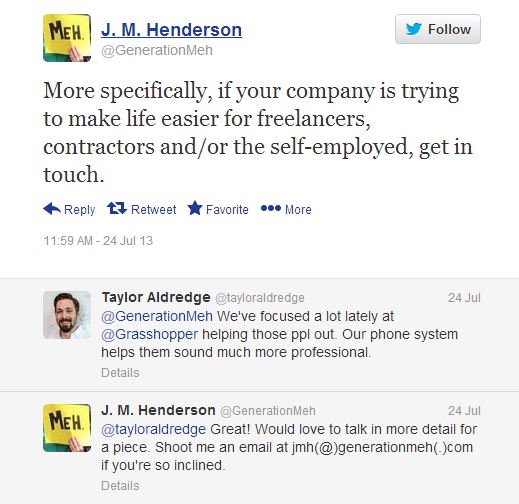 6. Comment Where You Can
When stories are published related to your industry, comment on the blog post or article. Simple, right?
Make sure these comments aren't spammy, forced, or self-promotional. If you're too promotional and self-serving, no one's going to want to help you out.
Reporters often read their comments, as do others in your industry, so it's a good way to get your name and company on the map.
Here's a quick comment I made on an article about why startups should use the phone. It's just an example of how simple it is to leave a comment that links what you do at your company to the article you just read.

I actually told the writer she could contact me, but I only do this when the content is extremely relevant to what I do.
7. Focus on Your Product
You're much more likely to get press if you've spent time focusing on your product and services. If these aren't up to snuff and you're really not ready to be getting press, then wait.
The quality of your product is SO important. If people hear about you and then come to try you out, only to be disappointed, that's bad for business.
In the case of a web or mobile app, make sure you have a great icon, invest in UI, and ask people to judge your product. Get your product in front of the people who would be using it to make sure it's worthy of press.
"Invest in your UI design… Beautiful screen captures of a great UI can make all the difference. Path is the best example of an app that uses UI design as a competitive advantage. This is the only way your app will get featured on blogs and in an app store." - Answer Wiki on Quora.
8. Leverage LinkedIn
It's November now, and last we heard from Michael, he'd been using LinkedIn to connect with influencers, reporters, and others in the real estate industry.
Follow Michael's lead and sign up for a premium LinkedIn account (At about $20/month, it's really affordable) so that you can send InMail messages.
Michael told us LinkedIn had become the best place for him to connect with people and that his premium account was worth every penny.
Thank you @tayloraldredge and @Grasshopper for showing us great strategies for media coverage http://t.co/Rv4AjP4nTb!

— Easy Mortgage Apps (@EZMortgageApps) September 9, 2013
 With a little help from LinkedIn, Michael got featured in Business Superstar. Go Michael!
Be Buzzworthy and Do it Yourself
It's not worth hiring a fancy PR firm to get press when there's so much that you can do yourself. I help get Grasshopper in the press every day, and I know that entrepreneurs and small business owners can do what I'm doing to get their businesses out there, too.
We try to help our customers get press, too, so if you're a customer, head on over to our Tell Us Your Story page and we'll do our best to get you featured in the news.
Go forth and get buzzing!