You may be looking through your Twitter stream and Facebook newsfeed thinking "I don't have time to post on social media as much as I should/could/want to!"
Folks, I'm here to tell you that you can schedule your entire week of social posts in less time than it takes to do a load of laundry.
All you need is the right tools and a good strategy, and you'll be all over social media in no time.
Step 1: Find Stuff to Share
In general, you should be posting two types of content: your own (blog posts and tips about your products and services) and "curated" content, which is content you find from other sources.
Some people don't want to post stuff that isn't theirs, but it's really important for building an audience and becoming a resource. [pullquote]You need to be genuinely helpful-- that means promoting helpful content, whether it came from you or somewhere else.[/pullquote]
Usually you'll want to use blog posts or articles from other sources in your industry. For example, I'm going to stick with content directly relating to our services or our target market. Avoid using your competitor's content. You don't want to be driving your customers to your competitor's website while you're trying to engage them!
How do you find stuff to post?
Well, your own content should be easy– you have no shortage of updates, blog posts, and pictures of your product or service in action. To find curated content, your best bet is to employ some kind of content aggregation tool so you can keep track of multiple publications in one place.
I use Feedly because it's free and easy to navigate. Here's what my home feed looks like: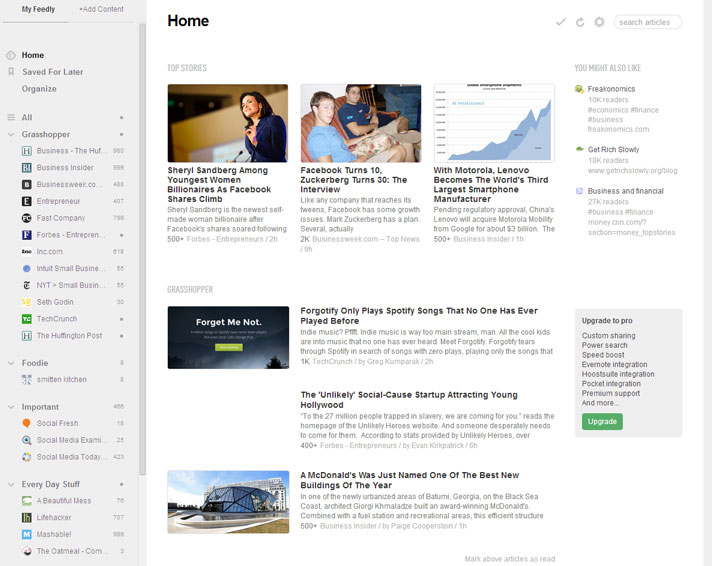 Notice how I follow all sorts of small business publications that are relevant to Grasshopper's customers
You can organize your topics into categories, so you can keep your business and personal reading in the same spot (clearly I only read The Oatmeal when I'm not at work).
You can use Scoop.it (a service that allows you to 'scoop up' articles from the web), subscribe to email newsletters (subscribe to ours!), and just use Twitter to follow industry brands and thought leaders.
I work this into my morning routine.
I usually take 15-20 minutes while I'm drinking my coffee (before checking email) to scan through my feed and see what's been published that day. That little slice of time gives me more than enough content for the next 12 hours of posts.
Scheduling your own content can take a little more time, but you can do that for the entire week in under a half hour. 
Step 2: Find a Social Scheduling Tool You Like
Have you noticed how some people seem to tweet and post at the perfect times, no matter what else they also may be doing? Well, I'll let you in on a secret: there's an app for that!
In all seriousness, scheduling your social media posts is a lifesaver.
There are several different services out there you can use:
Free Options
There are several scheduling apps you can use that are very inexpensive, if not free.
TweetDeck
If you're mostly concentrating on publishing content to Twitter, then TweetDeck is a good option. You can use it to monitor your stream as well as schedule tweets. You can only schedule tweets one at a time, so TweetDeck could suck up more of your time.
You can use multiple Twitter feeds with TweetDeck which is convenient if you have a personal handle or other person.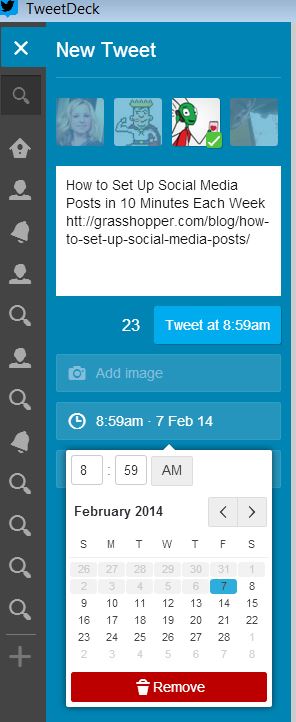 Buffer
Buffer is one of the most popular publishing tools. When you create your account, you connect your preferred social networks, create a custom posting schedule, install the browser extension, and voila! -- you're all set to start scheduling content to tweet and post to your adoring followers and fans.
Buffer has a convenient bookmark you can use to schedule: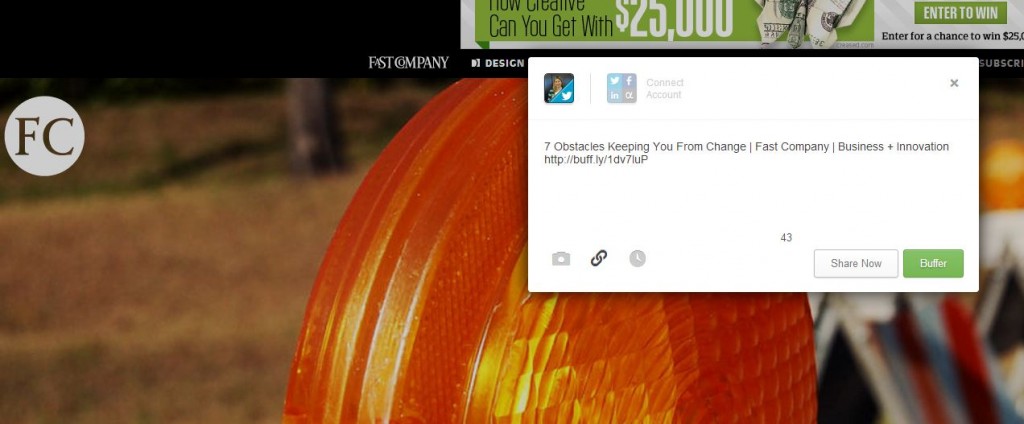 Create a custom schedule for your content to be published: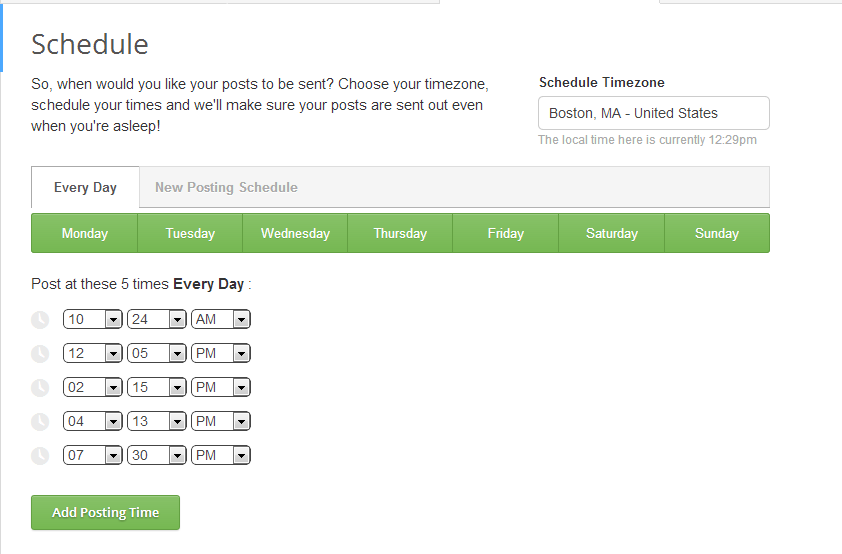 Free, Nearly Free, and Paid Options
HootSuite
HootSuite is a tool that allows you to monitor several social networks at once, as well as schedule content for them. They also have basic reporting and analytics, so you can track the performance of your posts and tweak your strategy if need be.
Their basic package for individuals is free, and the next step up is only $8.99 a month, so this is a good (and affordable) choice if you're looking for a more holistic scheduling and monitoring tool.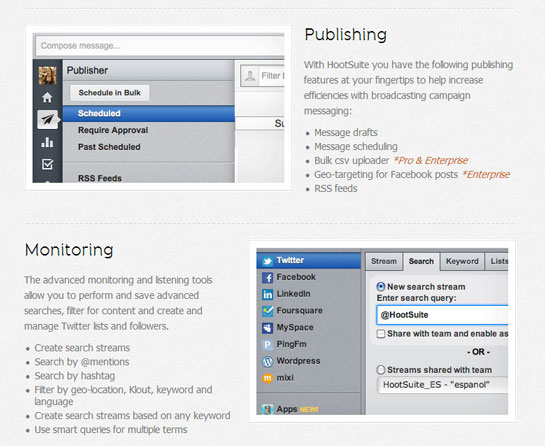 Sprout Social
I use Sprout Social for scheduling Grasshopper content. It allows you to connect Twitter, Facebook, LinkedIn, and Google+. They also provide a bookmarklet so you can put content straight into your publishing queue.
Sprout has a robust reporting system, but if you're only looking for a scheduling tool, it can be a little pricey (packages start at $39 per month).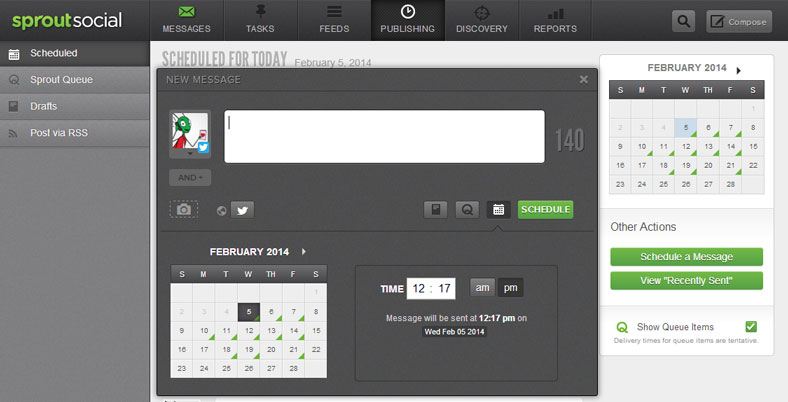 You can choose the time, day, and network you want to post to
How often should you post?
**Twitter. **I tweet about 8 times per day to cover all North American time zones, but it's your choice how much you share. Keep in mind the life of a Tweet is only about 10 minutes.

Facebook. You should post at least once per day on Facebook, but the type of post matters. This post from Social Media Examiner explains the ins and outs of posting on Facebook.

Google+. Try to post every day and make sure to post any blog post that comes from your site (it can boost search results).

**LinkedIn. **Post content that directly relates to their audience. You don't have to post as often as other sites, but many businesses have seen huge traction on LinkedIn depending on their industry.
Step 3: Come Up With Creative and Fun Sharing Copy
Now that you've chosen the tool you want to use, it's time to get scheduling, right? Hold your horses there, partner. First comes strategy!
The main point of posting content is to engage with your audience. Just sending out links willy-nilly won't do that. You need to be creative with copy to entice people to actually click your links.
You can use quotes, statistics, or pose questions to your audience. Make sure your copy relates to something in the article, so people know what they're getting when they click on the link.
Try testing different copy to see what drives traffic to your site, encourages clicks on your curated content, and results in retweets and shares.
For example, when I schedule tweets to promote Grasshopper's blog posts (like this one!) I try a couple different styles of copy.
Tweet 1:

Tweet 2:

These tweets lead to the same blog post, but my tool allows me to see which one gets more engagement. Pro tip: You can track your links for free using bit.ly.
Step 4: Set It, But Don't Forget It!
This is where a lot of people and brands get tripped up.
Scheduling content is great and time-saving, but you still need to keep an eye on current events. For example, if some sort of major disaster or tragedy happens, it's usually best to shut off your scheduled tweets – you'll look more human (and it's generally more respectful) if you go quiet during a situation like that.
Otherwise, you're good to go!
Step 5: Monitor and Respond
Now that you have a good flow of content going out, the only thing you need to do is respond to any replies. Set up some sort of notification system to alert you when you have activity on your social accounts. There are several ways to do this:
Set up mobile alerts using the iOS or Android app that goes along with your scheduling service (all the services listed in the post have apps with the exception of TweetDeck).

Set up email alerts either in your scheduling system or via your individual social networks.

Use alerts directly in your social networks.
Once you've set up your scheduling and alert system, you're all set to start publishing content like a pro! 
I can't wait to see what you put out there-- send me a tweet at the Grasshopper handle and let me know how things are going.
Your turn: Do you schedule social media content for your small biz? Can you do it faster than I can? What's your strategy?