Much has been made in the last decade of how businesses will eventually run their operations 'in the cloud.' The strongest case for business cloud computing is arguably the cost. Many cloud computing providers bill like a utility does - that is, you pay for what you used, not a flat fee (which is often more expensive than what you used.)
However, for all the hype about cloud computing, few possess an actual game plan for positioning their business to tangibly benefit from it. Below, Grasshopper provides ten specific services you can use to put business functions like bandwidth, e-mail, document creation and budgeting in the cloud immediately - and begin saving money every single day.
Servers and Bandwidth
One of the most substantial costs an Internet business (and many non-Internet businesses) contends with are those involving servers and bandwidth. Innumerable businesses require raw computing power to display web pages, send e-mails, stream audio or video and more. Following are several services that allow you to pay on demand for bandwidth from the cloud.
Amazon S3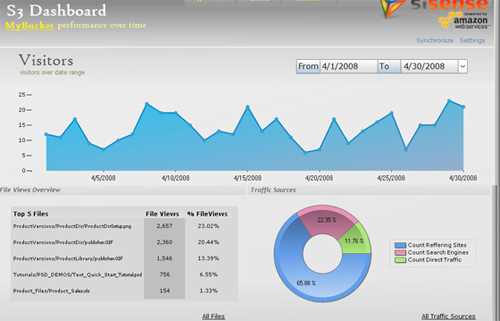 Amazon S3 allows anyone to purchase as much storage space as they require, pay only what it costs for that space, and not have to administer any servers or buy equipment themselves. Instead, S3 users simply sign up for the service and pay according to straightforward pricing tiers. As Amazon's S3 pricing breakdown explains, users are charged one rate for storing data or files in the S3 cloud ($0.150 per GB for the first fifty terabytes per month, at time of writing) and another rate for transfers. Currently, Amazon is offering free transfers into S3 until June 30, 2010, and charging just $0.150 per GB on the first ten terabytes transferred out of S3 per month. Amazon has also taken great care to build security into the S3 platform to ensure business owners that nothing they store there will fall into the wrong hands.
Rackspace Cloud
A similar service business owners can use for their serving and bandwidth needs is Rackspace Cloud. Users are given several server options to choose from with this service, each of which bills a different hourly rate (and thus, monthly rate) for servers with different configurations of RAM and hard disk space. A Linux server with 256MB of RAM and a 10GB hard drive, for instance, can be used for just 1.5¢ per hour, or $10.95 per month. Meanwhile, a server with 15GB of RAM and 620 GB of storage can be used for 96¢ per hour, or just over $700 per month. As with Amazon S3, users are free to choose as much or as little space and processing power as their business requires and be confident that they are not paying for any more than that.
OpenNebula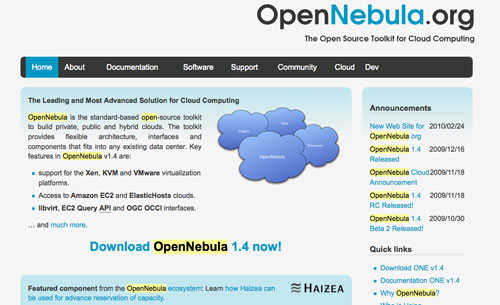 Not every business can get by using pre-made cloud computing solutions. Some tasks require the ability to create your own cloud that can, '...transform your data center into a flexible and agile virtual infrastructure which dynamically adapts to the changing demands of the service workload', as OpenNebula puts it. Businesses seeking to develop their own cloud computing solutions will find that OpenNebula is a capable '...virtualization tool to manage [the] virtual infrastructure' that they build. Unlike other cloud platforms, OpenNebula boasts the advantage of being open source and standards compliant, meaning that it will work seamlessly with other cloud computing applications you might already be running in the workplace.
Asigra Cloud Backup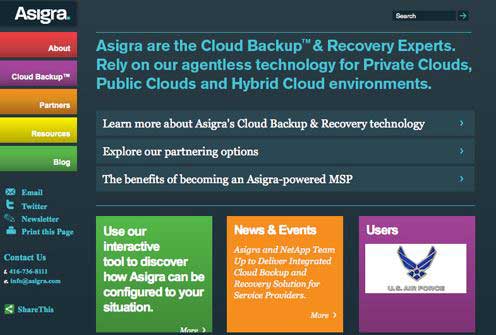 Any business with a lot of important data to store eventually has to decide where and how they are going to back it all up. When it comes to cloud-based backup solutions, however, Asigra Cloud Backup stands out. Besides the standard benefits of cloud computing, Asigra offers business owners three backup options to choose from, depending on their own needs. First, you can opt to backup your data to a public cloud for off-site recovery, a private cloud operated within your own workplace, or a hybrid incorporating elements of each, if that is what you decide is best for your firm. Rather than, '...wasting brainpower and precious resources on what should be a routine task,' (as Asigra describes traditional, pre-cloud backup solutions), investigate the benefits that cloud-based backup can offer.
Document Creation & Collaboration
While it's quite common to pirate software titles like Microsoft Office, businesses run serious risks by doing so at the corporate level. Nevertheless, businesses still need reliable word processors, spreadsheet and slide show tools for day to day operations. Below are two free or inexpensive cloud alternatives that get the job done for less.
Google Docs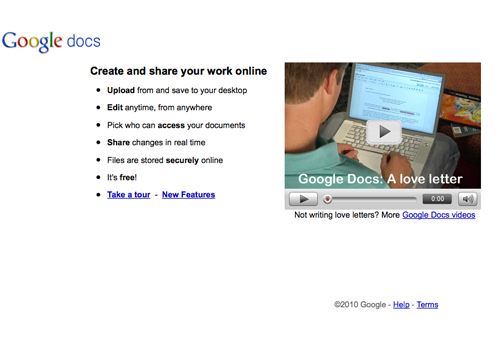 The unquestioned leader in this area is Google Docs. Formerly known as Google Docs & Spreadsheets, Google Docs allows anyone with a Google account to create and edit any type of document (text, spreadsheet, presentations) that desktop software like MS Office provides - online, and for free. Furthermore, users are also free to share the documents they create with colleagues, business partners or co-workers, who can in turn edit the documents in real time. No matter how many edits are made or how many people make them, the document is always conveniently stored in one place. Plus, all documents created by Google Docs can be opened by those using Microsoft Office. If you have grown tired of shuttling several copies of the same spreadsheet back and forth, or simply want to eliminate the expense of desktop office software from your bottom line, you'd be hard-pressed to find a better solution than Google Docs.
Additionally, many of us have found GMail to be of great use as a personal e-mail account. However, you may not be aware that the same convenience and ease of use GMail provides to individuals can be deployed across an entire business. The official Google Apps For Business website advertises that businesses can get 25GB of storage, compatibility with Microsoft Outlook and Blackberry phones and 99% uptime SLA using GMail For Business. In fact, Google's entire suite of business apps (which includes GMail, Google Docs, Google Sites and more) can be had for just $50 per month, per user. A 30 day free trial is also offered to those who prefer to test drive before signing up. And, the free versions of Google's web-based applications, are of course, enough for many smaller businesses just starting out.
Zoho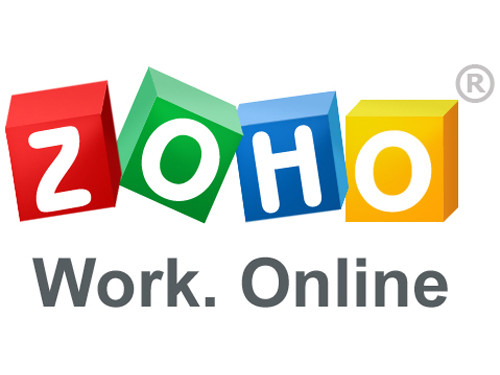 Zoho offers a web-based document creation and editing solution with similar features. While it isn't free (pricing details can be found here) Zoho's true strength is a more powerful sharing system. As Mashable explains, '...not only can you invite others to view or edit documents,' as Google Docs also allows, '...but you can create groups to make them easier to manage.' Zoho also permits users to make documents publicly viewable to anyone via a unique URL and/or RSS feed that gets updated automatically if and when the document in question is changed. Finally, Zoho lets multiple document collaborators chat while they are editing a document, and helpfully archives older copies of documents in case you need to use an earlier version.
Communication
It's been said that business is about people, and communication is likely an essential ingredient in the success of your business. Below are several web-based services that make it easier to stay in touch with your customers and partners for less.
Flowtown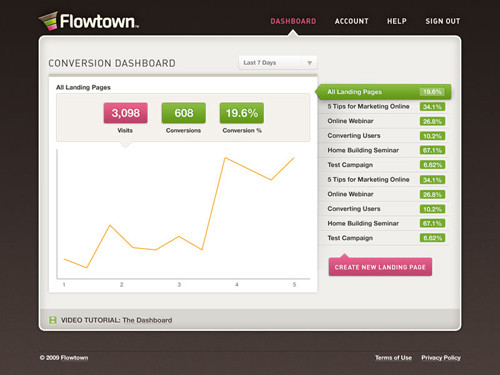 Flowtown answers the prayers of anyone who has ever stared blankly at an e-mail address and wished to know who was behind it. Essentially, Flowtown encourages users to type in the e-mail address of anyone they wish to learn more about. Then, using only the address you typed in, Flowtown proceeds to discover (among other things) the name, age, gender, and social networks used by the owner of the address. As the business owner, you can then create unique and highly-targeted e-mail messages based on what Flowtown revealed to you about the recipient. This, in turn, boosts the likelihood that your e-mails will get opened, read and acted upon, rather than instinctively rejected as spam.
Hootsuite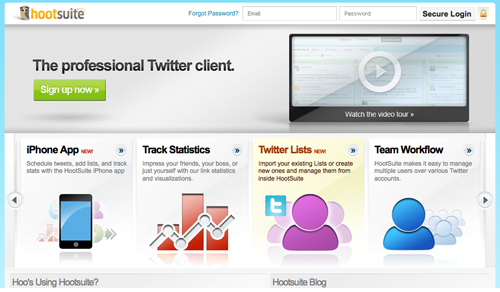 Businesses in all fields are beginning to recognize Twitter's value in building relationships with customers. Unfortunately, most Twitter clients are not suited to the goals or purposes of businesspeople, having been designed instead for casual users of the service. That's where Hootsuite comes in. As a professional Twitter client, Hootsuite enables Twitter to be used as a relationship-building and marketing tool. Features include: the ability to schedule Tweets for certain dates and times (such as to coincide with an upcoming sale), management of multiple social media profiles from one screen, and monitoring what other people are Tweeting about your brand. Hootsuite is currently free, though the company is, '...currently investigating pricing plans and exciting new features for paid accounts' per its FAQ page.
Microsoft Sharepoint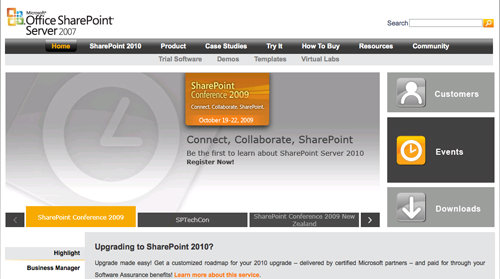 Microsoft Sharepoint is a popular server-based application enabling networked collaboration in the workplace. In essence, Sharepoint lets businesses establish intranets within which Microsoft Office documents can be shared and collaboratively edited by employees throughout an organization. Traditionally, SharePoint has been an application that businesses ran locally. And while CIO.com once felt that, '...deploying SharePoint in the cloud, either as a standalone or as part of Microsoft's BPOS, has not provided the level security, compliance, privacy and app compatibility that comes with on-premise deployments', their opinion has changed with the release of Sharepoint 2010, which CIO finds '...close the gap in functionality' between running SharePoint in-house versus in the cloud. If you have been considering using SharePoint in your business, now seems the ideal time to try it out.
Budgeting and Billing
Ultimately, every business is about making money and spending wisely the money it already has. Luckily, the spread of cloud computing makes it unnecessary to spend hundreds or thousands of dollars on elaborate billing and budgeting systems. Below are two services we recommend for meeting your money management needs for less.
Mint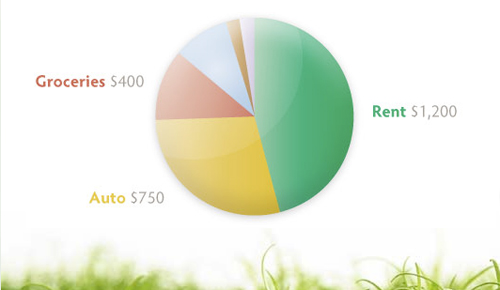 Mint is frequently praised for being an excellent personal money manager and budgeting service. But like GMail and several of the apps we've discussed, Mint can be used by businesses as well, depending on size. While it might not be the ideal solution for a company with 500 employees, a small or growing startup can easily use Mint to track the spending activity of corporate bank accounts or credit cards, as well as generate helpful charts and graphs that make spending intelligible. The only essential difference between using Mint for a business rather than for personal use is inputting the account and routing numbers for your company account rather than your own. From there, Mint will function in the same helpful, organized and visually pleasing way you are used to. Best of all, Mint is currently free.
Chargify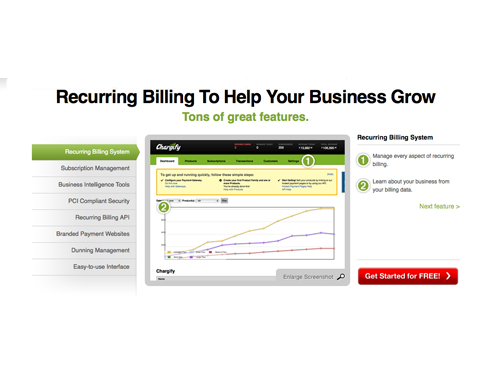 Chargify, as its homepage proudly proclaims, allows you to, '...build your business, not your billing system.' Essentially, Chargify is a flexible yet comprehensive billing solution that allows you to start accepting credit card payments, manage recurring subscriptions, and analyze your billing data for trends or patterns that can shape your business decisions. Additionally, Chargify, '...handles free trial periods, one-time fees, promotions, refunds, email receipts and even dunning,' all without making you sign contracts, pay set-up fees or transaction fees. Chargify's pricing structure is quite flexible as well: free for up to 50 customers, up to $2,499 for unlimited, with several options in between.