It's a new year. A fresh start. The time for new resolutions, lofty goals, and visions of grandeur. Sure, we're a little past January 1st, but you've still got time to get in gear for the upcoming year.
Unfortunately, creating online video content for your business can be a lot like going to the gym. You know you should be doing it, but somehow you never quite make it (at least that's how it works for me!).
Much like working out, you know that online video is good for you. It can help you connect with your customers, explain your business, increase conversion rates, and in the words of Shark Tank's Kevin O'Leary _'make more money.' _
Like most good habits, getting started is the hardest part, so here's how to create knock your socks off online videos right now, fit for beginners and seasoned video makers alike!
Create a Video Battle Plan
One big reason people get stuck when it comes to video is that they don't have a plan. Again, it's a lot like going to the gym. If you don't have a set schedule and specific goals, doing nothing always seems to look more attractive.
And creating a Video Battle Plan does not mean a three week brainstorming session and a Gantt chart. It simply means taking an hour or two to sit down and think about how you might be able to use online video this year.
Perhaps you need a video that explains a complicated product or service, tells your company story, or interviews your passionate customers. Whatever it is, create a prioritized list of video ideas, the end goal for each one, along with a realistic timeline. Don't overthink it.
For example, a puppy trainer might come up with this list of priorities:
| Video Type | End Goal | Budget | Due Date | |-----------------------------------------------------------------------------------------------------------------------------------------------------|--------------------------------------------------------------------------------------------------------------------------------------|--------|----------| | Customer review video (we have so many happy customers– what if we made a video of them showing what their puppies can do after working with us? | Speak to new customers by showing our existing happy customers | $150 | 4/1 | | Explain what PuppyChew offers (helps customers understand us, show what differentiates us from our competitors) | customers understand us, show what differentiates us from our competitors)Help customers understand quickly what they'll get from us | $300 | 5/1 | | Video of PuppyChew's community involvement (we show up at so many community events and already have tons of footage– what if we showcased this?) | Show local customers how involved we are in giving back, promote the charities and events we love | $150 | 6/16 | | Funny puppy video to make people laugh (everyone loves puppies…and we work with them. Let's create a video that shows puppies getting into trouble) | Spread awareness about who we are and what we do | $200 | 7/20 |
**Notice that I'm not talking about creating just one video. A successful online video strategy now includes producing on-going video content (much the same with blogging) that educates and entertains your viewers. **
Start Small
While having a plan is a great first step, if it's your first time producing video for your company, don't overdo it. Better to start small with a quick victory than try to do it all and fall short.
Instead of trying to create a beautiful video that captures everything about your brand, think about how a video could supplement existing pages on your website. If you have a product worthy of demonstration, create a video that shows how to use it. If people constantly ask you the same question, create a video with a comprehensive answer.
Here's some advice from Chris Savage, the Founder at Wistia, on starting low risk:
"Instead of starting out making high level front page and feature launch videos, find opportunities where you can stretch your creative muscles before investing more deeply. Great places for first videos might include an addition to a blog post, your documentation, landing pages, and support."
Video production can be time consuming and expensive, but there are inexpensive ways to get your feet wet.
Get Yourself Some Tools
Effective video doesn't have to mean big budgets and expensive cameras. For starters, you can turn your conference room into a video studio and shoot everything on your iPhone.
There are new apps like Directr that can help you plan, shoot, and edit business video, all from your phone.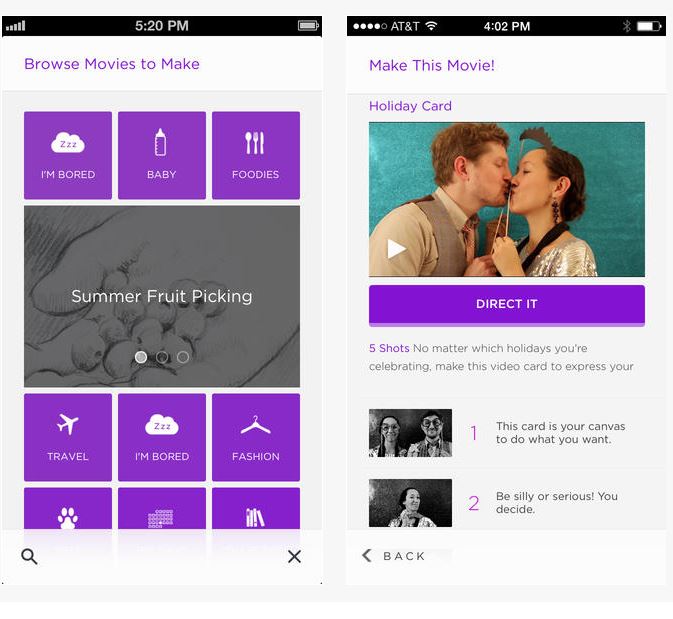 Directr lets you create movies with your phone
Or, you can use a simple screencasting program like Screenflow or Camtasia to show your customers and prospects how to use your web service or mobile app.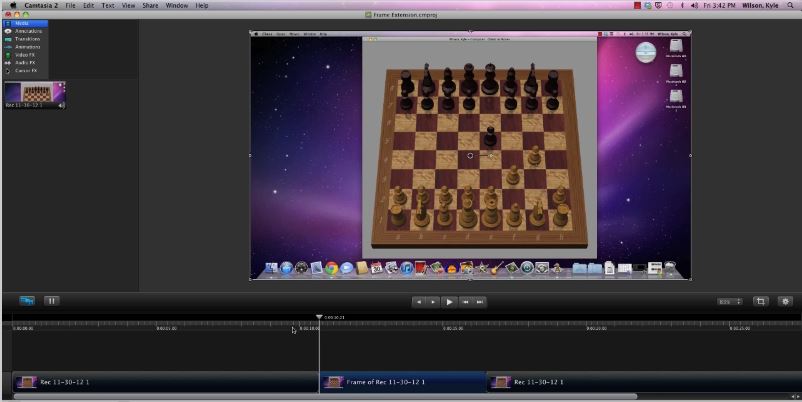 Camtasia helps you easily edit your videos
You can go even simpler and create videos on social media sites like Instagram and Vine.
Don't Be a Perfectionist
Nothing slows a project down more than trying to make it perfect. We're used to seeing TV shows and movies with multi-million dollars budget, so it's hard not to dream big. 
But remember that your viewers aren't looking for perfect. They're looking for a transparent, authentic experience. And if you're not being authentic, you're abandoning one of the key benefits of online video-- showcasing the human side of your company.
You're not working with Hollywood sized budgets nor do you have the time or expertise necessary to produce a perfect piece... and that's ok. 
A lot of the best small business videos didn't take very long to make. They use simple, straightforward concepts to get messages across.
Think about the infamous 'Will it Blend' videos where iPhones and other devices get caught up in Blendtec blenders! Blendtec's YouTube videos continuously rake in upwards of 70,000 views.
The video concepts are simple and wouldn't take forever to make. 
Skip the Script
Unless you're a trained actor, I've found that trying to write, memorize, and recite a script on camera can be exceedingly difficult. Not only is time consuming just to memorize the script, it often comes off on camera as stiff and, well, scripted (yick!)
That's why it's important to speak on topics that you know well, and that interest or excite you personally. At Demo Duck we're starting to use outlines instead. It's a faster turnaround from idea to final video, and the delivery sounds more natural.
When Moz produces their weekly Whiteboard Friday videos, they do it all in a single take. No script. They simply have someone speak on camera who is passionate about the subject and who has a general outline of the topics they're going to cover. And while there may be some mistakes, that's ok, it all adds to the authenticity of their content.
Have a Little Fun
Not every video you produce has to be chocked full of useful, educational content or polished marketing material. Sometimes it good to have a little fun and be yourself.
At our holiday party last month we set up a slow-mo video booth and had our guests record themselves having a good time. We edited the footage together and shared it with our friends and customers.
Yes, it's silly. Yes, it's ridiculous. Yes, it has absolutely no "business" value. But it was fun and it shows a little of who we are when we're not working.
Find Some Inspiration
If you're new to video, it's tough to know where to start, so look around the 'net for inspiration. Many companies are using video to answer frequently asked questions, to explain their services, and to simply send out inspiring messages to build brand awareness.
Luxy Hair is a really good example of a small company that's using video to their advantage. They have a ton of explainer videos on how to use their product, clip-on hair extensions. But they go beyond that-- they also have videos that are just instructive and helpful to their target audience.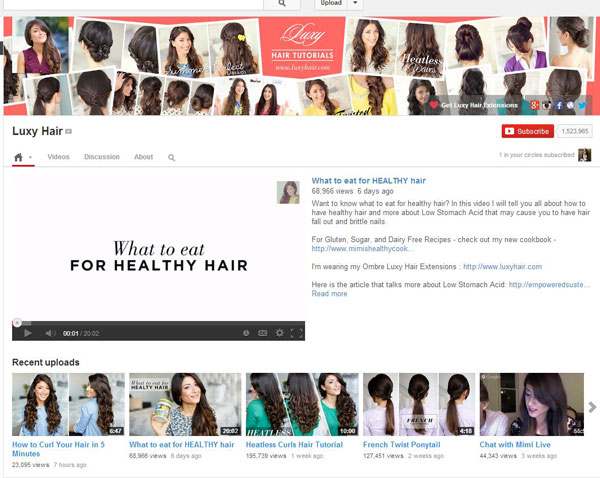 You can refashion what Luxy Hair does with video for your business. Talk to customer support or check your FAQ and figure out which questions people are asking most. Do some research to find out what your target audience is most concerned about.  Remember-- the best videos go beyond the product.
By using video to effectively answer recurring questions, whether they're about what you sell or not, you'll be able to connect with your audience on a new level.
Just Do Something
Bottom line, there's no excuse for not producing online video this year. The tools are more affordable and accessible than ever before, and the potential return has been proven over and over. Still not sure where to start? Here are a few ideas to get the ball rolling:
Don't let your online video goals and resolutions pass you by this year. Make a plan, start small, and just do it!
What has worked for you when it comes to creating video? What videos do you love? Let me know!