Being in the Buzz, Community, and Viral Marketing world one thing I have always struggled with is how to really get noticed at a big conference. Most recently was South by South West (SXSW), a technology, music, and film festival jammed into one, hosted every year in Austin, TX. In fact SXSW is so big that the technology industry nearly comes to a halt for a week. Even Peter Shankman (founder and writer of HARO) had his publisher send out the updates for him. That never happens!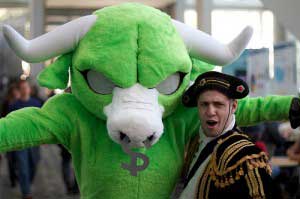 We knew there would be 20k-30k tech entrepreneurs in the same place, but the question was "How do you compete with the Microsoft, Adobe, Kodak, AOL, and all the college students passing out free Zone Perfect Bars?" The only thing we knew was we didn't want to give SXSW Incorporated $10-20,000 to have a boring booth or table.
What We Did
We wanted to create buzz for Chargify (the first company out of the Grasshopper Labs Division), as we knew our target customers were more technical than with Grasshopper.
First, we contacted FaceMakers Inc, who helped us design a custom mascot costume (see above). Then we nailed down a fun & central location in Austin to have a gathering. We (me as the matador and Charlie the Bull) spent the next 4 days running around (literally) the streets of Austin and the Convention Center interacting with everyone and anyone we could. "Interacting" is the key word here.
Have Clear Goals / Expectations
When being ridiculous and doing a big stunt you need to have clear goals in mind, otherwise you can easily find yourself losing focus and not gaining as much value as you originally hoped. We went into this knowing a few things:
We didn't want to just hand things out
We didn't want to sell anything

We wanted to have fun, and wanted people to have fun with us. Hence everyone who proactively engaged or interacted with us was invited to our "secret" party on Monday where we had endless free beer & wine.

We wanted people to remember "The Green Bull & Chargify"
Throughout our trip we made sure whatever we were doing was helping advance one of these objectives.
Be Controversial
Controversy is interesting right? Why else would "Gilbert Arenas Gun" return over a million search results and "Tiger Woods Scandal" nearly 6 million? Believe it or not to a certain extent controversy can actually be intriguing and memorable. That is why our Bull and Matador gallivanted around the Austin Convention Center every single day, regardless of the fact that we were kicked out every single day. The final day by the police…whoops! But it made for a great photo opp.
Have Fun
One thing our CEO, Siamak Taghaddos said that stuck with me was "When it stops being fun, either change it up or do something else." When you are having fun, people around you will as well…it's just infectious. This theory was proven accurate last week at SXSW. We were having fun and as a result masses of people would proactively come up to us and want to engage us, take pictures, ask questions, etc.
Need the Right People (Passion + Knowledge)
It's important to have the right people who can help you excel in the objectives you've previously identified. In this case we needed the following:
2 passionate and energetic young adults who were capable (and not easily embarrassed) of running around in costume for multiple days being loud / ridiculous.

1 of the 2 people (in this case the Matador) to be an educated company ambassador who could not only speak to the stunt, but the value added proposition of Chargify.
Memorable
On top of everything it's important to make sure you are memorable. Because at the end of the day your hope here is that when people look back at SXSW 2010 they will think "Ha…remember Chargify and that lime green bull?" So what did we do outside of dressing up in a lime green bull costume you ask?
Our bull can do back flips…yes in costume. The local Austin news liked that one.

We played Four Square (literally the elementary school recess game) with the Four Square team.

We convinced Chevrolet to let us get in and have fun in their Corvette (huge success).
Oh yea and lastly…we were smiling the whole time, even our fearless mascot through the bull costume.
Feel free to reach out if you have any questions: @grasshopperbuzz or jkay(at)grasshopper.com