Growth hacking. It's a buzz word you've seen all over the 'net, but what does it mean?
And more importantly, is it something you can use for your small business?
"Growth hacking" was coined in 2010 by Sean Ellis, an online entrepreneur and internet marketer who had achieved tremendous success by starting a variety of online companies. Some of these companies even had IPOs on the stock market.
Because of his track record in starting companies from scratch and turning them into well-oiled sales machines, Sean became the go-to guy for Silicon Valley's startups.
Needless to say, he applied his same growth formula to his own business – creating his own strategies, mindsets, tactics and systems that would continue to run, even when he couldn't be there to steer the wheel.
Ideally, he'd sell his newly minted growth machine and go relax on a beach somewhere with a tropical drink in his hand, living the life all entrepreneurs dream of. 
But that's where things changed– quickly.
In looking for someone to take over, Sean got a lot of great resumes. Applicants were qualified, but they were missing that "spark."  He got a lot of knowledgeable marketers, but that wasn't exactly what he wanted.  He wanted people that knew not just how to market, but how to grow– and grow quickly.
Thus, he created the term "growth hacking".
What Exactly Is Growth Hacking?
Unlike traditional marketers or even internet-based marketers, a growth hacker is concerned only with growth. Everything they do centers around the mission of growing – and they are relentless in their pursuit of ideas that are outside the box.
Growth hackers want more customers, more subscribers, more visibility, and ultimately, more money.
Rather than concentrating on a specific area, such as pay-per-click ads or email marketing, growth hackers use a variety of tools to achieve incredible momentum in adoption, interaction and engagement. Their tactics are always backed by strategy.
Real Life Examples
One of the earliest forms of growth hacking was the "P.S. I Love You. Get Your Free Email at Hotmail.com" tag inserted at the bottom of every Hotmail message. Ultimately it was simply shortened to the "Get Your Free Email at Hotmail.com" link.
This caused Hotmail use to grow exponentially. By the time it was sold to Microsoft, Hotmail had over 12 million users.  At the time, there were approximately 70 million people on the internet as a whole.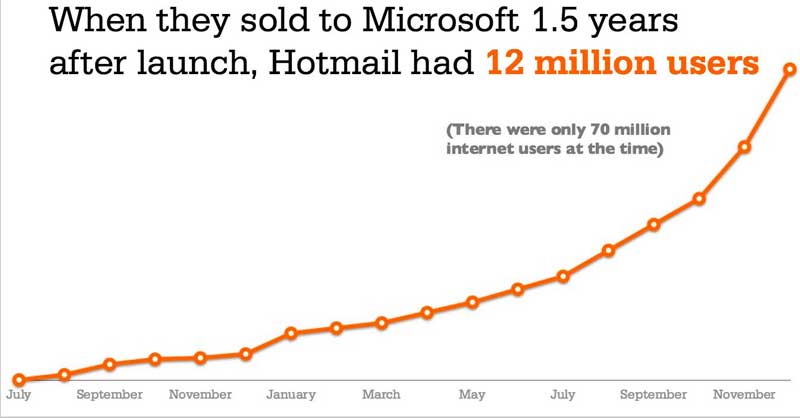 Growth hackers are happiest where marketing, raw data, and instincts merge. They have the uncanny ability to see beyond the numbers and turn that information into actionable adoption by thought leaders.
Another example is the early adoption of Pinterest. Using an invitation and auto-follow algorithm, Pinterest was able to go from a novelty to a social media powerhouse in record time: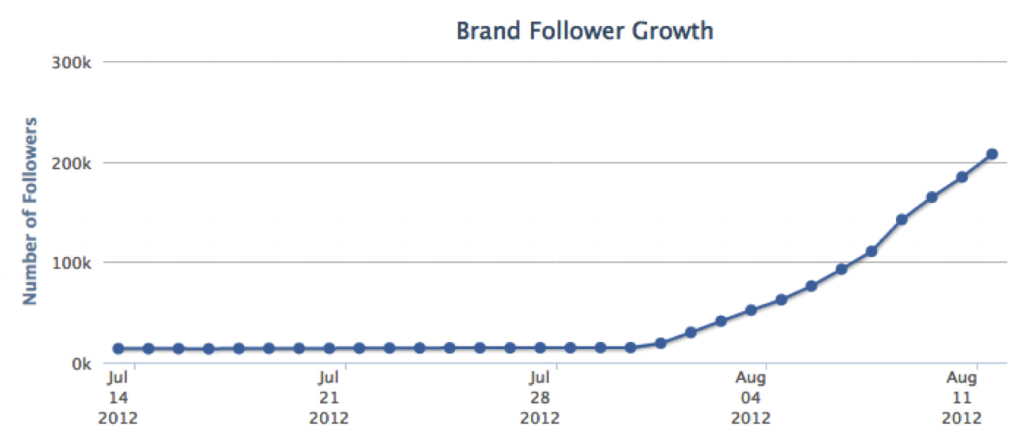 Notice the huge jump in growth within a week's time
The value of networking hasn't been lost on growth hackers either. LinkedIn previously only allowed colleagues and associates to publicly endorse you. When they switched to specific skill endorsements, their growth and profitability soared, as job recruiters (LinkedIn's main source of income) could now search more directly for the best people, and those with in-demand skills could get recognized for their work – a win-win situation.
But growth hacking has worked for little guys, too. Groove, a help desk software for small businesses, growth hacked their blog and content strategy, resulting in tons of visibility online.
Seeing that their current blog was flailing, CEO Alex Turnbull created a new blog dedicated to showing the company's success and struggle as it grew. This strategy resulted in wildly popular posts like 'How We Grew Our Blog to 5,000+ Subscribers in Five Weeks,' which not only showed off the company's blog, but also its growth strategies and product.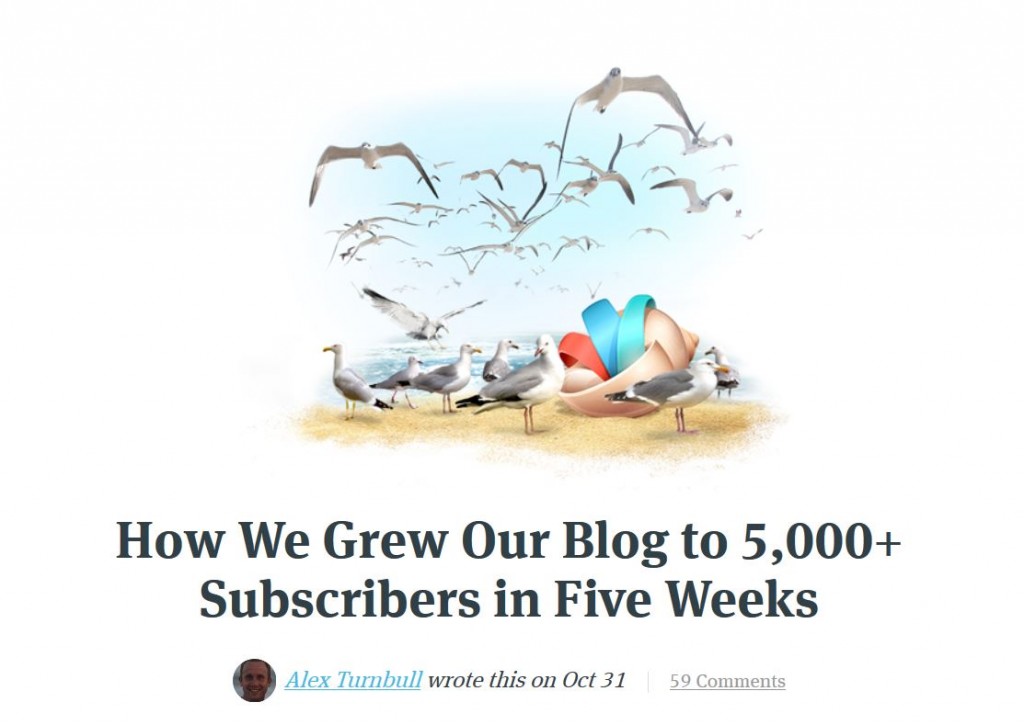 Strategies that All Great Growth Hacks Have in Common
It's one thing to read about growth hacking and learn from examples – but it's another thing entirely to apply those same principles to your business. 
So what do they all have in common? 
Exclusivity
Facebook, Pinterest, and even Gmail were invite-only in the beginning. This gave them an air of exclusivity (which begat superiority in some cases!) as something that only the "in crowd" gets. In some cases, invite codes were even being sold over eBay, which further fanned the flames and the hunger to be part of the latest, newest thing.
User Control and Direction
Giving users control and direction over a site may seem detrimental at first, but good growth hackers know that if users have a space where they're comfortable contributing, they won't hesitate to do so– and tell their friends. Crowdsourced content can do what "canned advertisements" cannot– and will reach far more people, often at no cost to the company.
Remember Your Audience
Along with exclusivity, don't try to be all things to all people. Pinterest knows that its core network is women and that many people use it to share recipes, crafts, DIY and related items.  It isn't trying to be the next Twitter or Facebook, because it knows that its audience wants and gives them the tools to create it.
Make it Easy to Share and Sign Up
Growth hacking can't take place with a stagnant sign up process that's full of obstacles. It has to be push-button simple for anyone to sign up and share with their friends, and those that the site is shared with have to feel that they're getting in on something that no one else (or few people) have.
Be Memorable
Having a short, memorable domain name is also crucial for growth hacking to take place.  YouTube's surge in popularity in the mid 2000s was due in part to its easy-to-remember name. It was so easy to remember, in fact, that UTube, a totally unrelated company manufacturing universal tubing was suddenly furious at all the non-targeted traffic and high server costs it was having to deal with as a result of word-of-mouth marketing.
Your Turn: What are some of your favorite growth hacking strategies and examples? These are by no means the only examples out there. Share your favorite growth hacking strategies below in the comments!