You've seen the apocalyptic imagery. You've heard the chatter. Mobilegeddon is coming, and your website is about to go up in flames.
(In case you haven't heard the chatter, Google is unleashing a new, mobile ranking rule that will penalize websites that aren't optimized for mobile viewing on April 21. In other words, if your website isn't mobile friendly, your rankings are about to drop.)
What does this mean for your SEO? Your online marketing? Your marketing in general? How will it affect your website? Your conversions? Your business?
All valid questions. As an SEO pro and a small business owner myself, I'm happy to walk you through some quick considerations that will help you understand how mobilegeddon is going to affect your bottom line and how to brace yourself for the impact.
You Might Be Mobile-Friendly Already
If you were looking ahead when you set up your website the first time—or if you're a little geeky about tech—you might have used a mobile-responsive theme in the first place. In which case, take the afternoon off. You're all set.
How do you know? Here are three quick ways to tell:
1 - Google's Mobile-Friendly Test Tool
Type your URL into Google's free Mobile-Friendly Test tool, and get an answer in seconds.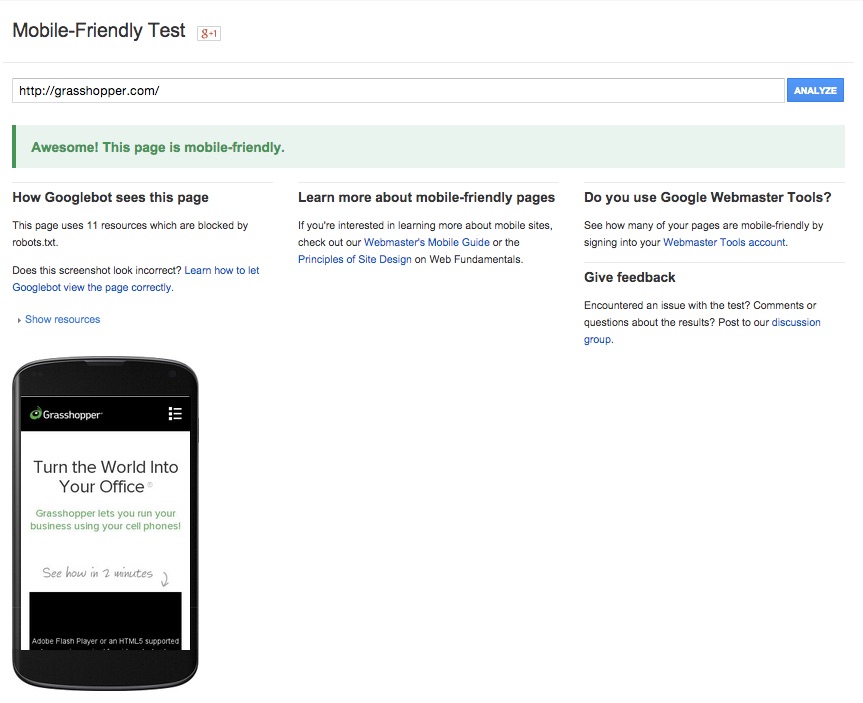 2 - Site/Colon Search on Mobile
Google's Mobile-Friendly Test is a great tool, but it only looks at one page at a time. If you have a number of important landing pages, you can run each one through the tool, or you can pull out your mobile device and perform a quick "site:" search.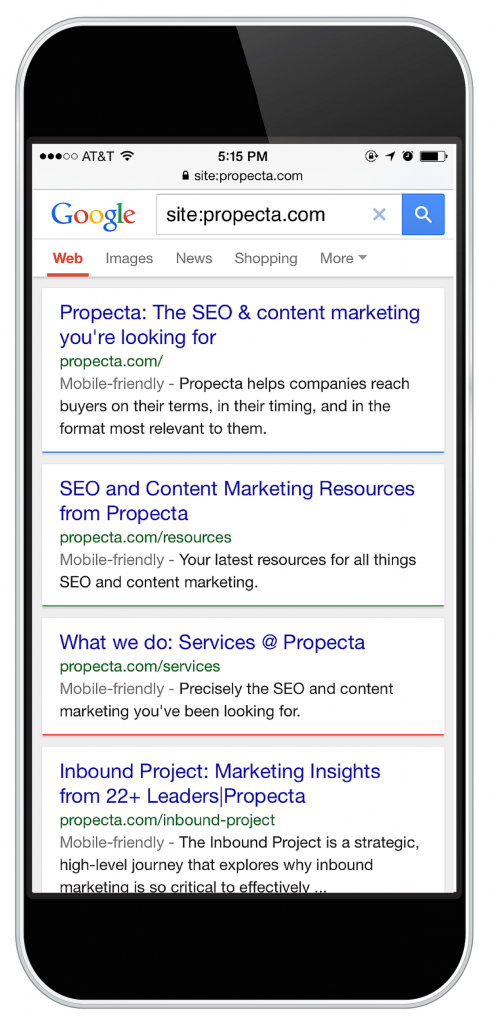 In your mobile browser, type in, "site:" followed by your domain name. The results will display all of the pages on your site that Google has indexed, and all you have to do is scroll through and make sure each meta starts with the "Mobile-friendly" tag.
How Important Is Mobile-Friendliness for a Small Business Website?
If your site is not earning five mobile stars, how important is it—really—that you get your site ready before mobilegeddon?
I might be excommunicated from the SEO community for saying this, but how to prioritize mobile-friendliness is (for now) really up to the individual entrepreneur or small business owner. As an SEO guy, I want to tell you to drop everything else and get ready for 4/21. As a small business owner, I understand that you have different options to weigh than some of our bigger clients.
Google released numbers just last month to back a prediction that mobile search will exceed PC search this year. So you will need to do this sooner than later.
But I also understand the constraints of a small business budget. Larger brands are weighing the cost of optimizing for mobile devices against other marketing, or even other SEO/online marketing, strategies. As a small business owner, you might be weighing the expense—in both dollars and/or time—against hiring a new team member, launching another proven marketing campaign, updating your hardware and/or operating system, etc.
In the case of mobile optimization vs. adding direct-value for a small business I might (off the record) say your mobile-friendliness can wait a little bit. But before deciding for sure, I would check your current mobile, organic traffic. (And he nails the segue.)
2 Steps to Determining How Much of Your Organic Traffic is Mobile
It's fine to say that about 1/3 of all organic search is mobile now, but the only organic, mobile traffic that really matters is your organic, mobile traffic. Here's how you find that magic number:
In Google Analytics, navigate to Audience - Mobile - Overview.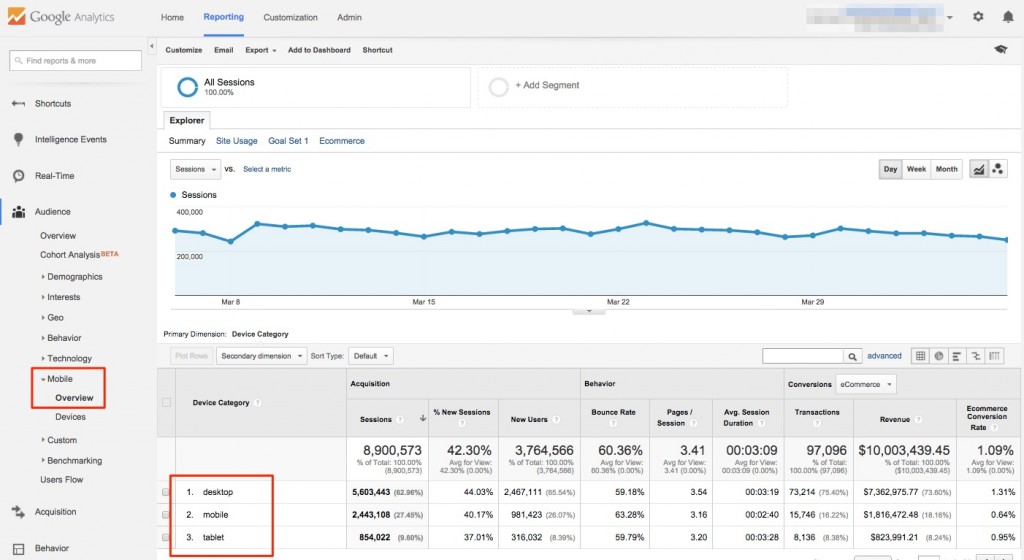 This view breaks overall site traffic into desktop, mobile, and tablet traffic. It's a good quick reference. Right now, we're specifically interested in organic search traffic, though, so click on "All Sessions" near the top to reveal a drop-down list of options. Select "Organic Traffic" to see the same breakdown for just your organic search traffic.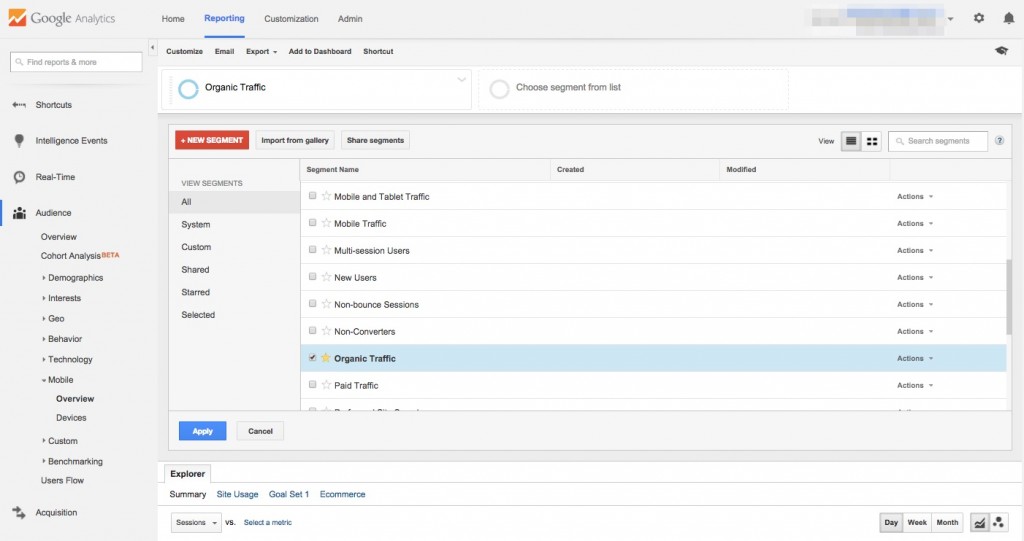 Now you're looking only at organic search traffic, broken down into those three categories.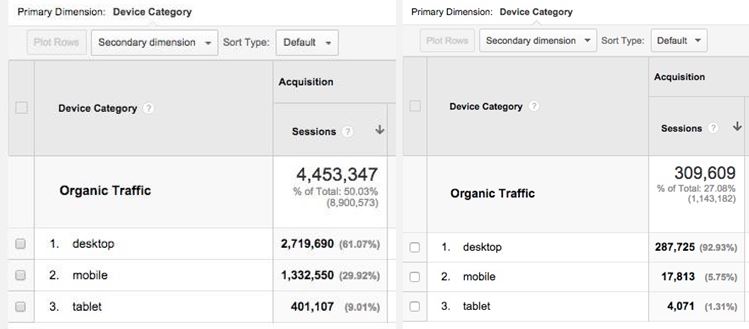 The website on the left gets almost 40% of it's organic traffic from mobile and tablet devices, while the website on the right gets less than 8% from mobile/tablet. Optimizing for mobile is going to be more urgent for the first.
How much of your organic search traffic is actually coming from smartphones and tablets? This will be a big factor in determining where mobilegeddon falls in your list of priorities.
How To Make Your Site Mobile-Friendly
If you're going to meet the April 21 deadline (and if you have the resources you really should), where do you start?
You could drop us a quick line, and our team at Propecta will work with you to provide a free Mobile Usability Action Plan tailored just for you. No obligation. Just because we have this weird thing for SEO.
More of the DIY type?
1 - Check Your Friendliness
The Mobile-Friendly Test is a good place to start. If your site is not ready, Google will provide as much info as they can to help you fix the issues.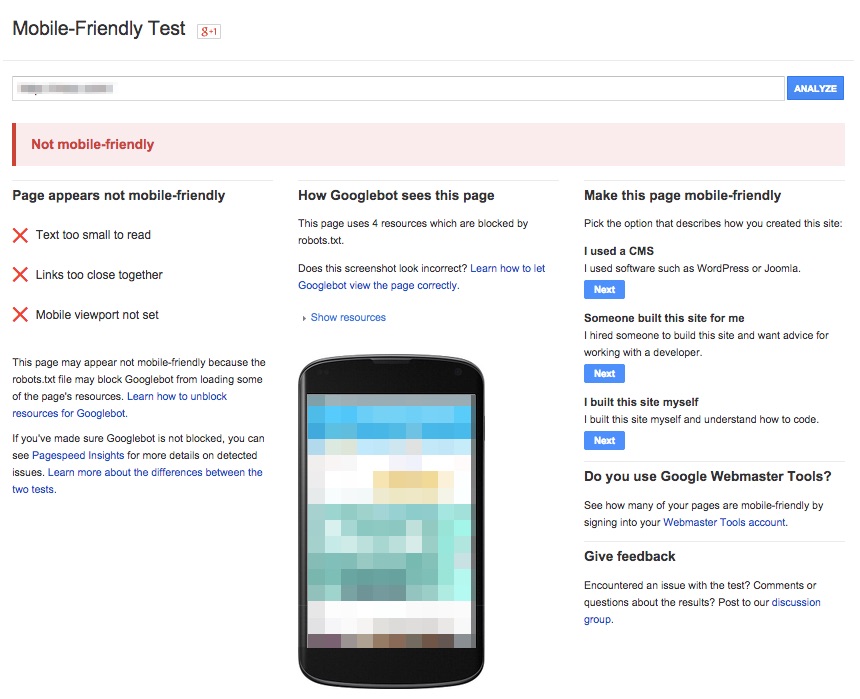 Try the "site:" search on your smartphone, and run any of the landing pages that do not inspire the "Mobile-friendly" tag through Google's tool to figure out what needs fixing.
2 - Webmaster Tools Usability Report
If you have a Google Webmaster Tools account, you can use the Mobile Usability Report they provide. If there are issues with any of the pages on your website, the report will tell you which pages need which changes.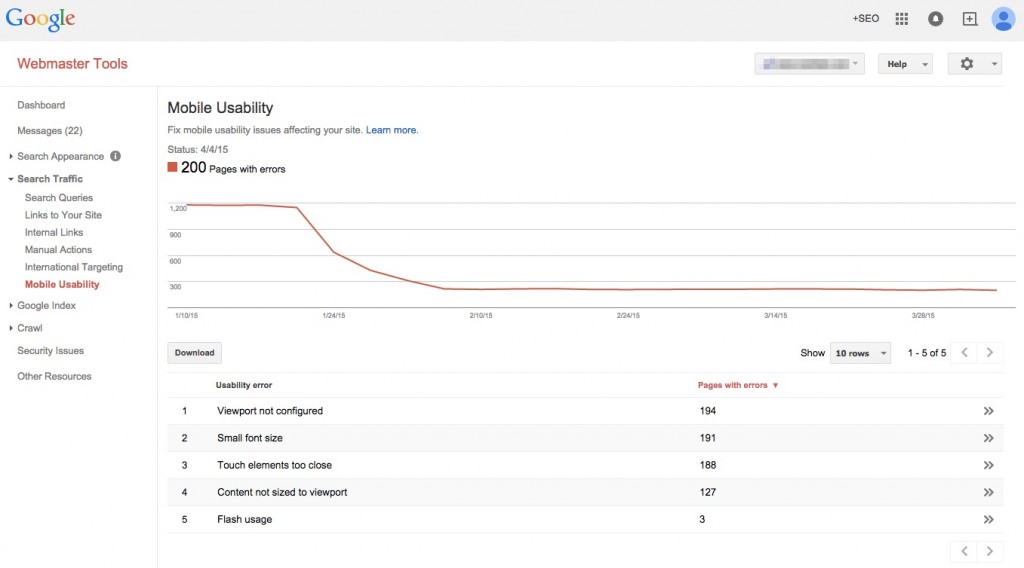 3 - Google Developers' Mobile Guide
Google has also provided some pretty comprehensive info on their Developers site. The Mobile Guide explains all the details, and gives you all the info on making a site mobile-friendly—whether you're doing the tech yourself, using third-party software, or working with a developer.
Surviving Mobilegeddon Is Possible
Ignoring mobilegeddon is probably also possible, although the sooner you can jump on board the better. It's definitely a different ball game for entrepreneurs and small business owners, but the race to mobile tech is only speeding up.
As much as SEOs like to blame Google for our hardships, we—internet users in general—brought this on ourselves with our love of smartphones and tablets. Google is responding to the trend just like everyone else, but when they jump on a bandwagon they add considerable weight.
If you can be ready for Google's mobile-friendly update on April 21, by all means do it. As a growing small business, though, if you really need to hire that killer new person or upgrade that clunky software—do whatever is going to help you scale and keep your audience happy.
But then seriously try to work mobile-optimizing your website into the budget ASAP.