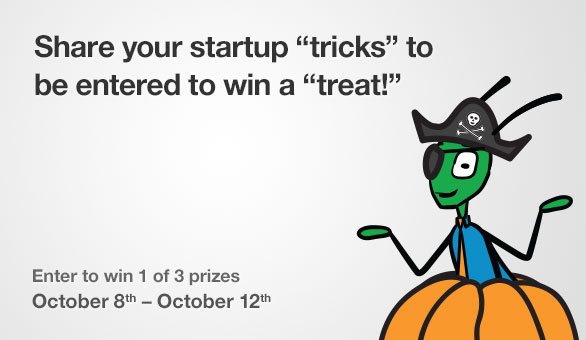 Trick or treat! With Halloween just around the corner we thought it would be fun to do a little giveaway.  This week we'll be giving away 3 PumpkinWOW party packs (12 pumpkin tattoo patterns in each) to 3 lucky people.
Thanks to our Tell Us Your Story program, we recently met Grasshopper customer Jim Christopherson, CEO of PumpkinWOW. PumpkinWOW takes carving pumpkins to a whole new level. Gone are the days of poking holes in paper templates. With the PumpkinWOW tattoo patterns, creating amazing pumpkin carvings is easy. Simply peel the tattoo, soak it in water, apply it to the pumpkin and you're ready to start carving.
Want to give them a try?
How to enter:
Entering is easy! Simply share one of your entrepreneurial or small business "tricks" (read: tips) in the comments below and you'll be entered to win a "treat!"
Entries must be received between Monday, October 8th and Friday, October 12th at 5 PM EST to be entered to win.
How to win:
For every "trick" you share, you'll receive 1 entry and we'll pick 3 entries at random. Winners will be announced on our blog on Monday, October 15th at 9 AM EST. Winners will also be notified via email.
Rules:
Every "trick" you share will count as one entry.

Enter as many times as you want.

You may only win one party pack.

"Tricks" must be submitted in the form of a comment on this post.

All "tricks" must be submitted between Monday, October 8th and Friday, October 12th at 5 PM EST.

No purchase necessary.
We'll start…
'Tricks' from our co-founder David:
Don't hire PR agencies, you can do better yourself.

Spend time on core values early.
Your turn! Comment below with your "tricks" for a chance to win 1 of 3 PumpkinWOW party packs.