Welcome back to part three of our four-part series focused on taking your social media presence to the next level. I'm Mary, the Social Media and Community Specialist here at Grasshopper, and your guide along this journey.
This week, we'll be talking about how to make social media planning a little easier on yourself by leveraging holidays and other big happenings. If you missed my first two posts, you can get started with the basics here and get in the know about paid social advertising here.
The Easy Ones
When you think of holidays that businesses typically promote on social media, it's most likely the big ones: Thanksgiving, Christmas, Hanukkah, New Year's, Valentine's Day, Easter, and Mother's and Father's Day. Your customers will already be expecting some sort of promotion around these holidays, so use them!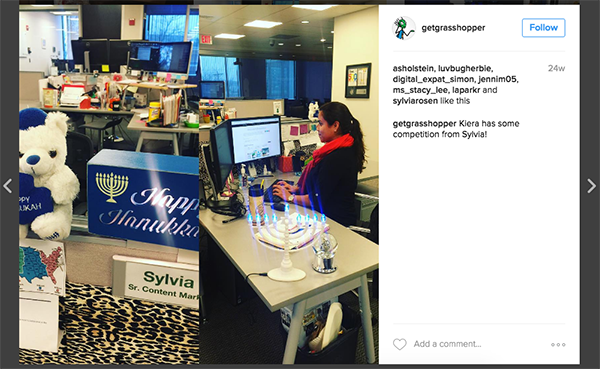 Keep in mind your holiday-related posts don't always need to be some sort of sale, especially if discounts aren't really your thing. You can celebrate these holidays with other types of creative posts, like:
Wishing a happy holiday with an eye-catching image

Posting a team photo

Tell your customers what you're doing for the holiday, and ask them what their plans are
Of course, building a promotion around these holidays can be a great idea for your business, too. It can help drum up excitement, push products or services, or even just get your name out among your customer base. I won't go into too much detail here because I'm sure you've seen more holiday promotions than you ever thought you would, but here are a few quick ideas:
A buy-one-get-one deal for Mother's Day (treat yo' mom and yo' self!)

Black Friday discounts (always popular)

Color themed promotions (wear red and green, get 25% off)
Lesser Known, But Still Relevant, Holidays
The big holidays are great, but where I really like to have fun is the random, one-off holidays that a lot of people miss or don't know about. Bringing attention to these on your social media networks will make you stand out, and get eyes on your brand when they'd usually be looking the other way.
Full disclosure: I mostly know these holidays from working at Grasshopper. Our awesome culture team thinks up fun things for each of them, and they're really good opportunities to spice up your social feeds.
Here are the holidays you may not have heard of, along with ideas on how to fit them into your social media strategy:
Pi Day — March 14 (Pi = 3.14...)
Any reference to pies, really. Bonus points if you have some pies in-house, for your customers or team to enjoy.
Star Wars Day — May 4 (May the 4th Be With You)
Get out your light sabers! A post for this can be really simple - there's no shortage of images out there for this day. Just make sure to grab a non-copyrighted one, and you're good to go!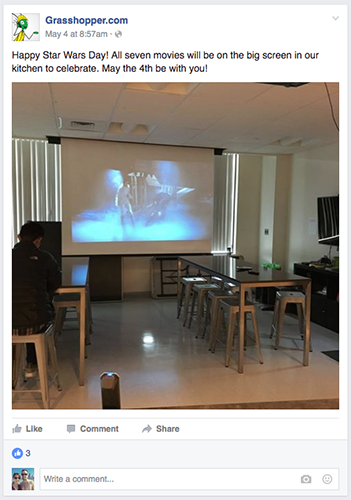 First day of any season
Celebrate the change in seasons with a simple "Happy (Insert Season Here)!", a 24-hour flash sale, or another fun offer.
Use Holidays No One Else Will
Throughout my years of working in social media, I've relied on various calendars full of random, sometimes nonsensical, holidays to help fill my social media timelines. But, I have found a favorite — this calendar from Holiday Insights. It has major holidays, as well as smaller, obscure ones that can be really fun to celebrate on social.
Here are a few of my most favorite:
Fun at Work Day — January 28
Have a little fun with your team, and post the photos on social!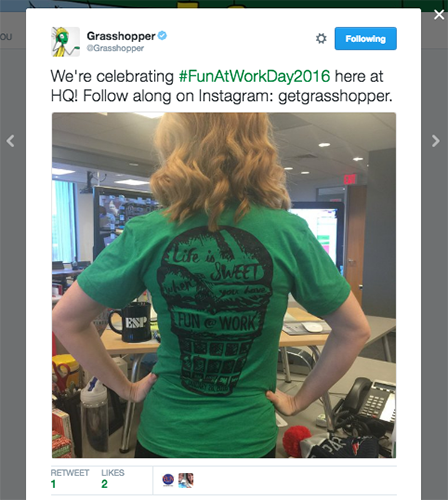 National Mom and Pop Business Owner's Day — March 29
Celebrate your small business!
Lucky Penny Day — May 23
Wish all your customers good luck!
Don't Forget Other Events
You don't have to stick with just holidays. You can also work pop culture and sports related events into your social media calendar, like the Oscars or World Series, or a big movie opening.
One promotion that comes to mind is one that Jordan's Furniture, a New England Furniture Chain, runs every year during World Series time. It typically revolves around the Red Sox winning the series or breaking a record — if they do that, you get your furniture for free!
Are the odds of getting your furniture for free high? Nope. Are people still buying a ton of furniture hoping they'll get it for free? You betcha.
Now, you don't need to give away free things, but it can't hurt to tie national (or even local) events into your social media marketing. Offer a discount at your coffee shop to anyone who comes in with a ticket stub to a local sporting event. Or run a quick contest on Facebook asking people to vote on their Oscar choices and give the person who wins a $10 gift card. The options are endless!
Get Celebrating!
Whatever holidays you choose to celebrate, don't let them pass you by. You're letting a great social media opportunity slip through your fingers!
Tune in next week for Part IV of Get Social With Mary to learn about getting your customers involved on social. Missed Part I or II? Get caught up on the basics of social media or learn the ins and outs of paid social advertising.