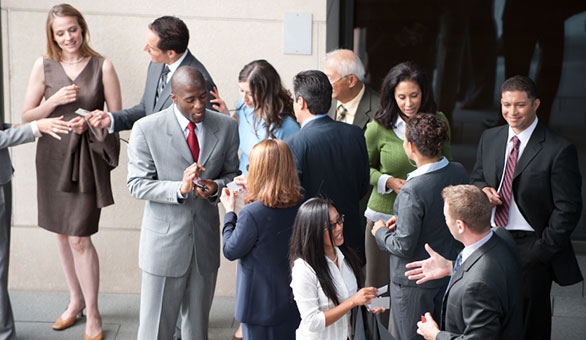 Tempting as it may be to sit in front of your computer 24/7, sales and deals don't happen behind your desk (or kitchen table, or makeshift office space). Businesses grow via handshakes, business card exchanges, and casual encounters. Don't know where to go? Can't figure out where to network to meet the people who can take your business to the next level? No problem. We've got you covered. In fact, after you read this, you'll be so busy attending events that you'll need to carve out time to sit in front of your computer and get some work done.
In Part 1 of our "Get Out and Network" piece, we share a list of resources (some obvious, some not) that will help you identify the best networking events, conferences and gatherings to meet the right people and make the right connections. So clear your calendar and get ready to network.
Eventful
Eventful is often thought of as an online portal to discover local concerts, movies, and festivals. But Eventful also lists business-related events such as conferences, educational workshops, association sponsored meetings and more.
Upcoming events in Atlanta:
Eventbrite
Eventbrite makes it easy to discover networking events. In addition to a robust search function, Eventbrite provides you with a map to the event, so there's no excuse for making a wrong turn. Eventbrite also makes it easy to share events with friends, which can make breaking the ice a little more comfortable when you know at least one other person attending. You can purchase event tickets on Eventbrite and view a list of those who have already purchased a ticket, so you will know who else is attending before you go.
Upcoming events in Dallas:
October 23, 11:30 AM: How to Create a Business Development and Marketing Plan hosted by Society Marketing Professional Services (SMPS)

November 9, 6:00 PM: Small Business Start-up Workshop hosted by Dallas Small Business Development Center
LinkedIn Events
LinkedIn Events helps you discover business events and even serves up personalized recommendations based upon your industry. You can search for events nearby or by industry. Once you've found one, make the right connections by browsing Attendees You May Want to Meet, or by filtering the attendee list by current company or industry.
Upcoming events in Seattle:
October 18, 4:30 PM: Social Innovation Fast Pitch w/ Nathan Myhrvold, CEO of Intellectual Ventures, Seattle Center's Fisher Pavilion

October 29 – 30: Seattle Interactive Conference 2012 at The Conference Center at Washington State Convention Center
Meetup
Meetup is a great way to connect with like-minded people. Whatever your interests may be, you can find local groups to fit your needs and connect. Try searching for non-business events too so you can connect with people with similar interests which will break the ice to talk business. Meetup is also great to tap into when you're traveling. Before you board the plane, search for Meetups in your final destination. A new friend in Boise could become a new client for your business back in Boston.
Upcoming events in Boston:
Yelp
Yelp is a very popular online guide for the real word-of-mouth on local businesses. People use Yelp to search for everything from the city's tastiest burger to the most reputable spa to the best gym. Yelpers rate and write a review of any local business, giving you the inside scoop before you decide where to dine, where to get pampered, or where to workout. Most people don't know that Yelp also serves up local events. So now you can meet up with potential prospects, know what to order off the menu, whether credit cards are accepted, and whether or not you should sharpen your lip-reading skills so you can hear what others are saying above the loud live music.
Upcoming events in San Francisco:
Local Chamber of Commerce
Your local Chamber of Commerce has one simple goal: To further the interests of local businesses. Local Chamber staff, members and volunteers work throughout the year to ensure businesses can thrive in its own municipality.  While each local Chamber may run differently, membership provides professional growth, networking opportunities, and the opportunity to influence local business related policies. It is probably one of the best ways to keep your finger on the pulse of the local business community.
Upcoming events in Chicago:
November 7, 7:45 AM: Member Business Development Breakfast hosted by Chicagoland Chamber of Commerce

November 14, 11:30 AM: Quarterly Speed Networking For Business Luncheon hosted by Chicago Southland Chamber of Commerce
BNI (Business Network International)
BNI provides a positive and structured environment for the exchange of quality business referrals, helping you build personal relationships with dozens of other business professionals. Belonging to BNI is like having dozens of salespeople representing your business, and in return you are representing their businesses. If you believe in the motto, "What goes around comes around," then BNI is for you.  (Note: Only one person from each professional specialty is accepted into each local BNI chapter. Be sure to contact your local BNI chapter to determine if your business category is open.)
Upcoming events in Phoenix/Scottsdale:
Tuesdays, 7:00 AM: BNI Central Phoenix

Tuesdays, 7:00 AM: BNI Business Leaders of North Scottsdale

Tuesdays, 7:00 AM: BNI North Phoenix Business Leaders
Toastmasters International
Since 1924, Toastmasters International has helped people of all backgrounds become more confident in front of an audience. While teaching public speaking skills is at Toastmasters' core, their meetings make it easy to network and meet new people.
Upcoming events in New Jersey:
The Business Journals
The Business Journals (a division of American Business City Journals) provide comprehensive coverage of business news from a local, regional and national perspective. If you need to keep up-to-date on the latest mergers and acquisitions or newly appointed company leaders, then your local Business Journal is your go-to resource.   The Business Journal also hosts several community award events including '40 Under 40,' which recognizes 40 successful entrepreneurs under the age of 40 and 'Green Business Awards,' celebrating companies that demonstrate leadership in sustainable practices.  Business Journal sponsored events are known to draw big crowds of the 'right' people.  Additionally, each local Business Journal's calendar section highlights regional networking and educational events.  But The Business Journals' best asset is its Annual Book of Lists which provides you with listings of hundreds of the hottest area companies by industry including the names of key decision makers, their titles and contact information.
Upcoming events in Minneapolis/St. Paul:
October 26, 8:30 AM: Small Business Conference: Idea to Market to Growth hosted by Rasmussen College School of Business

October 30, 5:30 PM: Book Launch: Mike Paton's Get a Grip: An Entrepreneurial Fable
We've Only Scratched The Surface
This list could go on and on to include industry associations such as PRSSA, The American Marketing Association, SEMPO, university-sponsored events, local newspapers and more.
So pick your favorite resource and schedule a few networking events in the next 30 days.  On October 24th, in Part 2 of our "Get Out and Network," we'll tell you how to network with flair and initiate business relationships that will last beyond the first introduction and handshake.
How do you find out about networking events in your area?