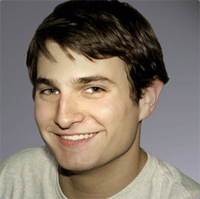 This week we are featuring Jared Taylor. Jared is the founder of RevitalArts, Sparklight Studios and is also a Grasshopper customer.
First off, you are a great example of a "Young Entrepreneur". You've already been involved in founding how many companies? And are how old?
I've founded 2 companies. I started my first, Sparklight Studios, when I was 18 years old. Sparklight is a small creative company specializing in website development, video production and theatrical design. We've served nearly 20 clients since we started only 2 years ago, which has been quite an undertaking considering we're college students. We just launched our new website - http://www.sparklight-studios.com. I also founded RevitalArts (formerly Youth in the Arts) in 2008 with a few friends.
Tell us a little bit about RevitalArts and what makes it so unique.
RevitalArts is an entirely student-run non-profit organization and we received our 501(c)(3) designation by the Federal government in mid-2009. Our mission is to provide young adults with positive, engaging and educational experiences in the arts and to revitalize the participation in and appreciation of the arts. This breaks down into two parts: the first is to put on student-run productions - film festivals, theatrical performances, musical concerts, etc. The second part is to get our local community (in Fairfield/New Haven Counties, CT) interested and engaged in the arts.
We are unique because our organization - from our Board of Directors, to our staff, to our membership, is made up entirely of young people. This is a point we try to push in our PR and fundraising efforts.
Now, I know that you personally have always been involved in music and the arts. What made you want to help others get involved as well?
The arts are my life passion. Some friends and I noticed a lack of summer theatre opportunities in my hometown of Stratford, CT. So we started Square One Teen Theatre, which is now going into it's 4th summer and is our biggest program. RevitalArts spawned out of the Teen Theatre and another program called the Stratford Film Festival, which was started in 2005. We started the organization as an umbrella company that would oversee programs like the Theatre and Film Festival, and help outside students start their own programs.
Since we were officially formed as of last year, we've helped students kick off two brand new programs in Milford and Fairfield, CT. It's amazing to help and watch these new program grow, because that's essentially why the organization was started in the first place.
What challenges do you face as a non-profit organization that you don't in other businesses?
Definitely fundraising. Funding is obviously important for both businesses and non-profits, but it's very different in our situation. Fundraising involves convincing people that our cause is worthy enough to support monetarily. We had a successful year in 2009 but we still haven't gotten the full hang of it yet.
Two tips you can give other entrepreneurs looking to start a non-profit:
Build a strong board and staff who will believe in your cause. Start-up non-profits typically have very limited budgets and you, along with your staff, will have to volunteer significant amounts of time to the organization.

Focus a lot on your brand and message. Don't rush through your name, logo, and mission just to get them over with. Spend a lot of time thinking about what the core of your mission is. Then market the heck out of it. For a new non-profit, nothing is more important than a strong message.
You are involved in RevitalArts, Square One, Sparklight Studios AND you go to school. Where do you find the time for all this? You must have some great time management tips to give our readers?
I'm a huge fan of to do lists. I organize my lists into categories (Personal, RevitalArts, School, etc) and pick which ones I'm going to do each day of the week. I'm also a big proponent of sticky notes. I'm also not afraid to delegate when I need to.
Now, we don't ask everyone this, but since you are a GH customer and have been for quite some time, what is your favorite feature of the virtual phone system (we had to throw in some self-promotion)?
Getting voicemails as email attachments. Grasshopper has a ton of awesome features, but the reason I originally signed up was the convenience of being able to check our voicemail through my email
---
Thanks to Jared for taking the time to talk with us. If you want more information on Jared, RevitalArts or Sparklight Studios, check out his about page or connect with him on LinkedIn.