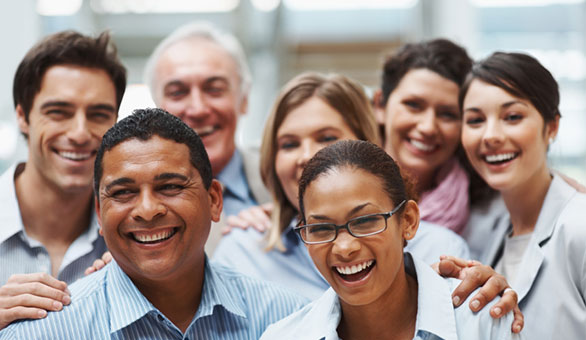 Companies like Google make 'fun' company cultures look so darn easy! What you may not realize is that these awesome environments take a heck of a lot of investment and hard-work. A fun culture doesn't just happen.
If you're not prioritizing your office atmosphere, employee happiness, and people operations, your company culture may fall flat  — even if you've built the coolest team ever.
Not sure where to start or what investments to make first? Here's what you need to know about creating the happiest workplace on the planet:
1. Prioritize Each Day
'If you think that culture equates to the need to have big events, you're wrong,' wrote David Hassell for the 15Five blog. 'It's something internalized by each and every employee.'
Culture is every day, not something that happens at the summer party.  It's the start of your Mondays, the tone in your e-mails, and the reason why your employees get up to come to work every day. It's up to your company's leadership team to define and uphold the environment you want to create.
'Culture transcends business — it's your company's lifeblood and most valuable asset,' said Hassell. 'It's in your organizational structure, your walls, and your people.'
2. Celebrate
Life is beautiful  — even at work. If you're buried in your computer all day, you risk forgetting about the beauty that surrounds you. Make room for value beyond your company's profits and revenues.
'Keep track of people's birthdays, fun days of the year (like pie on Pi Day), and other things happening around the office,' says our very own culture queen, Stacy Kadesch. 'Do trivia on random days and inter-office contests when you can.'
Celebrations will inevitably make your employees feel valued. Encourage your leadership team and peers to open their hearts.
3. Goof Off
Yes, you read that right. Life is short, and you need to enjoy every moment — especially when you're earning a living. Believe it not, that creative energy will funnel back into your business's bottom line.
'Our office is our playground,' says Lauren Austin, Creative Sirector at marketing agency MKG in New York in a CNN article. 'It was designed to ignite imaginations and encourage employees to interact, because that is how the best ideas are born.'
We believe in that spirit at Grasshopper, which is why we do things like create our own Hadouken memes. Occasionally, we all need an afternoon where we goof off and do something fun!
Imagination and creativity happen when you're relaxed and happy — not when you're stressed and under significant pressure. Encourage your team to laugh, enjoy life, and be at peace. Your business will thank you for it.
Special events, contests, birthday celebrations are all ways to instill a playful company culture. How does your company inspire a culture of fun?