Announcing the Winners!
First, a HUGE thanks to everyone who shopped small, even if you didn't enter the contest. You're what truly makes Small Business Saturday a success. Also, high fives to everyone who did enter the contest. You're the best!
Now, on to the winners. Drum roll please....
Kathy R. won the 1st place $150 gift card with a tasty lunch at a local seafood restaurant: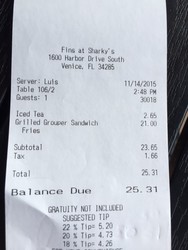 AT O. won the 2nd place $100 gift card by treating the family to dinner: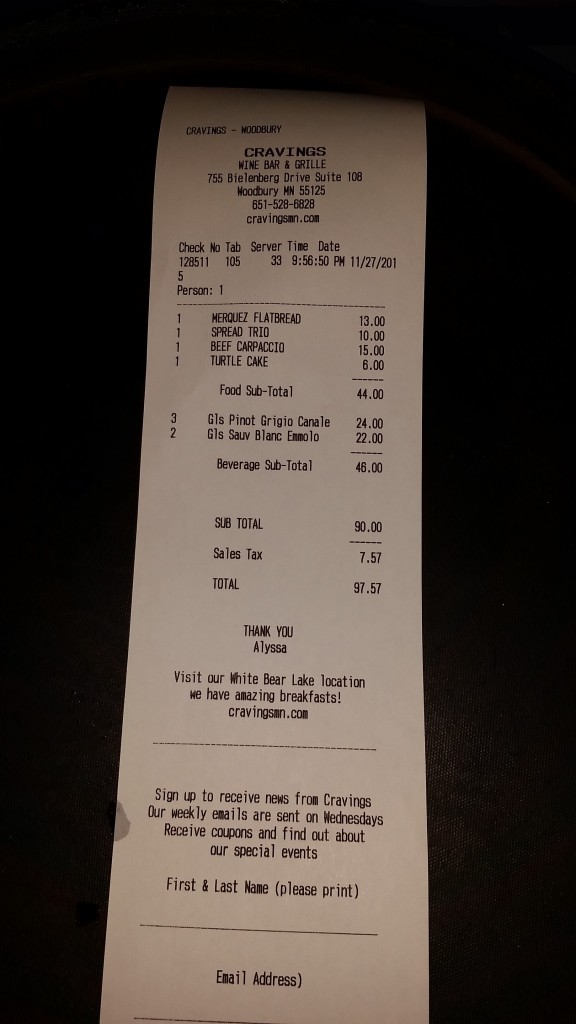 Tiffany C. won the 3rd place $50 gift card with a trip to a local Japanese restaurant: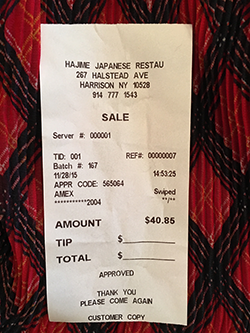 Thanks again to everyone who entered, and we hope you have a fabulous holiday season! Here at Grasshopper, we love giving stuff away as much as we love small businesses. So in honor of Small Business Saturday on November 28, we're holding a Shop Small Photo Contest! Show your love for a local small business and you could win one of 3 gift cards!
How Do I Enter?
It's really simple! Just take a photo of a receipt from a purchase you've made at a local small business (selfies welcomed and encouraged!) and share it with us on Twitter, Instagram, or Facebook.
Or enter here:
What Are The Prizes?
We have 3 gift cards up for grabs!
$150 gift card
$100 gift card
$50 gift card
When and How Will The Winners Be Announced?
3 winners will be randomly chosen from the eligible entries. We'll be announcing the winners on Monday, November 30. You'll be contacted through the network you used to submit your photo.
What Are The Rules?
Every game has them!
Contest begins at 12:00AM EST on Monday, 11/9/2015 and ends at 11:59PM EST on Saturday, 11/28/2015. All entries must be received during this time period. Late entries will not be eligible.

Receipts must be dated between 11/9/2015 and 11/28/2015.

All entries must include a clear photo of your receipt showing the business name and date to be eligible.

Entries from Facebook must be submitted by:

Using contest application on our page

OR

Posting a photo to our page and including the hashtag #GrasshopperShopSmall

Entries from Twitter and Instagram must include the hashtag #GrasshopperShopSmall

Each receipt counts as one entry. Enter as many times as you like!
If You're Still Confused:
What Counts as a "Small Business"?
Any local business that is independently owned counts as a small business.
How Much of the Receipt Needs to be in the Photo? I Don't Want the World to See My Info!
Not to worry! You just need the top of the receipt with the name of the business and the date to be eligible. Just make sure it's a clear photo!
Do E-Receipts Count?
Yes! Simply take a screenshot of the email or webpage that contains your e-receipt, and submit it as a photo.
What Are The Terms and Conditions?
You can find all the official rules, terms and conditions here: Grasshopper Contest Rules.