With 74% of people using mobile at work and cell phones outnumbering landlines 5 to 1, the idea of using only your cell phone for business doesn't seem as crazy as it once did. Phones are better, service coverage is better and the lack of a pbx system can help cut down on business costs.
While the numbers certainly indicate a large number of people use their cell phones for work, we wanted to know how many of you were actually using them. Here's what you had to say:

While Jack preferred to call from his landline, Sarah used VoIP at her desk and Birgies.com used their iPhone.
Our Facebook friends had similar responses: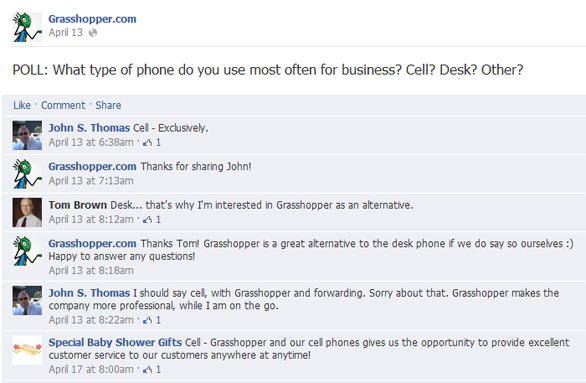 Here at Grasshopper, we have quite a few remote employees, so the idea of using a cell phone for business is pretty typical but it's great to see so many other businesses doing the same thing.
The nice thing is there are now ways to use your cell phone like a desk phone. Docks make taking calls easy or you can use the awesome (and colorful) Pop phone.
How about you? What are you using?