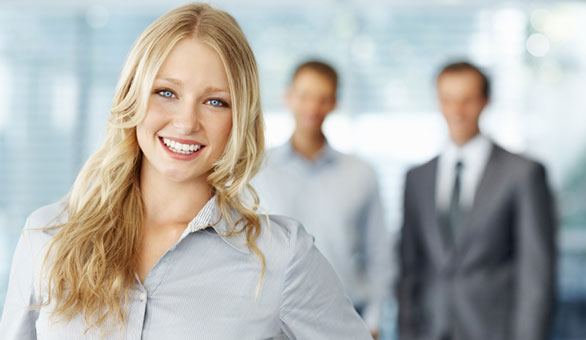 A woman starts a business in the U.S. every 60 seconds. Just think how many women-led business ventures will launch while you read this post?
That stat comes from Dr. Tracey Wilen-Daugenti, VP/managing director of the Apollo Research Institute and author of the upcoming book Women Lead (2013). She also notes that without women, the U.S. economy would be 25% smaller than it is today.
So, are women on equal ground with men? Or are they, potentially, even more entrepreneurial than their male counterparts?
Dr. Wilen-Daugenti sees an even playing field. "Women's business motivations do not vastly differ from men's; those who launch new enterprises do so because they perceive market potential and room for innovation."  But there is some data that may suggest otherwise.
A 2011 survey conducted by leadership consultants Jack Zenger and Joseph Folkman evaluated more than 7,000 company leaders in terms of their effectiveness.  The leader's peers, direct reports and bosses evaluated their leaders on how strong he or she rates on 16 leadership effectiveness competencies previously identified by Folkman and Zenger from their 30 years of research.  The study found that women ranked higher in abilities such as taking initiative, practicing self-development, displaying high integrity, driving for results and developing and motivating others, to name a few.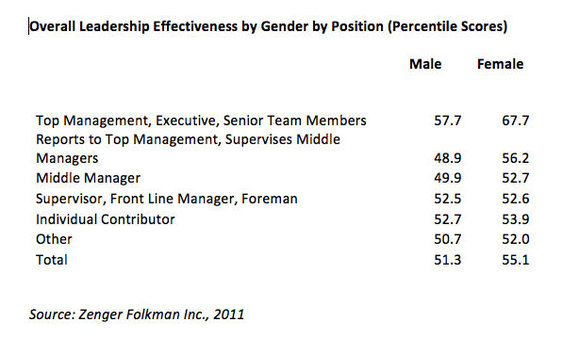 "The women's advantages were not at all confined to traditional women's strengths," they note. "In fact at every level, more women were rated by their peers, their bosses, their direct reports, and their other associates as better overall leaders than their male counterparts."
That makes women better, right? Folkman and Zenger still stress that "these are fundamental behaviors that drive the success of every leader, whether a woman or a man."
Let's dive into some more of the inherent, inborn, and maybe even stereotypical characteristics that help women succeed. We went to the experts—entrepreneurs themselves who have motivated, mentored and assisted thousands of business owners—and asked them what traits they've seen that help women excel.
Women can turn passion into profit.  "Women have a remarkable ability to take what they know and love, and turn it into a profitable business.  Female entrepreneurs are creative, resourceful and certainly determined," says Marla Tabaka, a success coach for the nationally-known Count-Me-In for Women's Economic Independence and columnist at Inc. Magazine online.
Women are their own worst critics. "As a coach, what I love the most is that women are willing to take a close look at themselves to achieve personal growth, which allows their business to grow and flourish as well," says Tabaka.
Many agree this critique is key. "Women are more likely to blame themselves, while men are more likely to blame others or circumstances beyond their control," says Dave Lavinsky, co-founder of Growthink, Inc., a business planning firm that has helped over 500,000 entrepreneurs raise over $2.5 billion in growth capital and start, grow or exit their companies.  "This self-blame is a good thing for a startup. Because when starting a company, most things don't work smoothly at first. So rather than blaming outside forces like the economy, a poorly performing employee or a late shipment, women entrepreneurs are more likely to look internally; to search for things they and their team can do differently to fix the problem."
Women's sixth sense is the secret. "Female intuition is the secret weapon," a resource that's right up there with mentors, coaches and industry experts Tabaka coaches.  "Women have a keen sense of what feels right or wrong and, when they trust and follow their instincts, they can become powerful and influential leaders."
Women value a purpose-driven life. Women often bring personal values into their businesses, creating a positive culture of employees and customers.  Tabaka says: "They are often driven by a sense of greater purpose; wanting to make a difference and create a positive impact on causes. Not only is this passion an emotional-driver but consumers like to buy from companies that support a purpose, so it's a revenue driver as well."
Women stop to ask for directions. The scenario of the man refusing to stop for directions as the woman wants to ask? Some suggest it's absolutely true.  "I think the most compelling aspect of our study is that women were much more likely to ask for and respond to feedback. That is the key to their improved leadership," says Folkman.
"The fact is, women are more likely to ask for help," agrees Lavinsky. "Asking for help is key in starting and growing a company. Finding and asking advisors for guidance allows enterepreneurs and business owners to make better decisions. And asking employees for help, via delegating certain tasks, frees entrepreneurs to focus on the company's highest value tasks."
Nobody we interviewed was willing to answer the question: Who's more entrepreneurial, women or men? And that's probably the safest position to take. But women definitely do have an edge on men in certain areas.
What do you think? Are women better at starting and running businesses? In what ways?