Hang out around the internet for a bit and you'll see the world's a-flutter with online socializing.
And by socializing, I mean sending messages and seeing ads on sites like Facebook, LinkedIn, and Twitter.
These social networks not only help you keep up with your cousins in Savannah, they also provide a great way to reach out to your community of happy customers.
And even better? They provide an opportunity to generate new sales via referrals, promotions, and messaging.
But no one wants to spam a bunch of followers or come off as a sleazeball who's only in it to make the next buck. So, how the heck do you sell stuff via social media?!
The process can be trial and error. Common wisdom says that people want you to provide value and not hit them over the heads with sales messages. But then again, it's nice to be sweet on your biggest fans by giving them a great discount every so often.
These buzzing havens are a good place to "do marketing and make sales." But don't forget that they are first and foremost social. People want to connect with you and your brand. 
If you are ready to start exploring social as a tool to find new customers, read on:
1. Listen Up! Set Up Searches and Alerts
Set up searches and alerts on Twitter, Facebook, LinkedIn, and Quora. Make sure you know when people are discussing your company or are looking for a service like yours.
For instance, you can create an alert for 'small business CRM' to find out when people are gabbing about your offerings, then jump in and offer to give them some information.
Companies love to retweet positive mentions about their products or services. But are you responding to complaints and negative comments just as quickly? A timely response to a problem can win you a customer for life. 
Since most of these conversations happen in public, others will see how you respond. Showing you're responsive and caring will only draw more people towards you.
We use HootSuite to stay on top of mentions. We've got columns to pull in any tweets that mention our brand, and we watch it like hawks. Whether someone has high praise, a question, or a complaint, we try to get right back to them.
2. Try a Facebook Promo
There are lots of ways to run engaging Facebook promotions. You can easily run a sweepstakes or a photo contest by using a 3rd party app like Rafflecopter. Even easier, you can share a coupon or a special offer with your Facebook fans.
Grasshopper routinely holds trivia contests and gives away t-shirts as an easy promo: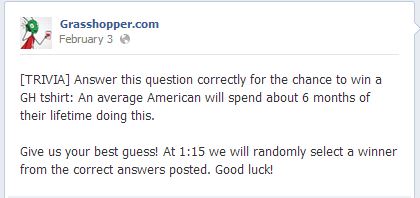 Make your followers feel valued and they are more likely to buy from you, buy from you again, and tell their friends too-- the very definition of a happy customer!
The biggest benefit? These promos are inexpensive. For the cost of a t-shirt and shipping, you've begun cultivating a customer relationship.
3. Re-target Visitors on Facebook
Facebook allows you to set up your own re-targeting campaigns. That means that people who have been to your site (but not converted) will be shown ads either in the Facebook sidebar or the newsfeed to "remind" them of your services.
You can also upload your email list of leads and Facebook will show ads to the ones that they can match in their database, which is usually about 50% of the list.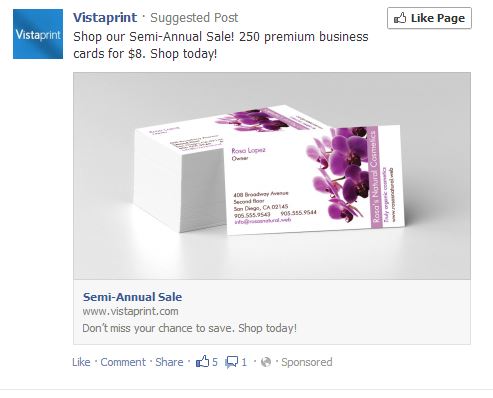 Vistaprint re-targeting me on Facebook
Re-targeting allows you to get way more personal with your marketing. By spending dollars to "talk" to people who are already aware of your brand, you can get a lot more bang for your buck.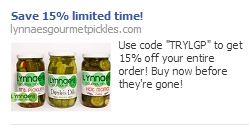 Lynnae's Gourmet Pickles re-targeting me on Facebook
This is how I got hooked on Dollar Shave Club. Their viral videos are awesome, but it was an ad that kept popping up in my stream that eventually made me buy.
Re-targeting isn't just about adding more pennies to your wallet. Think about value that you can add that will make customers smile when they think of you.  
_Warning: Facebook re-targeting can be expensive. Facebook recently rolled out a new way to do it yourself. You can also talk with a representative at AdRoll or Retargeter about how much you'll have to budget. _
3. Participate in a Twitter Chat
Did you know that there are live Twitter chats on a variety of topics?
Twitter chats congregate around a hashtag (like #blogchat) and occur at the same time each week. Twitter users can weigh in with their opinions and ideas.

Search these chats out and become an active chatter, sharing inspiration and ideas (not sales pitches!). Once people get to know about you, there is a good chance they will check out your brand and recommend you to friends.
You can also start a Twitter chat of your own. This is a great way to increase your followers and engagement. People who are attracted to your chat, or find what you say to be interesting, are prime candidates to become future happy customers.
Batchbook hosted a weekly chat on small business technology for a few years. We found some new customers and followers, but also made a lot of friends and got great insight into what small businesses were worrying about. 
For more info on Twitter chats:
5. Contribute to LinkedIn Groups
There are almost 2 million Groups on LinkedIn. There are so many topics of discussion that you're sure to find a few that fit your business. This is another place where you should be careful not to be "pitchy" but if you are a helpful contributor, you're sure to make connections.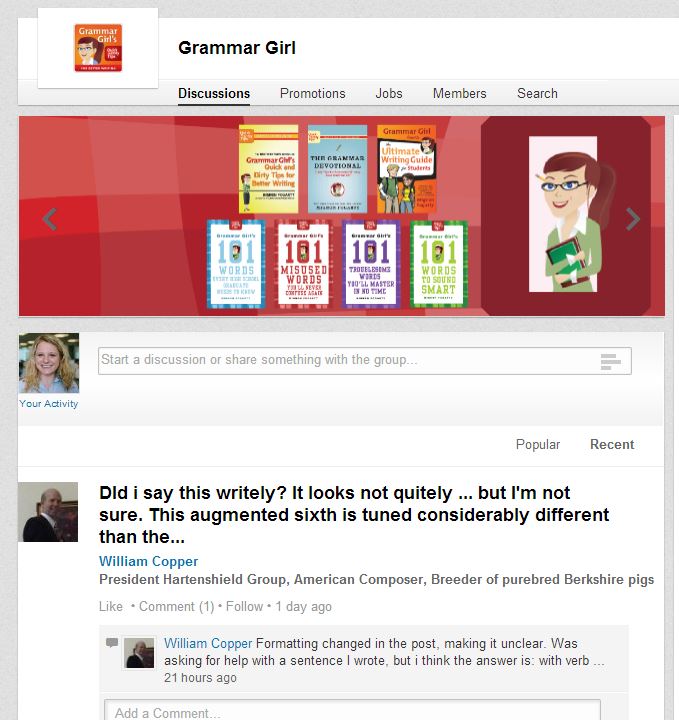 The Grammar Girl Group on LinkedIn
Use LinkedIn to really show off your smarts. Share actionable ideas with folks, tell them what has worked for you and your customers. This will draw them in to you and your brand, and getting them curious about what you sell.  
6. Host a Google+ Hangout
If you are happy to get on camera or do live webinars, then Google+ Hangouts can be a fun way to find happy customers. Try hosting a weekly or monthly hangout where you wax poetic on some topic near and dear to your heart (just make sure it's related to your business!).
After some practice, you can start promoting your hangouts. These things can be live streamed on YouTube and your blog. Invite current happy customers to join you live and interview them. If you have an interesting enough topic, you are going to attract like-minded people who will not only be happy to learn from you, but happy to buy from you when the time is right.
Profound Cloud, an NYC-based IT support company, has used Google+ to host helpful webinars for their customers. With the live video feed and the ability to bring in presentation elements, it's a great way to connect with customers while providing them value in addition to the service Profound Cloud supplies.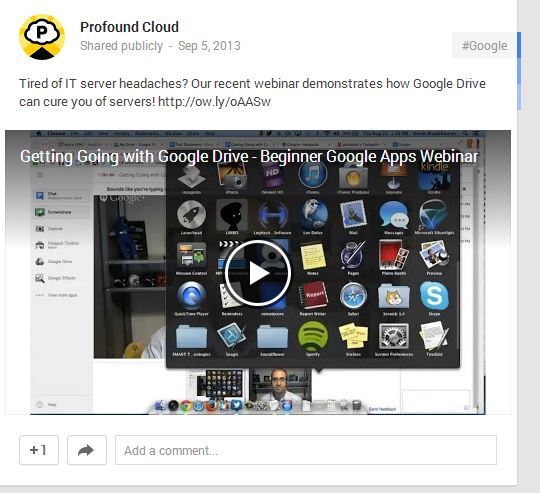 7. Get Pinning on Pinterest
Pinterest may not seem like the perfect fit for all types of brands. At first glance it seems like it would only work for companies that have physical products. But even if you are a consultant or in a service business, you can be successful connecting with people on Pinterest.
If you have helpful blog posts, infographics or how-tos you can "pin" those as well. Use an engaging photo and a clear description of the resource. More and more people are using Pinterest to save articles they want to come back to later. Make sure you give them great ideas to pin to their boards, even if those ideas come in the form of a blog post or video.
Michelle Ward, the When I Grow Up Coach, does an excellent job of curating relevant content on her Pinterest boards. She has a charming mix of fun pins with inspirational and how-to articles to help her current (and future) customers.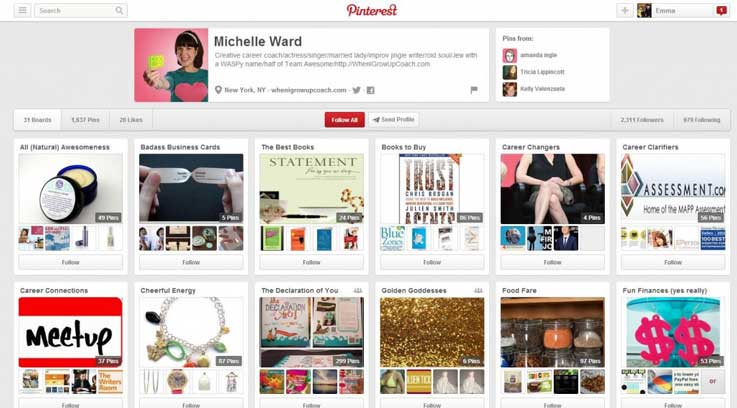 Sell Yourself on Social
You can easily become more engaged on social, leading to more sales and happier customers. Remember, the key is to be helpful, fun, or educational, so don't make everything a sales pitch.
You do want to make sure people recognize your business as a brand, and have a way to reach out to you if they are interested in buying. To make sure you turn people who could be customers into actual customers, make sure you have these things in place:
Fully filled out social profiles with quick business descriptions and links back to your main site.

Updates on sales, products, and offerings on your feed.

Links to web forms that people can fill out to get in touch with you.

Calls-to-action for things like your newsletter sign up.

Good landing pages on your website, so when someone does click over from social, they are greeted in a similar tone and are shown what to do next.
Your Turn: How are you using social to find your next happy customers? Let us know in the comments below!