What does "community" mean to you?
Is it the tight-knit togetherness of enjoying a favorite past-time or sharing a neighborhood? Or is it something deeper, perhaps our innate human drive to connect with others – both online and off.
Whatever your reason for wanting to create communities, getting out there and actually taking steps to do it is one of the most important parts.
Here's how to build a great community from the ground up.
1. Plant the Seeds of Ideas and Let Them Take Root
The first step in growing a community of customers you can count on is to have something worth creating a community for. I once had a client try to create a community around "corporate social responsibility", but as laudable as it seemed, there was no concrete agreement on what that would incorporate.
Was it about long-term sustainability? Sourcing products in a way that mattered? Or was it just another "feel-gooder" attempt to whitewash people's sour perception of corporations?
Ultimately, the idea floundered because there was no clear definition of the term, and therefore no reason for people to get involved.
You first need to have a rock-solid product or concept that people can rally around.
GardenWeb has consistently grown its community since the early days of the web. Home to expert Q & A, user blogs, a directory of societies, clubs and botanical gardens and much more, this community even goes so far as to allow users to network with "zone buddies", people who live in the same geographic planting area.
Together, these people can give each other advice and tips on what grows best where they live.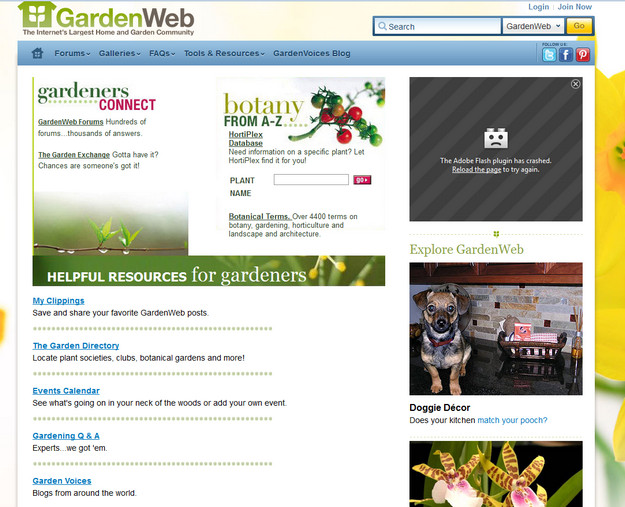 GardenWeb is an example of a creative community that's all about nurturing "best buds"
2. Reach Out to Your Evangelists
Once you've got a core idea in mind, it's time to reach out to the people who can make it happen. These are your evangelists – the early-adopters, raving fans and people who embrace your concept or product wholeheartedly.  They could be singing your praises on forums, over social networks, or sharing through their blog.
Whoever they are, let them know you've been noticing their hard work, and appreciate their efforts. A little recognition goes a long way in fanning the flames of fandom!
**How to find them: **Use a service like Social Mention or Google Alerts to figure out who's writing about you.
**How to reach out: **Send an email asking for feedback on a new project, a review, or just to say hi. Send a handwritten thank you note or a customized gift.
3. Establish a Leader
A great community will wither on the vine if there's no one to oversee it. Who catalogues the ideas and approves measures for further growth? Who do the evangelists "report" to? Just who, exactly, is in charge here?
A great leader can make or break a community. Just look at Kapost's Content Marketing Academy on LinkedIn. Andrew J. Coate, the community's leader, not only participates in discussion, but sends motivational messages to members.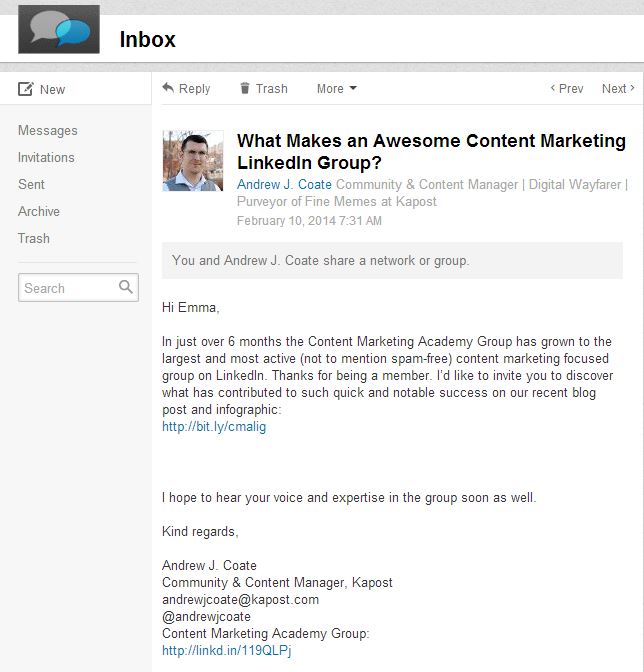 How to do it: Find a company or individual with whom both you and your evangelists have good rapport, or hire someone whose sole job it is to build community (usually that's a social media manager) -- someone who wouldn't mind stepping up and claiming the community as their own little bundle-of-joy.
4. Invite Criticism (Even if it Hurts!)
Customers always have things to say and it's possible that they may not warm up to the community idea right away. They may even have complaints or issues that they feel should be resolved first, and that's fine. Inviting their feedback (and actually acting on it!) is a surefire way to turn these people from concerned clients into potential evangelists themselves!
5. Encourage the Open Exchange of Ideas
Right up there with criticism is the exchange of ideas. Rule #1 for this method is that no idea is ever stupid. Many people subconsciously feel as if their ideas don't have merit or somehow aren't worthy of being shared. Invite and open the floor (even if it's digital) to all ideas, regardless of who came up with it or how strange it might sound.
One of the most impressive communities? Intuit's.
The sprawling Intuit Community fields tons of questions, allowing users to weigh in and help each other out.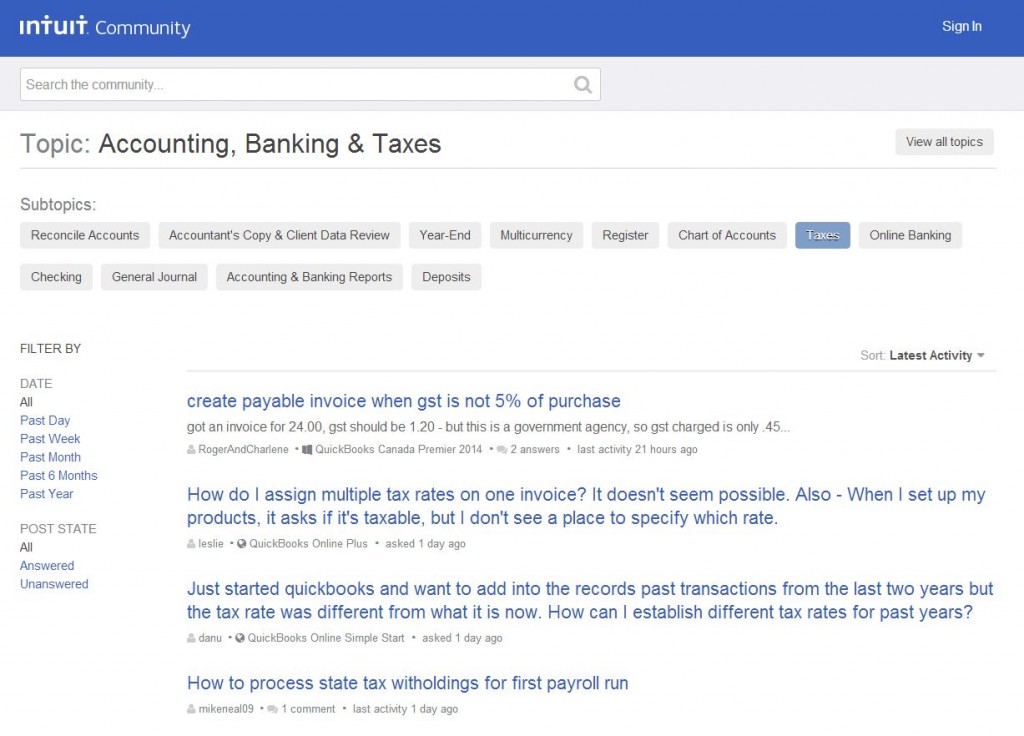 You never know when someone's idea might be a springboard to a new feature or offer that will only grow the community closer together and make it that much stronger!
6. Have a Sense of Humor
Take a hint from reddit, the ultimate online community. The wittier, funnier, and smarter you are, the more upvotes you get. As a community member, a sense of humor goes a long way.
I'm not suggesting you model your customer community after reddit, but don't be afraid to have a sense of humor -- it'll make you seem like a person (one that feels, loves, and thinks) rather than a corporate overlord. Plus, everyone rallies around the funny guy, as long as he has a heart too. If there's something that brings people together, it's a laugh.
If you need some inspiration, check out this email from Zappo's customer loyalty team, courtesy of reddit.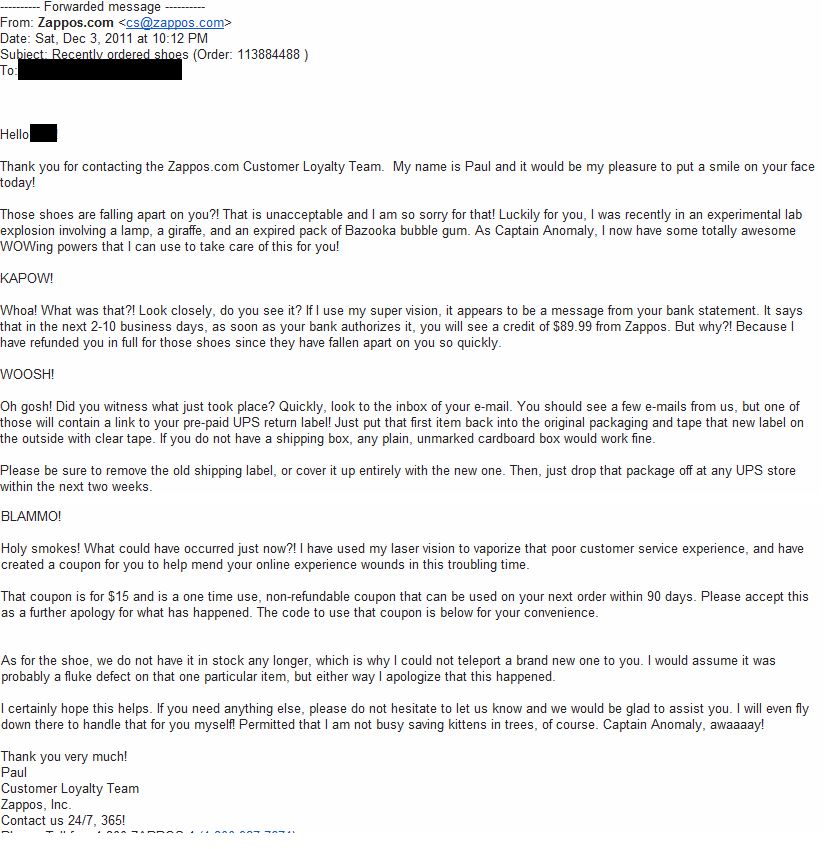 7. Build a Thriving Support Network
Finally, no community can survive on its own without a broad support network. Customers need to know that they can not only act as a sounding board for each other's ideas (and the company's as well), but that they can also get help within the community from people they know and trust.
A community must inspire and ignite motivation in order to grow.  People must feel as if they belong and that their suggestions are welcomed. They must also be able to improve themselves by participating.  No matter how great the cause, product or service, people simply won't keep giving of themselves or their time if they don't see a tangible benefit from it.
Case in point – Peets Coffee and Tea.  Going so far as to brand their coffee and tea evangelists as "Peetniks", their customers stay up to date via social media, events and new flavor experiments. Because they hand-craft every batch they prepare, customers know they can count on enjoying something savory and unique in every sip.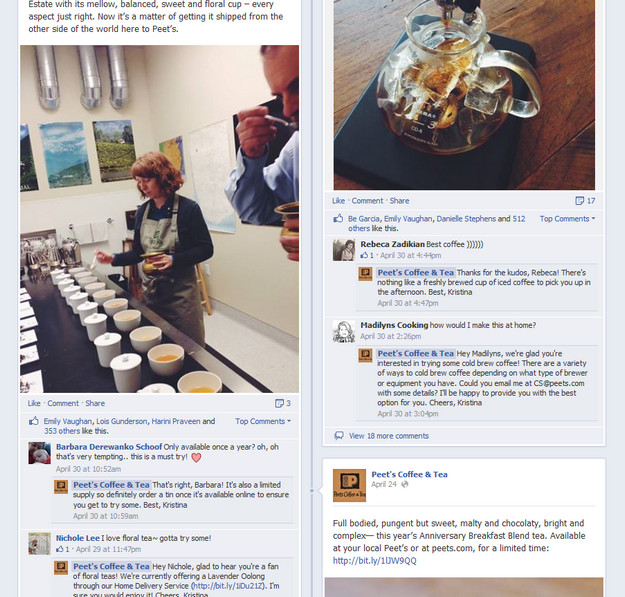 Peet's has a devoted customer fanbase that's serious about their coffee and tea
Your Turn: What are some of your favorite customer communities? We'd love to hear about them!