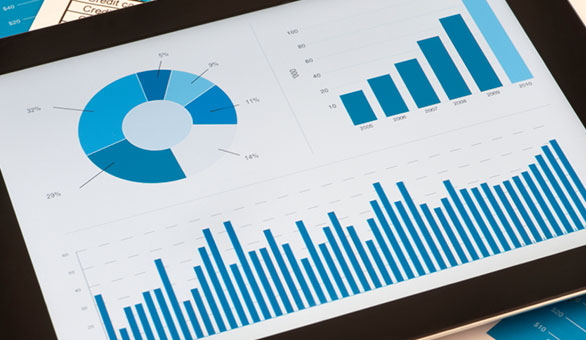 Love data? If so, you're probably familiar with basics like pageviews, impressions, bounce rates, and shares. As interesting as these metrics are to watch, are they essential to your business?
'Vanity metrics are things like registered users, downloads, and raw pageviews,' Erick Schonfeld wrote in a TechCrunch article. 'They are easily manipulated, and do not necessarily correlate to the numbers that really matter: active users, engagement, the cost of getting new customers, and ultimately revenues and profits.'
The metrics you follow should have a tangible impact on your bottom line. Data should help you make judgment calls, improve efficiency, and grow as steadily as possible.
"It is important for startups to properly instrument the data they track so that they can get a handle on the true health of their business," Schonfeld wrote. "If they track only the vanity metrics, they can get a false sense of success."
So what metrics should you be watching? Here are five to help you get started.
1. Churn Rate
New customer acquisition is expensive. Between advertising costs and training programs, businesses typically make substantial investments in building new relationships. The last thing that you want is to lose people — to streamline costs, your goal should be to keep connections strong for as long as possible. That's where customer churn rates come in.
According to Steve H. Noble at the Shopify Blog, a churn rate is "the measurement of the likelihood of your customer to become an ex-customer."
As a business, your goal should be to keep this number as low as possible. You want a customer base that's as strong, steady, and dedicated to your brand as possible.
2. Cost of Acquisition
Are you spending too much on acquiring new customers? How far are your branding dollars taking you? What are your new customers worth?
"In simple terms, add up the cost of marketing and sales — including salaries and overhead — and divide by the number of customers you land during a specific time frame," Jeff Haden wrote in an Inc article.
The cost of acquisition should be substantially lower than your business's revenue yield. Keep watch on these numbers to make sure that your marketing efforts are running as efficiently as possible.
3. Long-Term Customer Value
How much are your long-term customers worth? Do they buy more up front, or do they save their expenditures for later? Do they recommend your company to fellow businesses or friends, and are they actively sharing your content?
Knowing how much a customer is worth will help you better understand how much you should spend to acquire more. By thinking in terms of how much value customers provide from their purchases and their advocacy for your business, you may find new reasons to invest a few extra dollars in that marketing campaign you've been questioning.
4. Goal Completion Rates
Why aren't people completing transactions? Are they backing out, or are they confused with your website? Answering these questions are invaluable for boosting your website's conversions.
According to a recent infographic by Milo Local Shopping, 67% of shopping carts are abandoned right before a transaction is completed. If you find that customers are wary of shipping fees, for instance, you may want to promote a coupon or discount to convince visitors to complete their purchases.
5. Depth of Engagement
How long are people spending on your site, and how much do they browse?
"Visitor engagement is important because of the potential business gains from providing customers with an engaging on-site experience," AJ Kumar wrote in a recent Entrepreneur article.
Make sure to pay attention to the time that visitors are spending on your site as well as how many pages they're browsing through.
Final Thoughts
Get creative. Data analysis is a discipline where art meets science, so create your own conversion-driven metrics to monitor.
What have been some of the most important metrics for your business?