Why did the chicken cross the road?
To get to the other side.
Funny, isn't it?
There probably aren't many ads you can remember from the past ten years, but the ones you do recall were probably a lot funnier than our chicken joke. As a growing company, humor is a great way to get noticed.
But can you and your business be funny? Should you go there? We say YES.
Everyone (even conservative industries) can be a comedian if they can find the right event, item, or joke that will get customers laughing in an unforgettable way.  
Here are 4 ways to start clowning around.
1. Clown Around at Public Events
Get people talking about your business by inviting a laugh at your founder's expense, especially at a large public event. 
Jason Jacobs, founder of RunKeeper, a workout tracking app, was seeking a way to get noticed. Instead of buying a billboard, he ran the Boston Marathon in a bulky iPhone costume prominently displaying the app. Jacobs also live tweeted and video documented his escapade.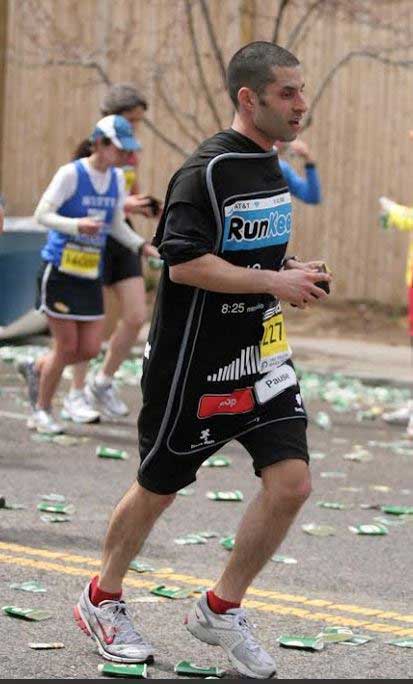 Even if you're not a runner, it's easy to imagine the raised eyebrows and smiles on spectators' and participants' faces, right?
But Jacobs humorous feat garnered more than the attention of locals.
'The stunt really put us on the map,' says Erin Giabets, RunKeeper's Content Manager. 'We received major coverage from top-tier media outlets such as The New York Times and The Wall Street Journal.  We also realized a significant lift in app downloads."
2. Use Visual Gimmicks
Brian Massey is the founder of Conversion Scientist, a company dedicated to refining websites to generate more revenue and leads from online visitors. 
Nothing funny about that, right? 
But Brian devised a clever way to exaggerate the serious nature of his business without compromising its integrity. He put on a lab coat (thinking of 'scientists') and never takes it off.
"Every headshot I have includes the coat,' says Brian.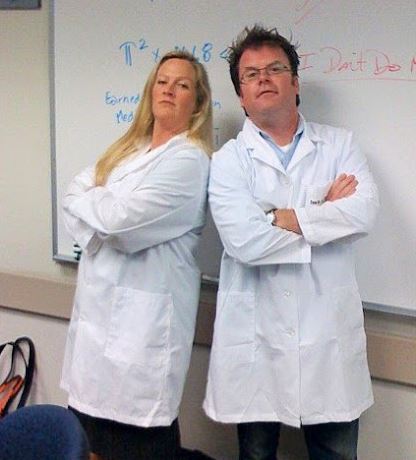 The iconic visual appeal of the white lab coat has worked well for Massey. "Every business needs a mental 'hook' that prospects can hang visual impressions on. I like to joke that my audiences will forget what I teach, but they never forget the lab coat.'
Conversion Sciences uses this wacky lab coat gimmick to deliver no-nonsense advice in the serious B2B world. "A sincere product with a silly delivery can help you stand out, as long as you have both elements."  

Brian has even woven the coat into his customer recognition program-- customers can earn their own honorary Conversion Scientist lab coat. This unique gift turns clients into brand ambassadors with a funny conversation piece. _Brilliant.  _
3. Pair Serious and Silly 
A financial services company is just about the least funny thing out there.
But Broad Financial leveraged the disparity between serious and silly to create a great campaign.
"We're a financial services company, and everybody knows that's the furthest you can possibly get from quirky,' says Daniel Sentell, Director of Communications. 'For us, the contrast provided us with a great opportunity."
Broad Financial was interested in generating media exposure relating to the notion of "putting real estate in your IRA." The team developed The Broadscrapers, Broad Financial's very own a cappella singing group, dressed as iconic NYC skyscraper costumes.
The group serenaded passersby, harmonizing about the Big Apple and doo-wopping about self-directed retirement investing.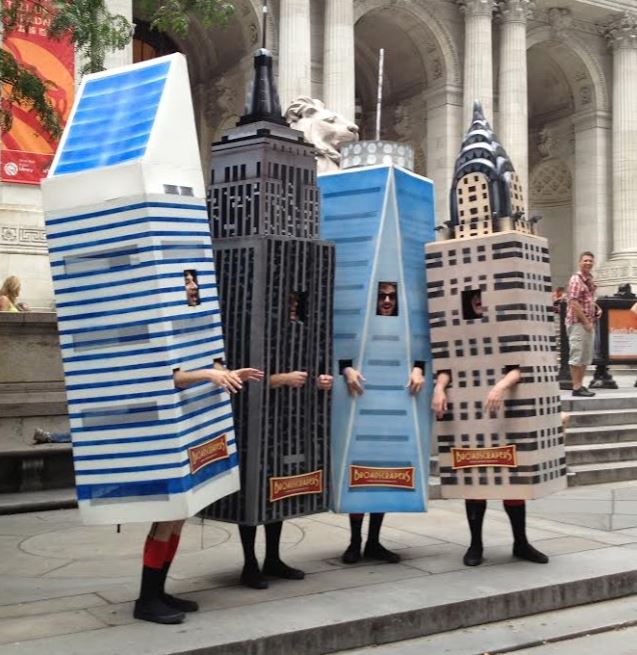 The Broadscrapers singing about finance
Hilarious.
Like many companies, Broad Financial was betting on media exposure to increase brand recognition and generate leads. They secured some nice write-ups in The Wall Street Journal and other newspapers, but the company didn't get as many leads as they'd hoped.
4. Bring Unconventional Swag to Events
Faced with exhibiting at several trade shows, Gainsight, a customer service software platform, needed to come up with something to distribute to prospects that would spark conversation plus keep the company top of mind after the tradeshow.
With the help of PR agency BhavaCom.com, Gainsight created a children's picture book about the adventures of Sally vs. Churnbot. 
In Sally vs. Churnbot, Sally is the hero, who protects the citizens of Technocon Town from the evil, customer-stealing Churnbot by day, and comes home in time to tuck her kids into bed by night.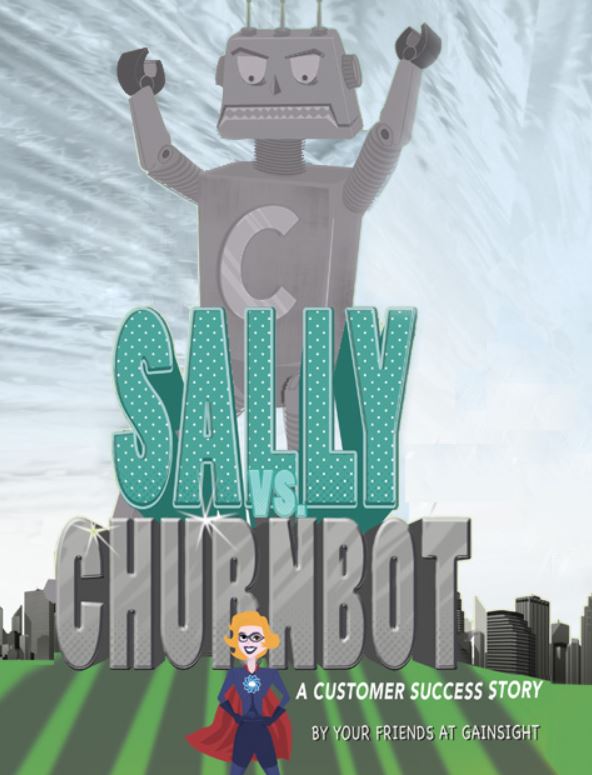 Gainsight hoped the book would be something prospects would take home to their families, rather than throw away after the tradeshow.
Cue the Laugh Track
If companies in industries as diverse as finance and backyard grilling can use humor to great effect, so can your business. Keep your funny marketing related to your company and industry, but remember to look around the edges or even in the shadows - perhaps take a negative in your industry and turn it into a positive.
Set clear goals and documents your funny moments for sharing. It's a long road to half time commercials, but that great moment or idea that will truly resonate with your customers and expand your brand may be right under your nose.