We'll admit it - the typical Twitter page is more likely to hinder startup success than it is to help. A Google search for 'Twitter distraction' generates over 1.8 million results, including in-depth blog posts on how to prevent Twitter from breaking your focus. So we'll understand if Twitter isn't currently a big part of your work day. However, it would be unwise for startup founders to unplug completely from Twitter.
In fact, the Twitter accounts of other startups and founders are often treasure troves of relevant, applicable insight. After all, these are folks who have overcome the obstacles you are facing and achieved the goals you are striving for. Who better to learn from? The key to using Twitter productively, of course, is avoiding idle banter and following only those offering concrete, actionable advice. To that end, Grasshopper scoured Twitter for fourteen accounts that any startup founder would be well-served to follow.
Startup Digest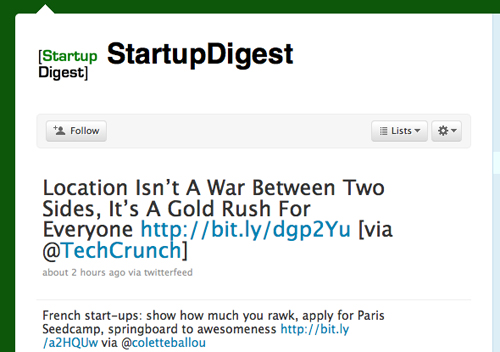 Startup Digest is an awesome service for getting plugged in with your local startup community. They also have a great Twitter list setup for you to follow to filter out some of the noise in your Twitter stream once in awhile and focus on valuable insights from leading tech blogs and entrepreneurs.
Make a Startup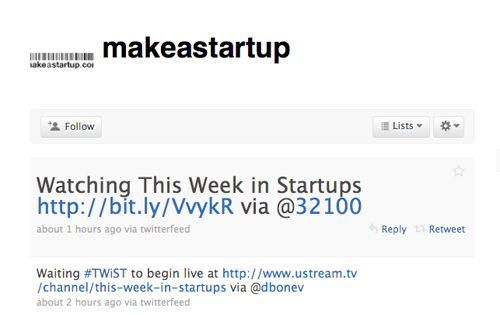 While not itself a startup, Make a Startup's Twitter feed is a veritable compendium of startup-specific knowledge. A glance through a typical day's Tweets turns up such gems as 'business models behind the Internet startup' and '3 New Startup Pitfalls to be Aware of.' The ideal person to follow, Make a Startup is someone who wants to understand the deep mechanics of how Internet business and the startup life work. As venture capitalist Paul Graham is fond of saying, "you don't need to understand physics to be a pitcher, but it never hurts." That being said, even the 'big picture' lessons dispensed on Make a Startup's Twitter are focused on action, not armchair theorizing.
Perry Marshall
As the world's premier Google AdWords authority, Perry Marshall works as a marketing consultant to dozens of startups and small to medium sized businesses. The main reason his Twitter is worth following is that he impresses upon readers a constant focus on bottom-line results. While it's easy to get caught up in fuzzy metrics like 'buzz' and 'mind share', Perry's tweets serve as persistent reminders to focus on whether what you are doing is making money.
His advice on e-mail marketing, split testing and conversion tracking is essential to anyone involved in a startup. Furthermore, his insights on Internet marketing are vital to anyone concerned with bringing more customers into the fray (which, believe it or not, often gets moved to the back burner by startups.)
Startup Report
Startup Report's Twitter feed is slightly different than most of the ones we mention, but is eminently worth following nonetheless. Essentially, Startup Report is an up to the minute aggregation of startup news reports - who's gotten funding, who's been bought out, who's gone under, etc. It's a way for any business owner to take the pulse of what's going on in the startup world and look for patterns of market activity that ought to influence their decisions. While investors have stock tickers and the Wall Street Journal, those immersed in the startup world have Startup Report.
EntrepreneurUS
EntrepreneurUS is another Twitter account deserving of any founder's attention. In terms of immediately applicable tips and strategies, it's tough to beat tweets such as 'Watch 25 Entrepreneurs Try To Launch 6 Startups From A Bus In Just 48 Hours.'
EntrepreneurUS also tweets material that is useful to early stage founders, such as how to generate startup ideas if you do not currently have one. And that's just a sampling of the material submitted on their Twitter on a daily basis. Tune in once in a while and your search for useful business insight will be richly rewarded.
Cool Startups
Described as 'a magnet for all the buzz on hot new startups', Cool Startups is a Twitter feed that is positively packed with valuable how-to information and educational anecdotes on business success. Indicative of the content you will find on Cool Startups are tweets such as 'Lessons From Start-Ups on Improving Sales Productivity' and 'Startup Professionals Musings: For an Entrepreneur, an MBA is not King.' With such useful advice, it's no wonder over 2,400 people have decided to follow Cool Startups to date!
Venture Beat
Venture Beat is the Twitter account for those eager to keep up with the latest musings and recommendations of the venture capital industry. While it's certainly important to absorb all the perspective and wisdom from other founders that you can, it also helps to understand startups as seen from an investor's point of view. Typical tweets include 'an angel investor's advice for startups' and 'Norwest's Tim Chang wants to invest in the 'game-ification' of life.' Perhaps the most useful benefit of following Venture Beat is staying abreast of what types of businesses investors want to invest in.
OfficeDivvy
OfficeDivvy, a startup focused on virtual office solutions, maintains a Twitter feed that offers useful, daily guidance to founders. With tweets such as 'Why Business Plans Are a Waste of Time For Startups' and 'When to do it yourself, and when to outsource some of your tasks', founders are sure to find a fresh perspective on the many challenges they face on a regular basis. At time of writing, over 20,000 people have decided that following OfficeDivvy is a worthwhile use of their time.
2BProductive
Some of the more common problems startup founders grapple with are their own mental and habitual roadblocks. No matter how many books or seminars you devour on business strategy, you will never take your business to the next level until you master your own habits as regards time management, goal setting and execution. That's why 2BProductive is a Twitter feed all of us need to be following.
Every day, 2BProductive dispenses valuable nuggets of insight, including podcasts on action-based agendas, what we can learn from the Olympics for business productivity and more. If you feel that your overall strategy is sound but aren't sure how to correct unproductive habits, 2BProductive is well worth tuning into.
Daytimer Page
Another Twitter account aimed at providing time management and personal productivity tips is Daytimer Page. While its follower count isn't astronomical (just over 300 at time of writing) Daytimer Page is a rock-solid resource for anyone looking to improve their own personal effectiveness in the workplace.
Everything from the efficient use of planners to brain dumps to color-coordinated calendars is discussed on a daily basis, resulting in a buffet of tips, advice and strategies for sharp startup founders to choose from. If you feel like time is managing you instead of the other way around, it's time to follow Daytimer Page and take its advice to heart.
FocusSmallBiz
Focus Small Biz is the ultimate Twitter feed for those seeking hard-nosed answers to practical, immediate questions - such as 'what is the best marketing technique for small businesses that budget $50/month?' Other questions tackled by Focus' daily Twitter feed include 'Why don't banks and traditional lenders provide funds to startups?' and 'How to Select a Good Business Webcam.' Why more startups don't get funding is another frequently addressed topic. Whenever you find yourself struggling to answer a very direct question, it's a safe bet that perusing the archives of Focus Small Biz will point you in the right direction.
Brand Strategic
For most startups, a social media presence has gone from being 'nice to have' to being a baseline necessity. Unfortunately, much of the educational material on doing social media correctly contains more hype and platitudes than actionable advice. A refreshing departure into social media practicality is Brand Strategic, a Twitter feed that dispenses daily tidbits including '11 Free Tools for Social Media Optimization' and 'Five insights into the behaviors of social media users.' An occasional glance at Brand Strategic's updates will leave you feeling confident and ready to implement what you have learned, rather than endlessly searching for answers.
Social Media Solutions
Another excellent Twitter feed to follow with regard to practical social media strategies is Social Media Solutions. Whereas BrandStrategic focuses more on tutorials and resources for using social media for immediate impact, Social Media Solutions tweets examples of major or growing brands using social media in their own activities, allowing you to discern patterns and effective strategies that are working for other businesses.
At time of writing, for instance, readers can learn about Connecticut governor Jodi Rell using social media to release state news, or DirecTV using it in ad campaigns. Those seeking to learn by example from the successful social media pioneering of others need look no further.
VisionQuest MT
VisionQuest MT is a Twitter feed focused on accounting, bookkeeping, and measuring productivity in quantitative terms. Readers will find tweets covering an expansive territory of business topics, ranging from tax breaks to measuring employee productivity to the trade-offs of working at home versus the office. As has been the case with all of the feeds we've mentioned, readers can expect a firm focus on actionable tips and wisdom. Most of VisionQuest's tweets pertain to things you are already doing and have the potential to make an immediate difference for the better.