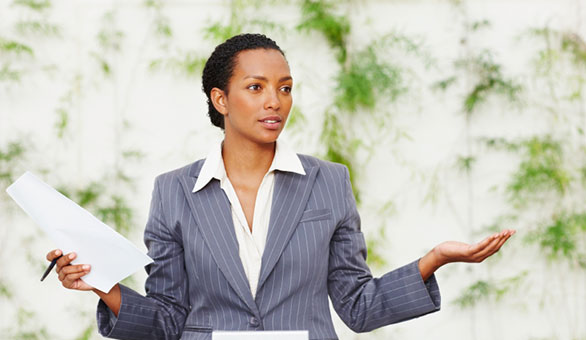 The field of communications. Sounds like a common sense area, doesn't it?
As simple-sounding as it is (and as much as some consider it 'fluffy'), communicating well is one of the most important things when it comes to business and getting things done right.
Getting your point across is essential for negotiating deals, speaking to clients and investors, creating strong written materials, and managing employees, too.
However, it's easy to forget to keep communications at the top of the priority list when things get busy and projects begin to pile up.
So...yeah...remember when you were in college in Communications 101? We were there, too, but we can barely remember it! All this makes us wish we paid attention in the lecture hall.
Thankfully, we've dug deep in to our text books to bring you 10 things entrepreneurs can learn from Communications 101.
We'd love to hear your tips, too—what did you learn from practice rather than theory when it comes to communications?
1. Short and Snappy Emails Beat Long-winded Ones
Make your e-mails as clear and concise as possible. By eliminating any ambiguity and giving simple directions, there's no room for confusion that can be damaging to both client and colleague relationships. Don't be afraid to address any uncertainty when those instances do arise—it's better to be on the same page than swimming in a sea of confusion.
2. Be Prepared for the Worst Questions
Always prepare yourself for the five worst questions that could be asked of you in a difficult situation. If you can address those five questions and have a solid response at hand, you're golden.
3. If You Can't Speak to It, Find Someone Who Can
If you're not sure how to address a problem and are drowning in anxiety, the simple solution is to find someone who knows more about the issue than you do. Experts and trusted advisors exist for this very purpose. Communicate the situation at hand and allow them to help guide you down an appropriate path. But be careful-- don't rely on someone else every time the going gets tough.
4. Body Language Speaks Volumes
Be mindful of your body language at all times—actions communicate far more than words. Just remember: eye contact, non-folded arms, and putting your shoulders back can make you seem professional, confident, and sure of yourself.
5. Write Hand-written Notes
A hand-written note still goes a long way in our world of technology. Send a branded card to a business connection, mentor, media contact, or someone who impacted your entrepreneurial-ism in a positive way. Everyone likes to feel appreciated (and getting real mail is exciting!)
6. Value All Voices
Encourage communication from all team members, regardless of role. Each person has a specialty and will know more about a topical area than another person—take advantage! Both seasoned and not-so-seasoned partners have a unique perspective to offer, and learning from each other will make for a well-rounded organization.
7. Use Social Media to Establish Connections
Don't be afraid to make an introduction via social media. With active conversations happening via these mediums day after day, there are many ways to chime in and build partnerships through these channels. Follow hashtags and search terms relevant to your industry to find the thought leaders that are gabbing the most.
8. Practice Makes Perfect
With time, you'll get better at communications as you find out what works…and what doesn't. Each time you send an email, reach out to a new connection, or have a conversation with a colleague, check in to see how well they responded. And remember, public speaking really does get easier with practice!
9. Find an Experienced Veteran
If you can pick apart the brain of someone who's been doing public relations or communications for a long time, go for it! Study their practices and glean all that you can—they can help provide great tips and tricks.
10. Make an Effort
It's easy to get frustrated when communications begin to fall apart. Remind yourself to step back from the situation and take an objective look at how communications can be improved. By making an effort to improve the situation, you're showing the other parties involved that you're not just "throwing in the towel."
Some things are just better learned from trial and error and can't be taught in a classroom. Experience is an entirely different teacher than a textbook, and we hope these tips will help or reinforce the concept that each day is a learning experience—your education is just the jumping off point. As long as you're open to learning, you'll always expand your reach.