8 HR Must Haves for Your Business to Succeed
Completion time About 25 minutes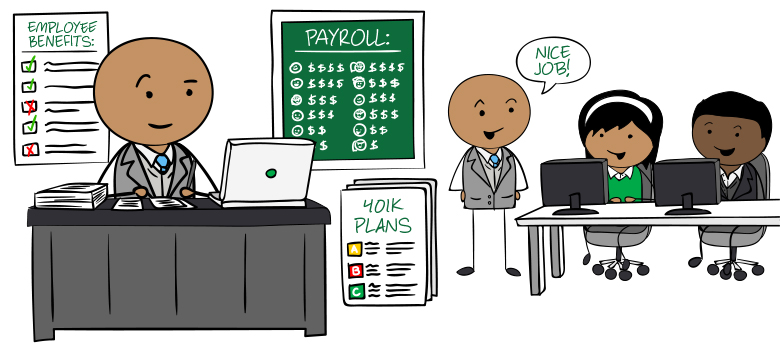 As the founder or business owner, sometimes it's also your responsibility to take on the role of human resources manager. A well-structured human resources process is crucial to attracting and retaining good employees.
Although there are a number of important HR tasks to ensure smooth sailing, Susan Post – East Divisional Director for the Society of Human Resource Management – lists the top tasks to prioritize as you start or run your small business:
Employee Paperwork
Employee Handbook
Required Posters
Hiring Process
Performance Reviews
Employee Development & Training
Employee Recognition
Employee Benefits
1. Employee Paperwork
Regardless of the size of your business, there are three documents you must collect and store for each employee to cover yourself and your business:
I-9 File: required by the U.S. government for each employee
Employee General File: includes resume, payroll information, and W-4s
Employee Medical File: disability and medical exam information
Be sure to create and maintain three separate personnel files for each employee (I-9, medical file, general employment file). Well-organized files that include the correct documentation are critical, and must be locked in a confidential, secure location.

-- Susan Post, Divisional Director East, SHRM-SCP, CAE
2. Employee Handbook
Don't skip the step of creating an employee handbook. An employee handbook outlines your expectations for employees and describes organizational policies around employment, maternity/paternity leave, benefits, termination, and more.
On the legal side of things, it should also outline your obligations as an employer and employees' rights.
Other important information to include:
Standards of behavior & conduct
Anti-discrimination policies
Compensation and benefits
Non-disclosure agreements
3. Required Posters
The U.S. Department of Labor (DOL) requires employers to have posters on job safety, wage requirements, and other employment policies posted in the office. For remote employees, employers are responsible for making sure employees have access to the posters, whether it's on the intranet or sent digitally.
The DOL developed Employment Laws Assistance for Workers and Small Businesses (elaws) to help employers understand what posters to include depending on their location and industry.
4. Hiring Process
Hiring the right employees can make or break your business. As a result, make sure you create a hiring process that's efficient.
Develop an effective hiring process that starts with a clear, well-written job description, utilizes a consistent interview process, and ends with thorough reference/background checks.

Take the time to hire the candidate who best meets the job requirements and is also a good fit with the company culture - it may take longer to fill the position, but will be worth it in the long run.

-- Susan Post
5. Performance Reviews
When done properly, performance reviews are a great way to help employees develop their careers. In a startup or small business setting, taking the time to help your employees grow will keep them engaged and most importantly, loyal to your business.
Addressing performance concerns should also be taken seriously and done in a timely manner – just make sure the procedure is in line with the disciplinary process you've outlined in the employee handbook. Failure to address performance issues can lead to disengagement and low morale for other employees left to "pick up the slack."
Whatever you do, be sure to document performance-related concerns effectively, in the event further disciplinary action or termination becomes necessary.
6. Employee Development & Training
Investing in training and professional development for your employees will also keep them engaged in the company. Training not only prepares employees for roles they can aspire to within the organization, but it also shows that you – as the employer — are committed to enhancing their skills and abilities.
7. Employee Recognition
The cost of low employee engagement can tank your business before it even takes off. According to research from Gallup, a disengaged employee can cost an organization $3,400 for every $10,000 salary.
Prevent this from happening to your business by taking the time to recognize employee achievements.
Never underestimate the value of employee recognition. Although you may not have a large budget to recognize employee efforts, there are many creative ways to recognize those who go "above and beyond" without breaking the bank.

Keep in mind that recognition means different things to different people, so avoid a one-size-fits-all approach and tailor as much as you can to each individual.

--Susan Post
At Grasshopper, we have "I caught" cards. Each month employees "catch" and record their fellow coworkers in the act of living our core values: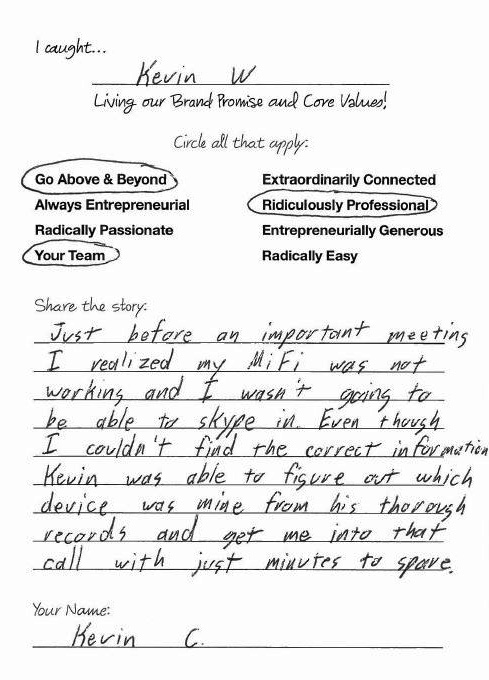 8. Employee Benefits
Research shows that employee engagement goes hand-in-hand with the quality of benefits provided. In an Aflac WorkForces report, 68% of workers who were satisfied with their overall benefits packages were also satisfied with their jobs.
Although it might be difficult for a startup or small business owner, the core benefits you should aim to provide include:
Health Insurance
Life and Disability Insurance
Retirement Savings Plan
Vision & Dental Coverage
Remember, there are also two types of employee benefits that small business owners are required by law to provide:
Social Security
Workers' Compensation
We go into more depth on Benefits Requirements in Lesson 5